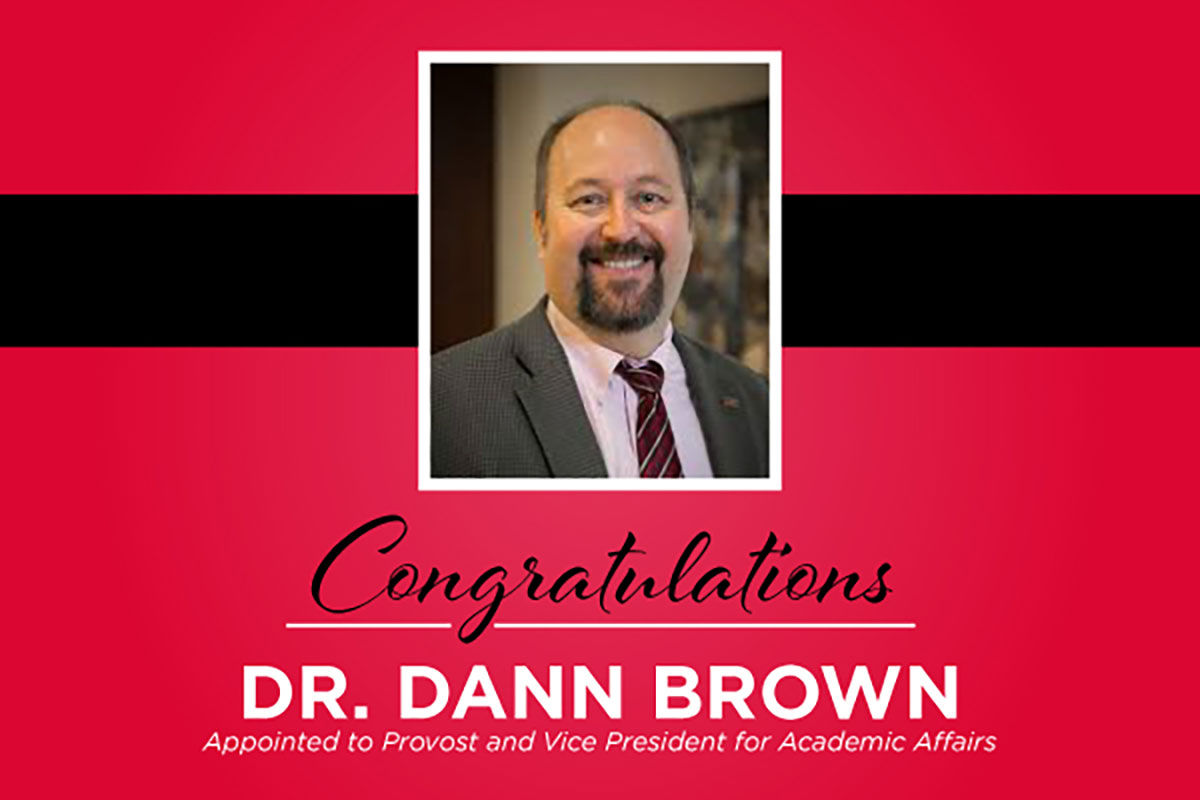 (BEAUMONT, Texas) – Lamar University President Jaime R. Taylor announced June 8 that Dr. Dann Brown has been named the university's next provost and vice president for academic affairs; effective July 1, 2022. Brown replaces Dr. Brenda Nichols, who is retiring from the position after 21 years of dedicated service in different leadership roles at Lamar University. 
"I am very pleased Dr. Brown accepted my offer to become provost and vice president for academic affairs," Taylor said. "First and foremost, Dr. Brown is an intellectual. His research and scholarly contributions are impressive and wide-ranging. More importantly, he is a leader and a doer. With over 17 years of progressive senior leadership experience, he has developed a sharp grasp of public higher education and understands how Lamar University can position itself in an ever-changing national landscape. He also is a skilled collaborator and positive thinker –– two crucial traits in building an effective leadership team." 
Taylor said Brown will be transformational as a chief academic officer because he is invested in developing a student-focused campus culture. "Dr. Brown takes complicated intellectual ideas and hones them into a plan that can be effectively executed to the benefit of our students." Brown distinguished himself among the finalists, according to Taylor, because of his experience with the Texas State University System and the Texas Higher Education Coordinating Board. Brown's proven track record in capturing external funding in excess of $24 million during his career were also factors key to his selection for the role.  
"I was drawn to Lamar University two years ago for a variety of reasons," Brown said. "The university is academically positioned to meet the demands of today's rapidly changing workforce, and the faculty, staff, students and community members I have had the pleasure of meeting and working with have only reinforced my belief that the moment is now for Lamar University. I look forward to working with President Taylor and our leadership team on the development of plans and strategies to elevate Lamar University's prominence within Texas higher education and beyond through its high-quality academic programs, exceptional faculty and staff, and successful students that tell the story of excellence that is LU."
Brown has served as associate provost since 2020. Prior to joining Lamar University, he served as dean of University College and director of the Personalized Academic and Career Exploration Center at Texas State University (2011-2020). Before joining Texas State, he served as dean of University College at Texas A&M University-Kingsville (2005-2011). Brown began his career in higher education at Eastern New Mexico University, where he held interim department chair and program coordinator responsibilities. Trained as a plant pathologist, Brown's research focused on the influence of environmental parameters and change on plant-pathogen interactions. As an administrator, he has researched the effects of high-impact practices on student success in college and has published extensively to help identify best practices for other institutions to implement. During his career, Brown has authored and served as principal investigator for seven Developing Hispanic Serving Institutions grants through the U.S. Department of Education for a total of more than $23 million. He also was awarded more than $1 million in funding from the Texas Higher Education Coordinating Board. 
Brown served as president of the Association of Deans and Directors of University Colleges and Undergraduate Studies and as chair of the Undergraduate Education Advisory Committee for the Texas Higher Education Coordinating Board. He was recognized as the 2014 Leader of Change by the Network for Change and Continuous Innovation. Two years later, the PACE Center at Texas State, which Brown developed and directed, was named the Outstanding Institutional Advising Program by the National Academic Advising Association in 2016. In 2001, Brown received the Dr. Kenneth K. Bateman Outstanding Alumni Award from his alma mater, Pittsburg (KS) State University. 
Today's announcement follows a national search that began in February with a 14-member search committee representing faculty, staff, student government and the community. "Our members were very engaged with the entire process of examining each applicant's qualifications and experience," said Dr. Vicki McNeil, vice president of Student Engagement and chair of the search committee. McNeil also said that in total, there were 96 applicants and the committee interviewed 18 candidates. In the end, the committee recommended three finalists to the university president for consideration.