When Grandpa Potts (Jared Mozley) is taken by hired spies trying to steal the family vehicle, it's up to the rest of the Potts clan to travel in their flying car to save him. What follows is a fantastic adventure filled with catchy and memorable songs.
Adapted from the 1968 film of the same name, Beaumont Community Players presents "Chitty Chitty Bang Bang," through May 21. Richard M. and Robert B. Sherman's tunes easy to remember and hard to get out of one's head.
Caractacus Potts (Zach Belknap) is a widowed struggling inventor trying to provide for his two children, Jeremy (Case Pampolina) and Jemima (Ireland Mayfield). When the children discover an old racecar in a scrapyard, they persuade their father to buy it and renovate it. Reluctantly, Caractacus agrees. The eponymous vehicle, so named because of its distinctive engine sound, turns out to be a magical purchase.
When Baron Bomburst (Weston Hodge) of Vulgaria hears about the car, he hires two spies, Boris (Anna Goss) and Goran (Maddie Pierce), to steal it for his upcoming birthday party. When Grandpa gets snatched as well, the Potts, and their friend, Truly Scrumptious (Krystal Sanchez), travel to Vulgaria to rescue him.
The musical displays eye-candy visuals that are pleasing to the eye (which is appropriate as Truly's father owns a sweet factory). They take us back to childhood and serve as savory nostalgia. "Chitty Chitty Bang Bang" is a fantastic adaptation brought to the stage that offers entertainment for the whole family.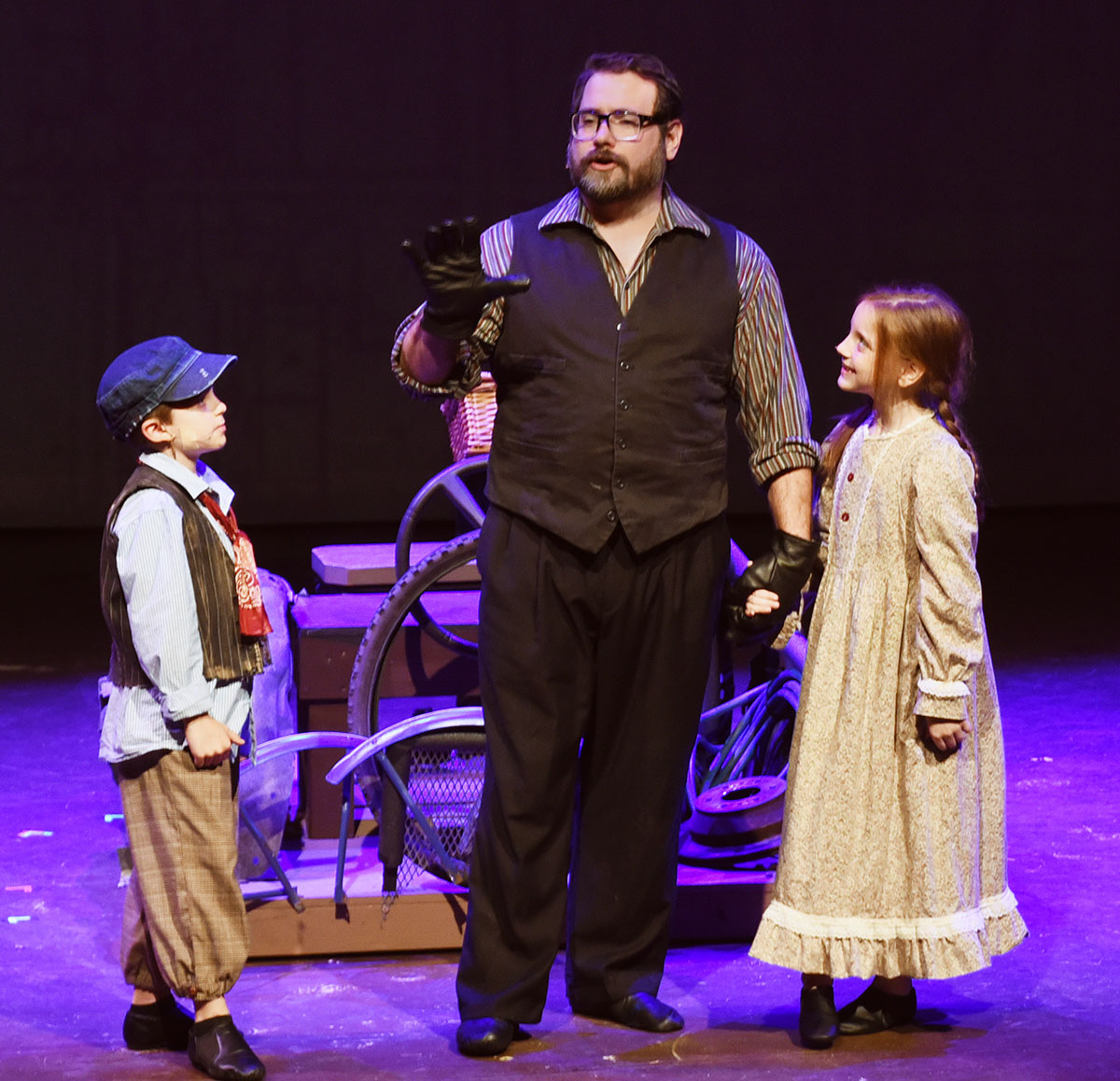 Throughout the play, the car, designed by Tom Shirley, serves as a plot point that drives the story forward, but at the same time, "Chitty Chitty Bang Bang" feels like the main character. Seeing the vehicle move around the stage (and even fly at some points) gets the audience excited for what's to come.
Jerry McMillan and Melanie Rollins have done a wonderful job creating the set, incorporating video projections that immerse us into the story. It is clear that this is a passion project for the tech crew.
The children's ensemble has a contagious energy which runs over into the adults as well. It is easy to see the actors are having fun and the audience gets to share in that.
Director Lindsey Lee Downs ties everything together and embraces the story's silly nature and child-like qualities. It feels like an authentic creation from a child which emphasizes the children cast.
In the past few months, we have dealt with many stress-inducing inflation and war, making it hard to find the light. "Chitty Chitty Bang Bang" gives us an action-packed, entertaining musical that allows us to feel silly and to escape reality for a couple of hours —with the songs still stuck in our heads weeks later. It is an enjoyable show that audience members won't soon forget.
Showtimes for "Chitty Chitty Bang Bang" are May 13, 14, 19, 20 and 21 at 7:30 p.m., with a matinée, May 14, at 2 p.m.
BCP is located at 4155 Laurel Ave. For more information, visit beaumontstages.com.