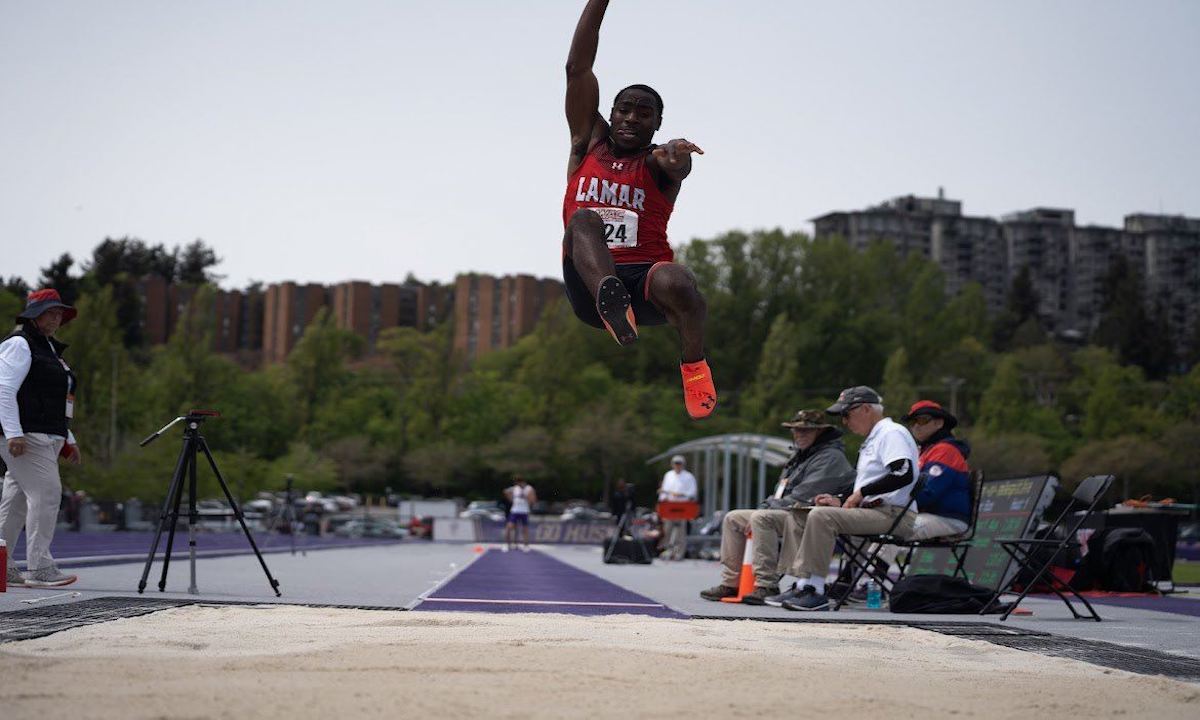 Press Release via Lamar Athletic Department
All season long, 
Kenson Tate
 has proven to be among the nation's top leapers in the long jump event. On Wednesday, he showed why as he not only would partake in the first day of the NCAA West Regional Preliminaries hosted by the University of Arkansas. But, he also qualified for the Finals in the long jump event.
To qualify for the finals, which would be held in Eugene, Ore., in two weeks, Tate's highest mark on three attempts would have to be placed in the top 12.  
On his first attempt, the Zachary, La. native sailed 7.54m. Though his second jump got him 7.26m, it would be his third and final attempt that got the job done. Jumping 25 feet and six inches, which converts to 7.77m, Tate secured his spot in the NCAA Nationals by placing sixth.
"I prepared for this meet by keeping myself relaxed, and watching Olympic long jumpers on YouTube," said Tate. "This was probably the easiest week of practice I've had all year. Leading up to the competition I had lots of nerves, but reassured myself that I was here for a reason. On the last one I asked myself, 'Do you want this to be your last jump of the year?', and I knew I did it as soon as I landed."
Tate would not only set a new personal best with the jump, but also edged out Baylor University's Johnny Brackins by .01m for the furthest jump by a freshman.
"I'm incredibly proud of Kenson and the way he's competed this season," said assistant coach 
Tyler Sunwall
. "He encapsulates the heart and soul of this young team by grinding out hard work day in and day out and by the support he gives his teammates. It's hard for a freshman to make it this far and it will be exciting to see him compete with the best in the nation in Eugene."
With Tate completing his event in the regionals, the attention now turns to 
Sydne Porter
, who will partake in the 200m tomorrow night on the second day of the meet. She will start her race at 8:45pm.