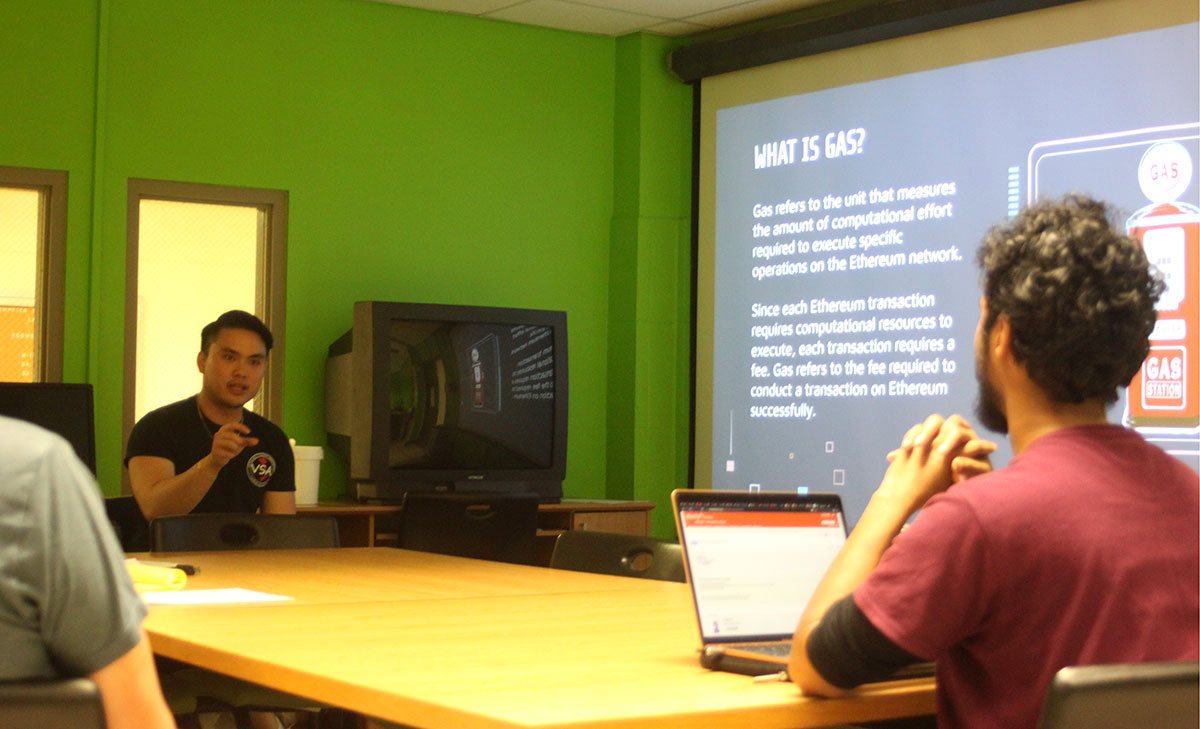 With crypto currencies becoming more prevalent, crypto, NFTs and blockchains are gaining more global use and popularity. Brothers Thanh and Tien Nguyen, wanted to bring a part of the crypto world to Lamar. They founded the Blockchain Student Society in fall of 2021.
"Simply put, if you want to know what crypto or Blockchain is then it is a new paradigm of the internet," junior computer science major Tien said. "It's a new way to think about how structures are set up today, in terms of government and business."
The Port Arthur brothers were first inspired to get into crypto by their mother, who was the first person to push their curiosity further into the crypto interest sphere through Bitcoin. The youngest brother, Tien, first wrote off Bitcoin as a scam.
"I found out it's more than the mainstream headlines– Bitcoin is a digital asset that's scarce, cannot be replicated, and is somehow worth thousands of dollars." he said. "It's a revolutionary technology that shows how digital assets have scarcity and can be used to transfer assets across time and space in a very efficient way versus how we have it now."
Bitcoin is one kind of cryptocurrency that the brothers believe is a good starting stone for newcomers to start learning about these new concepts.
"We have a lot of people here that have never even heard of Bitcoin but they know the name from somewhere– they have no idea what it is," Tien said. "If you're just starting out and feel like you're left behind or that it's moving very quickly, don't be discouraged. There's always something new coming out."
Recently, non-fungible tokens have been on the rise, which is one example of a digital asset that BSS teaches about.
"Non-fungible means it is not replicable or easily replaced, so NFTs are just a way to create digital tokens that are unique from each other," senior chemical engineering major Thanh Nguyen said. "So an example of something that is fungible is a dollar and something that is not easily replaced or irreplaceable would be the Mona Lisa– you can't just redraw it and even if I tried to redraw it stroke by stroke, the museum in Paris isn't going to take mine."
The organization primarily uses Discord to stay connected and communicate.
"We were just talking about crypto one day, and then he (Thanh) came up with the idea," Tien said. "Lamar doesn't really have blockchain or crypto stuff related to it. 'What if we can bring that blockchain aspect to Lamar and get Lamar plugged into the future of the internet?'" 
Other large universities like the University of Houston have student organizations and classes for blockchain development, but Lamar didn't yet have a single student org before BSS, Tien said.
"We wanted to bring an organization that allows for a community of students, professors, and anyone interested to get into a space to learn about it, get interested, and interact with the space safely and efficiently," he said. "Right, and also teach them the mistakes that we've made in the past where we've lost money as well.
Since the organization began, around 300 people have joined the Discord in the span of about 4-5 months and has become one of the largest student organization servers at Lamar.
Some of the BSS activities include monthly giveaways for active discord members, random draw giveaways for Bitcoin, game nights, Crypto and Bitcoin meetups, weekly Blockchain 101 seminars, one-on-one mentoring, and trading events."We've seen the students interested in wanting some resources to go to, people to talk to, mentors, connections, and networking," Tien said. "We've seen BSS go from a very small organization to growing at a very rapid pace."
"Ask questions– People are afraid to ask questions in general. There aren't any dumb questions," Thanh said. "Anyone new, just ask questions and focus on learning."
BSS was originally created by students for students, but anyone with an interest in crypto can join.
"BSS could potentially become a talent pool for recruiters and employers, since you know you aren't just a computer science, business, or art student," Tien said. "You're a BSS member and being part of an organization that focuses on cutting edge new technology could allow you to have an advantage over other people."
Most BSS events are educational and students who join can buff up their resumes to help them stand out.
"A lot of things went really fast, but I don't think they're going fast enough," Thanh said. "We don't think we're doing enough honestly but overall I'm satisfied with it (BSS)."
Big achievements BSS has had so far are a Blockchain Expo, one Redtalk, and most recently the organization won the New Student Organization of the Year award.
"I know people look up to me when I say I'm co-founder so they expect me to have honest knowledge," Tien said. "BSS is not just an organization that allows people to communicate and have a community, it's also personally for me a way to push myself to learn about the space so I can be a good representative for others who are interested."
For Thanh, the current president of BSS this semester, the meaning of crypto and digital assets is liberation and regaining control.
"This is the most liberating tech we have and this is giving the world an opportunity to take back their own power," Thanh said. "To me, it'll just be a way of life in the future and we won't have to think about it."
In the near future, BSS hopes to create a sister chapter at a different university, increase member engagement, create their own discord currency for members, secure more organization funding, and gain at least 400 members by the end of the semester.
"We have over 300 students on the discord and yet we see maybe three to seven of them (in person)," he said. "It's never an easy thing and building a community is pretty hard."
Blockchain and crypto does have its risks. For example, a person who uses MetaMask to store their crypto currencies will be responsible for their master key phrase, which is a series of 12 words generated for the user. If another person gains access to the master key phrase, then they will gain complete access to the user's wallet and funds.
"You don't need to put in your social security number or go to a bank, you just need the internet and some kind of device to connect to the internet," Tien said. "If you have a Bitcoin wallet, then you can receive money from anywhere across the world in under ten minutes."
The brothers do feel that many people have misconceptions about the space, especially when it comes to newer forms of digital assets such as NFTs or that the space is full of scams.
"The misconception is that scams and stuff is rampant, but in actual numbers it is less than 1% of the entire activity," Thanh said. "It's not as bad as people think–it still shouldn't happen but that's the current battle."
The risks within the crypto space are not always obvious but education, not giving away your key phrase, not investing more money than you're willing to lose, keeping an open mind, asking questions, and being wary of things that seem too good to be true can help you avoid losing money to scams, theft, or needless mistakes.
"I think people have some bad misconceptions of crypto and things like NFTs, at least in the very beginning, some with good reasons and not so good reasons," Tien said. "If they're open to it, I can show them just how much good can be done, not just what good that has been done."
Every Monday in the Maes building, room 208, BSS will hold a Blockchain 101 teaching seminar from 12:30 p.m - 1:30 p.m for any who wish to attend until the end of the spring semester.
"If you're interested in learning about the future of the internet, how crypto could affect your career, or investing in crypto, join BSS," he said. "We'll get you started– we'll tell you what it is and if you're not interested, it's fine. It's not everyone's cup of tea but at least give it a shot before dismissing it."
To learn more, join the BSS Discord at https://discord.gg/VtjQuWvp6z or email blockchainstudentsociety@gmail.com.