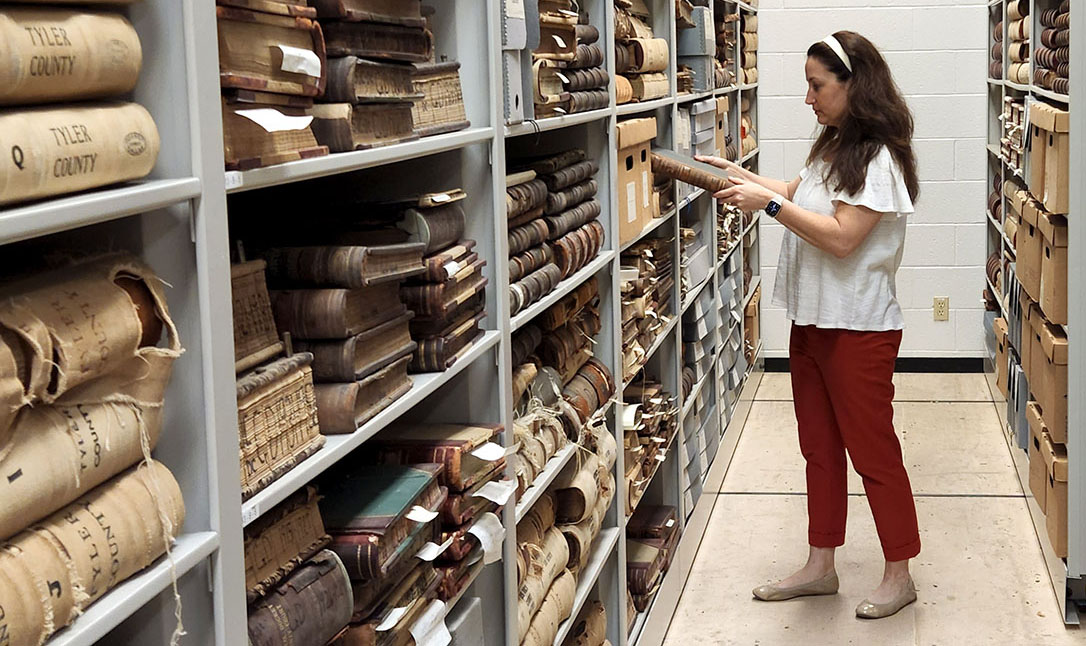 Imagine a research center which houses historical documents and resources about Southeast Texas. Imagine no more. The Sam Houston Regional Library and Research Center in Liberty houses the area's rich history.
Located on more than 100 acres north of Liberty on FM 1011, the center was dedicated in 1977 and serves as the Texas State Library and Archives Commission Regional Historical Resource Depository for the 10 surrounding counties of Chambers, Hardin, Jasper, Jefferson, Liberty, Newton, Orange, Polk, San Jacinto and Tyler.  Archivists preserve and index local government records, artifacts, books, newspapers and photographs, as well as personal collections such as papers from former Texas Governor Price Daniel, Sr., the purported journal of pirate Jean Lafitte and some of Sam Houston's records. The one-of-a-kind records are housed in special climate-controlled closed stacks with a gas fire-suppression system.
"There had been a state-wide survey that showed a lot of government records weren't being preserved well or they were ending up being destroyed," manager Alana Inman said. "So, in 1971, the legislature passed what they referred to as the Regional Depository Law."
The law created the Regional Historical Resource Depository program allowing the state's archives commission to have agreements with colleges and universities to serve as the RHRD for certain areas.
"Let's say a county clerk doesn't have the space to preserve historic records that really need to be kept, they can send them to the RHRD to be preserved," Inman said. "Then, they come into state custody and are owned by the Texas State Library and Archives Commission, and are available to the public through the RHRD."
Out of the 23 RHRDs in the state which are associated with local colleges or universities, Sam Houston Regional Library and Research Center is the only one owned by the Texas State Library and Archives Commission.  Inman said the land was donated to the state's archives commission by Liberty County resident and former Governor Daniel and his wife Jean who also helped raised private funds for the construction of the building. Jean Daniel is a direct descendent of Sam Houston.
"A lot of those local government records are what people are coming here for because that's our main purpose," Inman said. "It's genealogists coming here to see if we have a marriage record or if we have a deed to track back where their family has been. We have a lot of government records that you might not necessarily think of, like scout bounties."
Along with records of what amount a certain animal might fetch for a scout, Inman said they also have marks and brands books for livestock, and court cases and probate records, to name a few.
"So, it's really a treasure trove for genealogists, but also for other people, just regular historians," she said.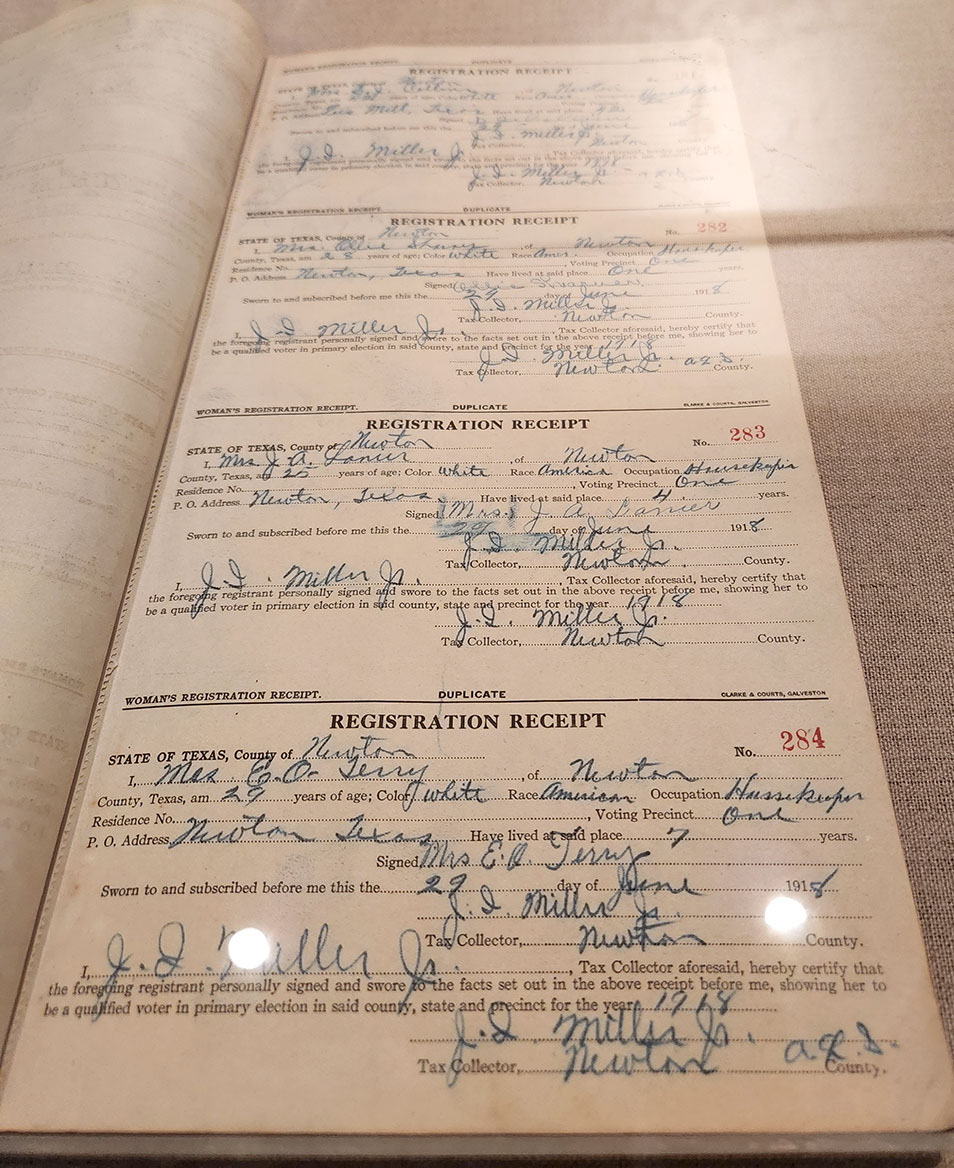 Inman said one of the more popular research items is records on the Tidelands case, which is part of the Price Daniel, Sr. collection from when he served as Texas attorney general from 1947 to 1953. The Tidelands case was a dispute between the U.S. government and the states of California, Louisiana and Texas over coastline ownership.
There are also records and correspondence received by Congressman Martin Dies, Jr. The Lufkin congressman was the sponsor and first chairman of the House Committee on Un-American Activities from 1938 to 1945.
Archives processor Sandra Burrell said sometimes researchers aren't forthcoming about what they are working on.
"Sometimes they are very secretive, if they don't tell you what they are trying to accomplish it can be very difficult to pull records for them," she said.
Inman said sometimes people may be writing a book, or they have some theory and they don't necessarily want anyone to get ahead of them.
"There's a lot stuff here that's important to people individually for their families, and then our common history," she said. "It's very nice that most of us are from this area ourselves, so you get to have those fun moments where you see your own history reflected here and that means so much to you, and you have the opportunity to save that for other people as well. We're trying to preserve that history, the history of all of us so it's available to everyone."
Burrell said people get excited when the find little tidbits of information.
"While they are interested in doing the research and hoping to find something, when they are actually able to track down the information, they just get really excited," she said.
However, Burrell said people can sometimes find more than they are looking for.
"Sometimes people find out things they didn't want to know," she said. "I like to give disclaimers when I'm working with these researchers, 'Now you don't know what your ancestors did because you weren't there, and it was a different time period and a different society. You may not like some of what you find.' And some people have been very unhappy with what they found."
The center's exhibits and historic buildings give life to history such as the Newton County voter registration book the day after Texas gave women the right to vote in 1918.
"You hear about civil rights and women's suffrage, but to literally look into the museum and see that very day that women could register to vote — there's just name after name after name. They didn't wait a couple of months or right before the next election, they went and registered to vote. It meant something," Inman said.
"It's an honor, as cliché as it sounds, for us to be able to do our jobs here. And we're always really happy when people come and do their own research, or just come and view the museum, and they get to experience that for themselves."
Sam Houston Regional Library and Research Center is open to the public, 8 a.m. to 5 p.m., Tuesday through Friday, and 9 a.m. to 4 p.m., on Saturdays.
For more information, visit https://www.tsl.texas.gov/shc/index.html.