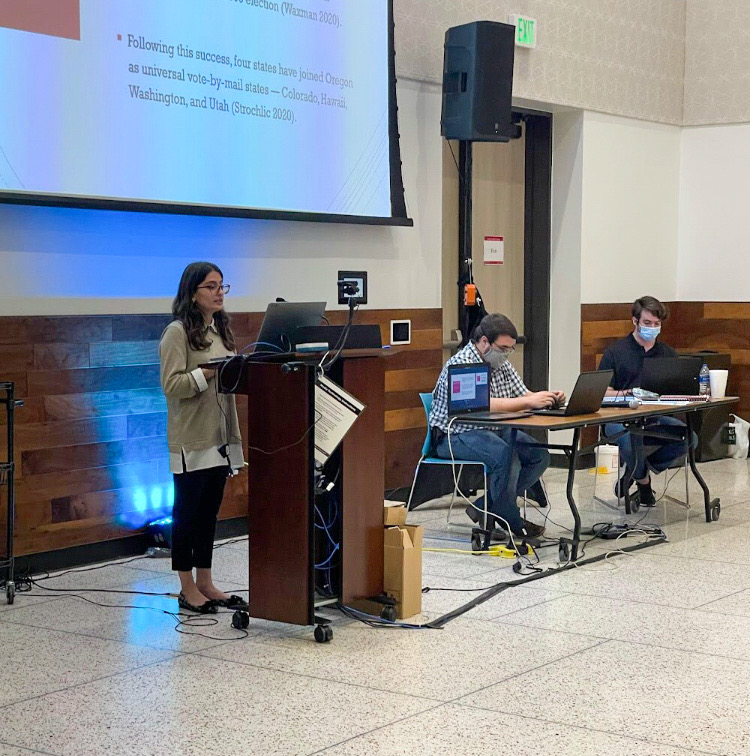 The Office of Undergraduate Research created a workshop to assist students in developing research strategies to improve their Summer Undergraduate Research Fellowship grant proposals.
"Research is the foundation for higher education," Alyse Jordan, head of research, engagement, and learning said. "The workshop gives students an opportunity to evaluate and identify academic resources, develop keyword strategies, and provide the framework to synthesize their resources."
Workshops are held both in person and through a Zoom meeting online for any students interested in joining. A recent workshop hosted by Dr. Alyse Jordan on Thursday, April 21 focused on areas to help students develop their research strategies.
"We want students to be proficient in writing references, citations, and to be professional in the sense of not claiming the work of others," Cristian Brahim, director of undergraduate research said. "I think this helps a great deal in the fluency of their narrative because it's not just citations, but you see how others develop their ideas and how they build an argument."
The Summer Undergraduate Research Fellowships is a competitive program in which a student is given 10 weeks over the course of the summer to research a topic with a LU mentor and submit their proposal.
The submission deadline is around Feb. 20-25 every year and students who become part of the program will receive a $2,000 stipend to spend how they choose, $500 in travel expenses after the project is completed, $1,000 in research support, and free Cardinal village housing from the end of Commencement until the end of the summer, Bahrim said.
"There is a lack of awareness of how to build up your literature– in terms of content, layout, how you present it at the end," Bahrim said. "Dr. Jordan tries to address these issues."
The workshop is not just open to students who are part of SURF, but all students who are interested in learning about research strategies.
"Students have indicated that the workshops have assisted them in locating academic resources and writing literary reviews," Jordan said. "All LU and LIT students are welcome."
To learn more about SURF, visit https://www.lamar.edu/undergraduate-research/research-and-funding/surf/apply-for-surf.html.