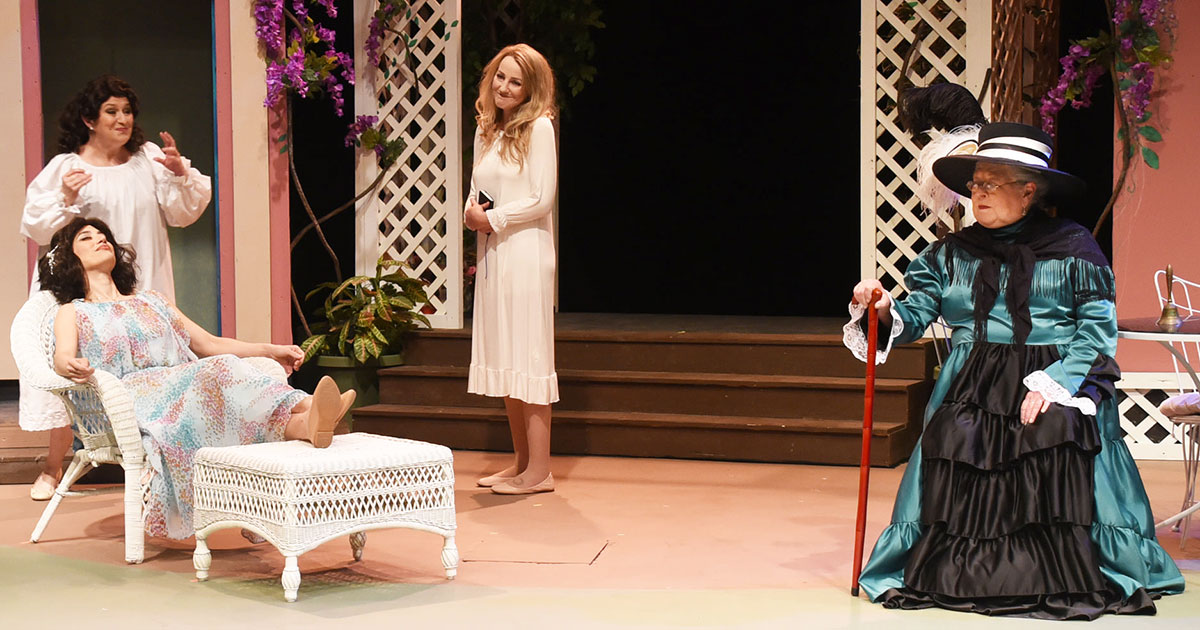 When four very different women rent an Italian Villa to recover from the trauma of World War I, they find a common path to forgiveness. Despite their individual trials, "Enchanted April," running through April 16 at Beaumont Community Players, treats the audience treated to lots of laughs as the women seek escape from their mundane lives.
Adapted from the 1923 novel by Elizabeth von Arnim, the play tells the story of Lotty, Rose, Caroline and Mrs. Graves who pull their savings together to rent a villa in Italy get away from the rainy streets of London.
When Lotty Wilson (Rachel Cain) reads an advertisement in the newspaper for the rental, she is determined to get away. She convinces her church acquaintance, Rose Arnott (Mary Hooker), to join her. Lotty runs an ad for two other ladies to share the rent and is eventually joined by Caroline Bramble (Andrea Garcia) and Mrs. Graves (Charlene Hudgins).
The incessant rain in the early scenes symbolizes the quartet's misery and desire to escape to a heavenly paradise of wisteria and sunshine.
Just as they are about to leave, Lotty and Rose confront their husbands, who they have neglected to tell that they are leaving. The couples mirror each other in a wonderfully written scene where both conversations shift back and forth between each perspective. As the two women argue their positions, the audience gets to see their similarities. Director Robert Fong does a spectacular job presenting this complex scene.
Cain plays a charming character with humorous dialogue enhanced by her micro expressions during others' lines. Her interactions with the other characters show Lotty's optimism and spontaneity.
As the play progresses, we learn about each character's losses as they spend time together. Mrs. Graves initially comes off as harsh, however, her character loosens up and we see a beautiful development for her.
The setting of the villa, designed by Jerry McMillan, is a beautiful display that fully immerses the audience in the story. In the first act, the villa is only described by the characters, making the final reveal, in act 2, more impressive.
The ensemble is ably rounded out by Donny Avery, J.J. Johnson, Corey Winkler and Victoria LeBlanc as the hilarious maid, Costanza.
Lotty says, "for every 'after' found, something must be lost." Each of the four women has lost something of great value. The villa serves as a safe place for them to grieve and learn to forgive others — and themselves.  
Showtimes for "Enchanted April" are April 8, 9, 14, 15 and 16 at 7:30 p.m., with a matinee April 9 at 2 p.m.
BCP is located at 4155 Laurel Ave. For more information, visit beaumontstages.com.