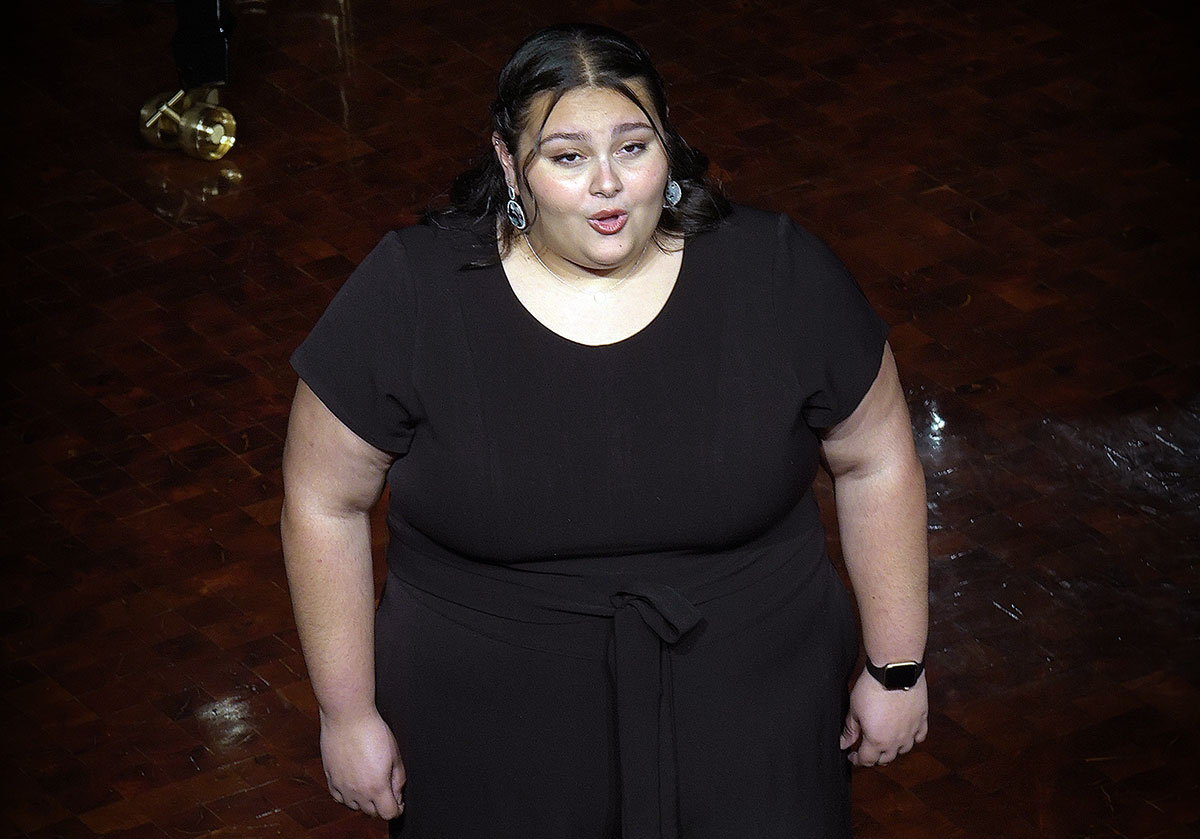 Liberty sophomore Faith Singh is pursuing her dream career of choir director with her love of music and singing. She was inspired by her high school choir teacher to pursue a degree in vocal music education.
"Christie Bean was a huge influence on my life," she said. "She showed me you can do something you love while making a difference in others' lives."
Singh said she and Bean forged a deep connection through their Christian faith. To this day, they still sing in churches together.
"My ultimate passion is music," Singh said. "Whether that is teaching others, or doing it myself, that is what I love. (There's) something about the way it feels to get on a stage to perform and to provoke a response from the audience — whether it is bliss or shock or whatever they are feeling at the moment."
Singh's recent favorite hobbies are going to the opera or musical theater.
"To see a full-on opera performance and connect it to what I am learning everyday makes my dreams a reality," she said. "I can envision my future when I get to observe others doing what I love."
Singh played clarinet throughout her middle and high school years, and plays guitar at  her church every Sunday.
"It is about making the listener feel something," she said. "I especially love to make music at church, and at that moment, it is not about getting glory for myself but giving glory to God. That is truly the most amazing feeling, to see everyone around you raising their voice without fear or worry."
She is the president of Lamar's Student chapter of the National Association of Teachers Singing.
"SNATS is an organization for vocal music educators to provide a place to learn and congregate with other students who have the same passions and goals as you," Singh said. "Some activities that we do are fundraising by selling snacks and water after events held in the music building. We also host guest speakers to come and lecture about topics that we are interested in."
Singh is currently about music theories, how music can be created, and how to identify problems that might occur during practice or on stage. As a vocal student, she also had to take an English, Italian, German and French diction class.
"This is where we learned how to speak and sing the words that would be in our foreign language pieces," she said. "We would use something called the international phonetic alphabet to write out the sounds and connect each language back to the language that is native to us."
Two of her favorite classes were a diction class and an opera workshop class, she said.
"In my opera workshop class, we are actually working on putting together an opera for the fall semester," she said.
Singh initially chose Lamar because it was close to her home and her church. She also likes how the university nurtures a comfortable environment for student-teacher relationships where students can grow and ask as many questions as they want without fear. That aspect of education is very important, she said.
"(College) has truly been a life-changing experience," she said. "The teachers that I have been working with are incredible people who have impacted my life in one way or another. I have been offered opportunities that I never thought I would receive."
Singh received the title "Voice of Lamar," which allows her to sing at every graduation or alumni event, and earns her a scholarship.
"To be presented with such a title is an honor and a blessing," she said. "Some people would probably call me a teacher's pet or goody-two-shoes, but I do not take offense because I know my work ethic."
In her spare time, Singh loves to binge-watch Netflix, hang out with her friends and dabble with photography. Above all, her favorite pastime is shopping with her sister.
"It is not even about the shopping," Singh said, "We sing in the truck and just talk, and it is a moment where we are not just sisters, but we are people who confide in each other."
Singh describes herself as a hard worker and perfectionist.
"Sometimes it can be a bad thing for my self-esteem, but it makes me stronger and want to be better," she said.
Although Singh considers herself to be loud and have a chatty personality, she also values moments of silence where she can look at things from a new perspective or different angle.
"I like to listen to others and make them feel heard." she said. "Kindness can get you further than a negative attitude. By showing that you care, you can provoke the same attitude from the other person."
Singh aims to become a choir director at a high school after graduation. Eventually, she plans to earn masters and doctoral degrees for vocal music education. Ultimately, she would like to become a vocal instructor at a university or teach private lessons.
"It's easy to find joy in each class because it is something I truly enjoy doing," she said.