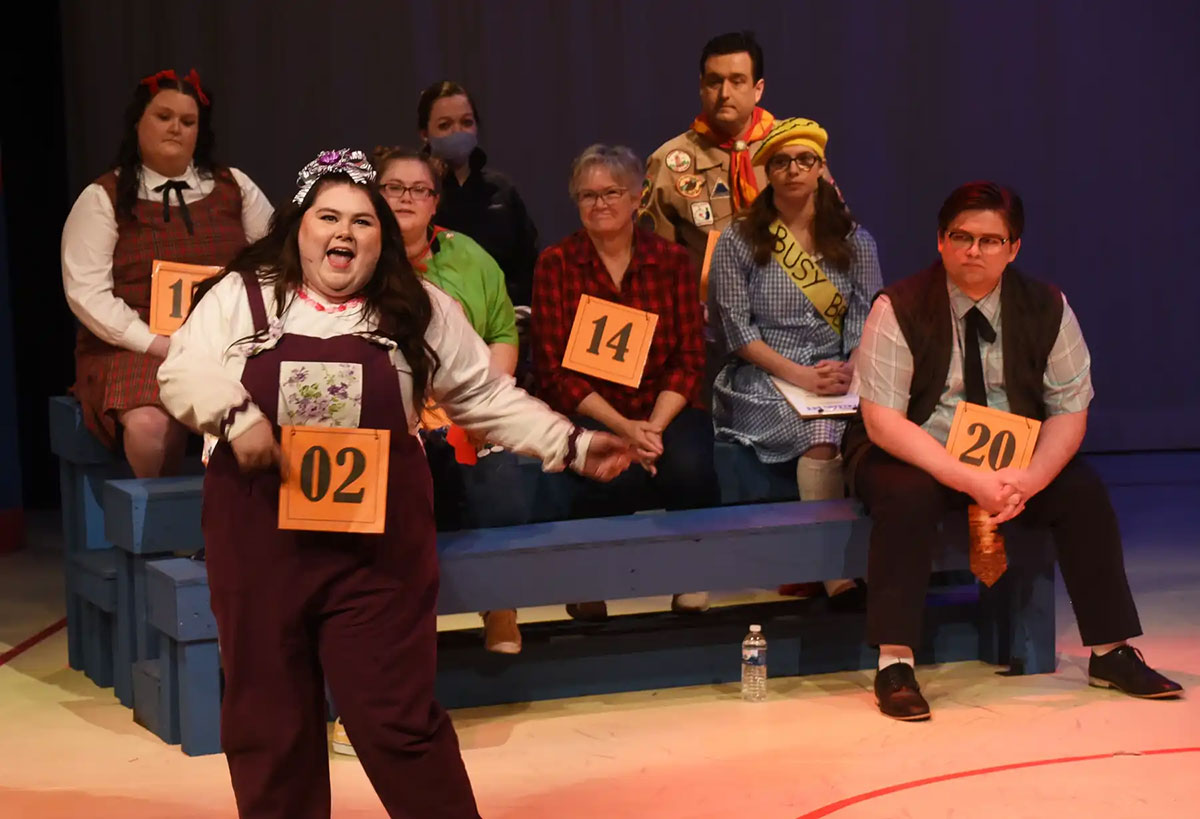 BEAUMONT, Texas — A gaggle of school kids vie for a coveted title and the result is a fantastic story of a typical elementary school childhood experience through song.
The Beaumont Community Players presents "The 25th Annual Putnam County Spelling Bee," music and lyrics and music by William Finn and book by Rachel Sheinkin, through March 12.
 The play tells the story of Putnam County's Spelling Bee and each child's personal mnemonic devices as they try to spell, such as tracing the word with their foot, talking into their hand, or bringing a doll up to the microphone. While it focuses on children as the central characters, the play doesn't just appeal to kids, if the song, "My Unfortunate Erection" doesn't tell you that already.
 The setting, designed by Doug Underwood, gives the play a nostalgic touch. The posters and school bleachers take viewers back to their childhood through just a glance. Along with the set, the costumes, designed by Bryan Buzbee and Janice Pattillo, emphasize each character's personality.
 The actors bring great energy to Finn's catchy tunes and Katelyn Toups' choreography complements each song wonderfully.
 Under John Manfredi's direction, each performer gives the impression we are truly watching children have conversations with each other — the grown-up cast does a great job tapping into their childhood memories. Those elementary school experiences include topics such as failing to measure up to expectations, gifted-kid burnout, and the pressure to impress others, issues that are brought up authentically and naturally. The play serves as a good reminder that children deal with these mental health issues as well.
 Along with the characters competing for the spelling bee, audience members were given the opportunity to sign up for the spelling bee. I couldn't resist putting my name down, even if it meant inserting myself in my review. I and three other audience members joined the cast during the first act.
 Whenever one of us would come up to the microphone, Vice Principal Douglas Panch (Patrick Anderson) and Rona Lisa Peretti (Pamela Raney Jackson) made up jokes about us. For example, when I came up to the stage, Jackson quipped that when I was a girl scout, I would give the boys cookies for free. At the end of the act, I was the last contestant out and as a reward, I got to keep my contestant number and was given a complimentary Juicy Juice box. It was a great experience and I recommend signing up for the chance.
 "The 25th Annual Putnam County Spelling Bee" is a great musical filled with adorable kid banter, great humor — some of it risqué — and catchy songs sung by a talented ensemble. Go see it, you'll "bee" glad you did.
 Showtimes are 7:30 p.m., March 10, 11 and 12. BCP is located at 4155 Laurel Ave. in Beaumont.
 For more information, visit beaumontstages.com.