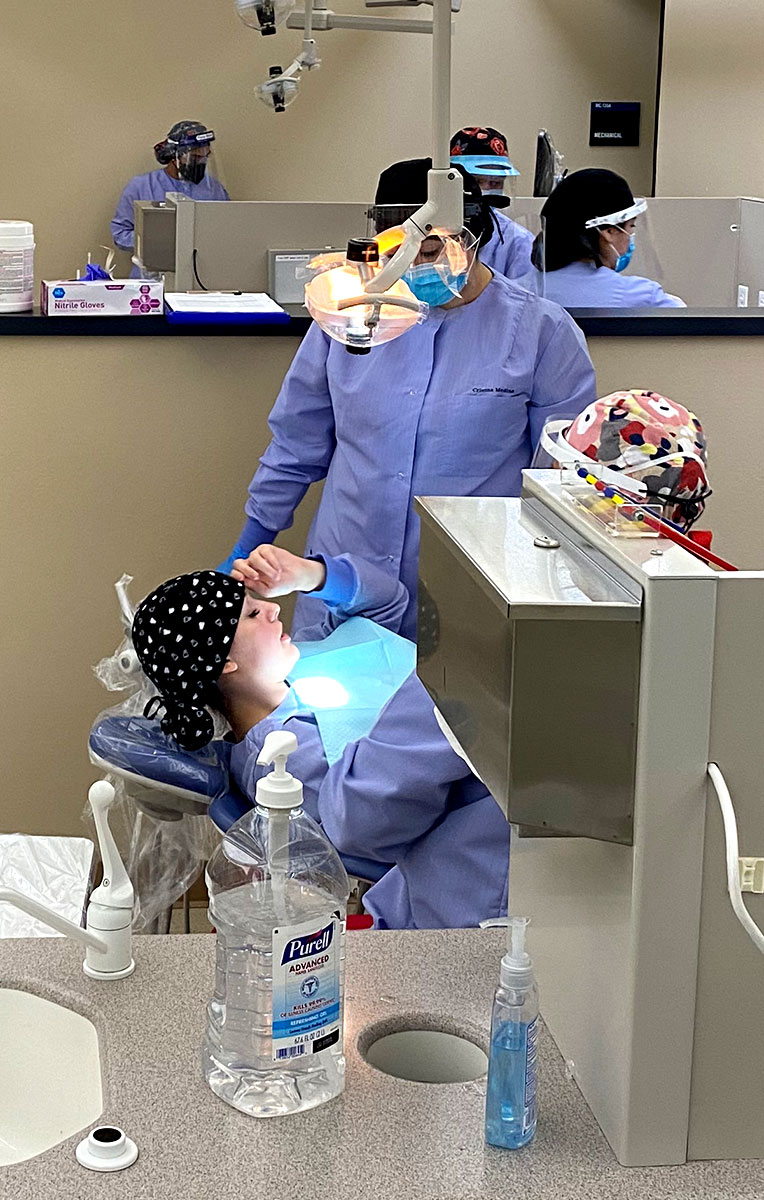 Lamar Institute of Technology dental hygiene students are accepting patients as part of their training process. These services are offered in the Paul & Connie Szuch Multipurpose Building until the end of the semester, and are available for both students and the general public.
The hygiene students all start off doing a pre-clinic. During their pre-clinic the students work on mannequins as their beginner training. After the pre-clinic the students begin their first year in clinical with actual patients.
For first year students the clinical days are Monday's and Wednesday's from 8 a.m. to noon and on Tuesdays and Thursdays from 1 p.m. to 5 p.m.
"First year students usually see about 10 patients since it takes them a little longer to go through the whole process," dental hygiene administrative associate Deborah Haynes said.
Second year clinical students handle the more complicated procedures. The clinical days for second year students are Monday's and Wednesday's from 8 a.m. to noon and on Tuesdays and Thursdays from 1 p.m. to 5 p.m. They also do Friday's from 8 a.m to noon.
"Second year students usually need 15 patients, sometimes more, it just depends on the type of cleaning they need," Haynes said. "The second-year students see the higher-class patients, such as deep cleanings since those procedures take a little longer."
There are currently about 27 hygiene students and they get their clinical grades based on the number of patients they practice on.
"All the students in the dental hygiene field are required to provide for our own patients. Our grade depends on our patients, we are always accepting new patients," Port Arthur junior Cristina Medina said.
The price for the general public is $25. It includes x-rays, sealants, oral cancer screening, fluoride, and dental cleaning. The price for Lamar students and faculty and any senior citizen is $15. To get just x-rays it is $10. The hygiene students also do head and neck exams, cleanings, scalings, root planings, polishing, and fluoride treatments. Insurance is not needed for any of the services provided.
The payment options are debit, credit and cash. The only card they do not accept is American Express. They do not accept checks or financing options such as CareCredit.
"Your oral health has a lot do with your overall health so if you can come and get checked out it will be very beneficial for you," Port Arthur junior Guadalupe Espinoza said.
For more information appointments can be made at the dental clinic or call the clinic at 409-880-8860. Staffers will explain available days and will add people to the waiting list. An assigned hygiene student will then personally call patients about the appointment.