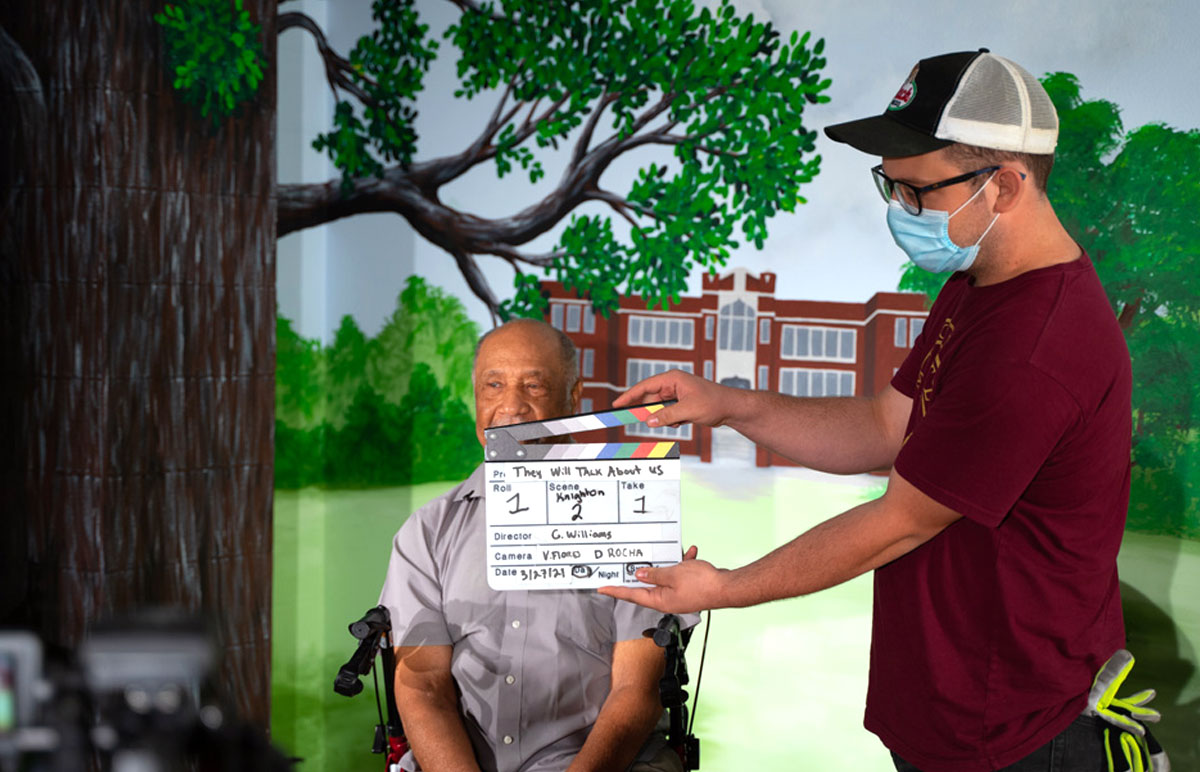 Lamar University's LUTV News will premiere the documentary, "They Will Talk About Us: The Charlton-Pollard Story," at 6 p.m., Feb. 18 in the Jefferson Theatre in downtown Beaumont. Tickets are $6 for adults and $4 for children. The documentary is directed by Gordon Williams and edited by Jonathan Tippett. LU students filmed the project.
The 32-minute documentary tells the story of the Charlton-Pollard neighborhood, which is the oldest black community in Texas, and the first place in Beaumont, historically, to offer education to African Americans, Tippett said.
"It is just a historical look at where it came from and why it's called Charlton-Pollard," Tippett said. "It's a story about not only the neighborhood and where it came from, but also the neighborhood's decline."
The documentary has been in production since December 2020, Williams said.
"We went and sat down with a lot of different people of various ages with experience in that community who lived and grew up there," he said. "We tried to cover all our bases in the history of this neighborhood, as there's no other way we can tell the entire story. We're hoping that this is just the start of the conversation, and something that inspires people to go find out more about the community."
LUTV directly involved students in the production. Students from the film program operated cameras and lights, and broadcasting and journalism students conducted the interviews, Tippet said.
Williams said that the documentary gave students hands-on experience.   
"We wanted to create a professional work environment and make sure that they see themselves as professionals," he said. "I feel like they really had an opportunity to connect with the people that were being interviewed during this production and they got a chance to learn a great deal about this area. When you have a strong work ethic and a good reputation that carries weight, opportunities come your way. And this was one of those opportunities that happened for the individuals that were selected."
Throughout the process, Tippet said a lot of what they found was oral retellings of historical events.
"We had to talk to people, make phone calls and set up meetings," he said. "We had to find out who knew what and who had pictures. Fortunately, we met a fellow by the name of Lynn Simon pretty early on in the process. He had an absolute treasure trove of pictures, home movies, VHS tapes that he had digitized, and yearbooks."
Tippet said that "They Will Talk About Us" is the first professional documentary he has worked on, and that he gained new knowledge about the places around him during the production.
"I'm a white guy, and this is a Black-oriented, Black history documentary,"he said. "It's very eye opening for someone like me, because not only am I just not part of the culture anyway, I didn't know anything about the neighborhood. I was learning about all this history and rich culture that's right around the corner from Lamar that I had never heard of.
"Being able to contribute to the story, and to make it more well-known and accessible to the people of Beaumont and the world, is a great opportunity, never mind the historical significance."
Doors will open at 5:30 p.m. and there will be an informal Q&A following the screening.
"We're just going to hang out in the lobby or wherever there's space for us," Tippet said. "So, if anyone needs to ask any questions, we will both be available."
For more information, visit the LUTV Facebook page.
Tickets are available at the Jefferson Theatre and the Beaumont Civic Center box office.
The Jefferson Theatre is located at 345 Fannin St. in downtown Beaumont.
Click here to watch the trailer.