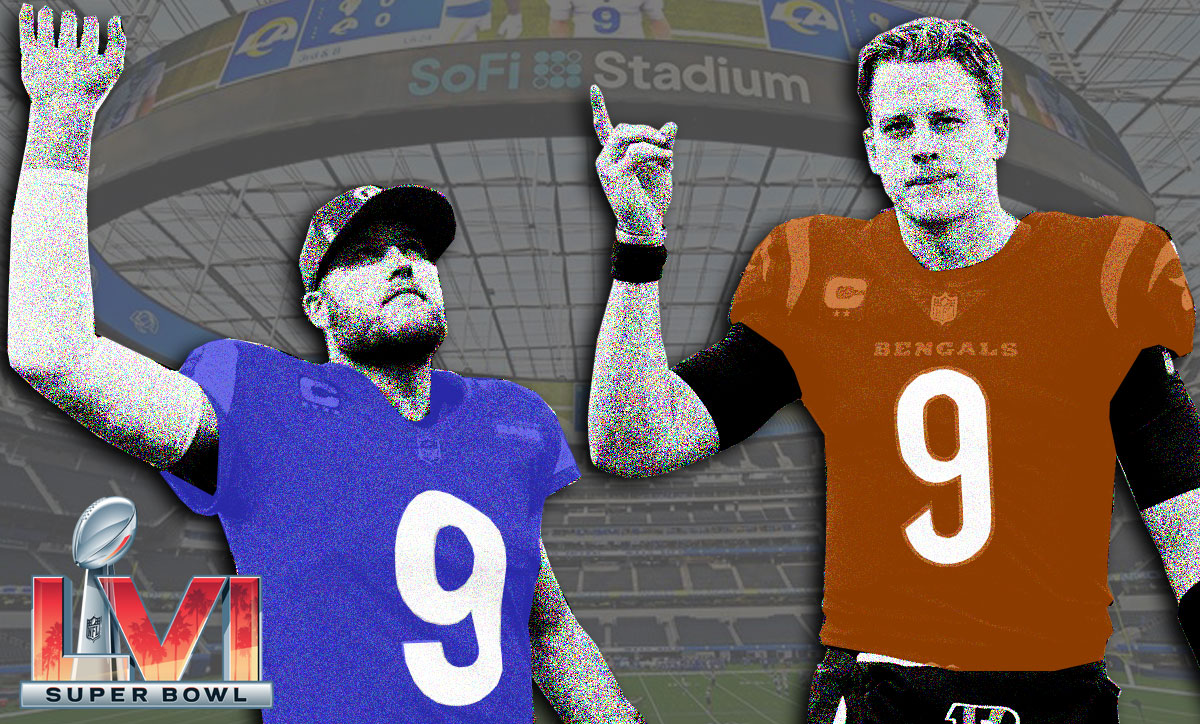 COMMENTARY: Rams, Bengals face off in Super Bowl
The Los Angeles Rams and Cincinnati Bengals are set to clash in Super Bowl LVI, held at SoFi Stadium in Los Angeles, Feb. 13. After the first 17-game season in NFL history and three weeks of incredible, high-stakes playoff football, the conference winners will meet to crown a champion.
Fans who can't decide which team to root for have their work cut out for them. There's really no going wrong with either franchise. Here's why: 
The Los Angeles Rams made a splash last offseason by acquiring quarterback Matthew Stafford from the Detroit Lions via a trade. Stafford spent 12 years in Detroit, making the playoffs just three times over that 12-year span. This was no fault of Stafford's — he was consistently an elite signal-caller who was just stuck with a shoddy team. After giving his all for more than a decade to the franchise that drafted him, the veteran quarterback finally has a chance to compete for something that truly matters.
Once Stafford donned the blue-and-gold, expectations for the Rams were high heading into the 2021 season. It's safe to say they did not disappoint, going 12-5 en route to clinching a notoriously tough NFC West division title. Entering the playoffs, Los Angeles dominated a talented Arizona Cardinals squad, defeated Tom Brady and the reigning champion Tampa Bay Buccaneers and finally took down division rival San Francisco in the NFC Championship. In short, Los Angeles is meant to be here. 
On the other hand, the Cincinnati Bengals are the complete opposite. The Bengals finished 4-11 in 2020 after then-rookie quarterback and first-overall pick Joe Burrow essentially shredded his left knee, resulting in season-ending surgery. Burrow spent his next several months rehabbing a torn left ACL and MCL as well as partial PCL and meniscus tears. Despite all that, Burrow bounced back with a fantastic sophomore year as he led a young, exciting Bengals squad to their first AFC North division title since the 2015 campaign.
If someone says they expected the Bengals to make the Super Bowl this year, they're definitely lying. Nobody, absolutely nobody, saw this franchise overhaul coming. Cincy battled through tough games all season just to reach the playoffs. When they finally got there, they went through an extremely difficult path to win the AFC. "Joe Brrr" bounced the Las Vegas Raiders, first-seeded Tennessee Titans and the powerhouse Kansas City Chiefs to earn their first Super Bowl berth since 1989.
So, what does all this mean, exactly? Basically, there's no bad outcome to this game. For the first time in years there's no superteam or league-wide villain, such as Brady, to root against. The Bengals haven't been to the Super Bowl in decades and they're a young team with a bright future. Bandwagon fans rejoice; Cincy is just fun to cheer for. And even though LA went to the big game a few years ago, Stafford being at the helm adds much higher stakes to the equation. After spending 12 years with a mediocre-to-terrible team, he deserves a championship ring more than anyone.
With that said, there are of course some key factors that will decide the outcome of Super Bowl LVI.
The Rams are the favorites to win it all — after all, they have plenty of playoff experience and myriad big-name stars on the roster. Stafford helms an elite offense that includes Cooper Kupp and Odell Beckham Jr. lining up outside, plus a great offensive line and capable running backs in Cam Akers and Sony Michel. On the other side of the ball, the Los Angeles defense instills terror in their opponents. Defensive tackle Aaron Donald is possibly the greatest defender in NFL history. Add outside linebacker Von Miller and the game's best corner in Jalen Ramsey to the mix, and the Rams are an absolute force to be reckoned with.
So, here's the deal, the Bengals look like they're outmatched. Burrow has plenty of weapons on offense with star rookie receiver Ja'Marr Chase and fellow wide out Tee Higgins catching passes. The three all played together on a national title winning LSU squad, so they have winning pedigree. Stud running back Joe Mixon is also among the top talents at his position. However, the Bengals' offensive line and defense are both major concerns.
To be frank, Burrow cannot throw deep to Chase and Higgins if he can't stay relatively safe in the pocket. After getting sacked a record-tying nine times against the Titans, pass protection is a major issue for Cincinnati. While the Bengals somehow won that game, the Rams' front seven will create some massive mismatches against an underpowered and undermanned Bengals line. Playing against Tennessee is one thing — facing Aaron Donald is a whole different ball game.
The other issue for the Bengals is their defense. Overall, the unit was league-average during the regular season. In the playoffs, they were consistently doubted but somehow managed to get stops and force turnovers at just the right times. Perhaps their most impressive accomplishment was holding superstar QB Patrick Mahomes and a lethal Chiefs offense scoreless in the second half of the AFC championship, which allowed the Bengals to come back from down three possessions and win.
However, there's one man you cannot game plan for, and that is Los Angeles' Kupp. The fifth-year wide receiver is a one-man wrecking crew with the ability to change a game by himself. He's one of four players in the Super Bowl era (since 1966) to win the wide receiver triple crown. Kupp paced the entire NFL in receptions (145), receiving yards (1,947), and touchdowns (16). There's quite literally no way to stop him, or even slow him down. If the Bengals somehow manage to do the impossible and limit Kupp, they still have to worry about Beckham Jr. as he experiences a career revival in L.A. As the Twitterverse has said, "Bengals corner Eli Apple is toast."
This isn't to discredit the Bengals, or to say that they have no shot at winning. It's entirely possible that they complete their Cinderella run and shed the underdog label by winning it all. Cincinnati going from worst in the league three seasons ago to winning a Super Bowl would be an incredible story. If anyone can pull it off, it'll be this team. They play with confidence few young rosters ever show — but they haven't been under the lights of the NFL's biggest stage.
Vegas has the Rams as 4.5-point favorite. However, everyone loves an underdog story. Prediction: Cincinnati, 31-24.