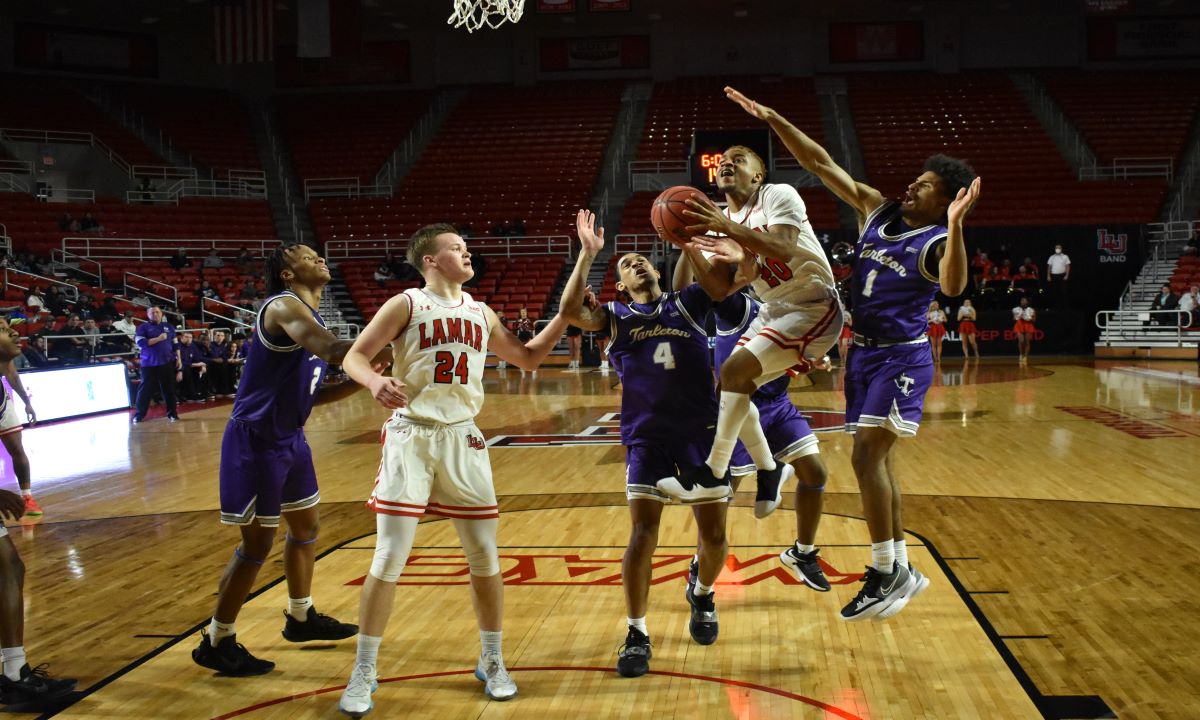 The Lamar Men's basketball team faced off against the California Baptist Lancers during their Western Athletic Conference contest, Feb. 10.
Both teams searched for an end to their losing streaks with the Lancers on a five-game slide of their own. LU had their work cut out for them against a deep CBU roster.
The action took some time to get going, as neither team scored for the first two minutes. LU guard CJ Roberts picked up two fouls in just the first four minutes, sending him to the bench for a spell.
The Lancers started the game with six of their first seven shot attempts coming from three-point range, making two of them. Nearly nine minutes into the first half, the Cardinals and Lancers remained tied 8-8.
Lamar inserted additional size into the lineup, bringing forwards Valentin Catt and Clayton Carpenter into the game. The teams continued to trade blows as the game was tied at 17-17.
Just before halftime, the Lancers' three-point barrage kept coming as they built a 13-point lead. However, the Cards were able to narrow the lead to nine as the first half came to a close.
CBU led LU, 34-25, at halftime. Brothers Tre and Taran Armstrong paced the Lancers in first-half scoring. Tre had 12 points, all coming from behind the 3-point line. In total, 30 of the Lancers' 34 points came from beyond the arc in the first half as they made 10 three-pointers.
Senior forward Lincoln Smith had 8 points for the Cardinals, leading the way into the second period.
Lamar would come out of the half with a good effort to make it a two-possession game. Unfortunately, every Cardinal run was answered by a Lancer three-pointer. The Lancers finally pulled away, pushing the lead to 20 as the game entered the final 10 minutes.
California Baptist finished the night 15-of-38 from deep, while Lamar only made one of their seven three-point attempts.
Smith put together a solid stat line of 14 points and 10 rebounds. Roberts, who is the Cards' leading scorer on the season, finished with 16 points.
Cal Baptist's Tre Armstrong finished with a game-high 25 points and 10 rebounds, shooting 50% on the night. His brother, Taran, facilitated to CBU's shooters to rack up 10 assists in the contest.
The Lancers outlasted LU 83-61 in Riverside, CA.