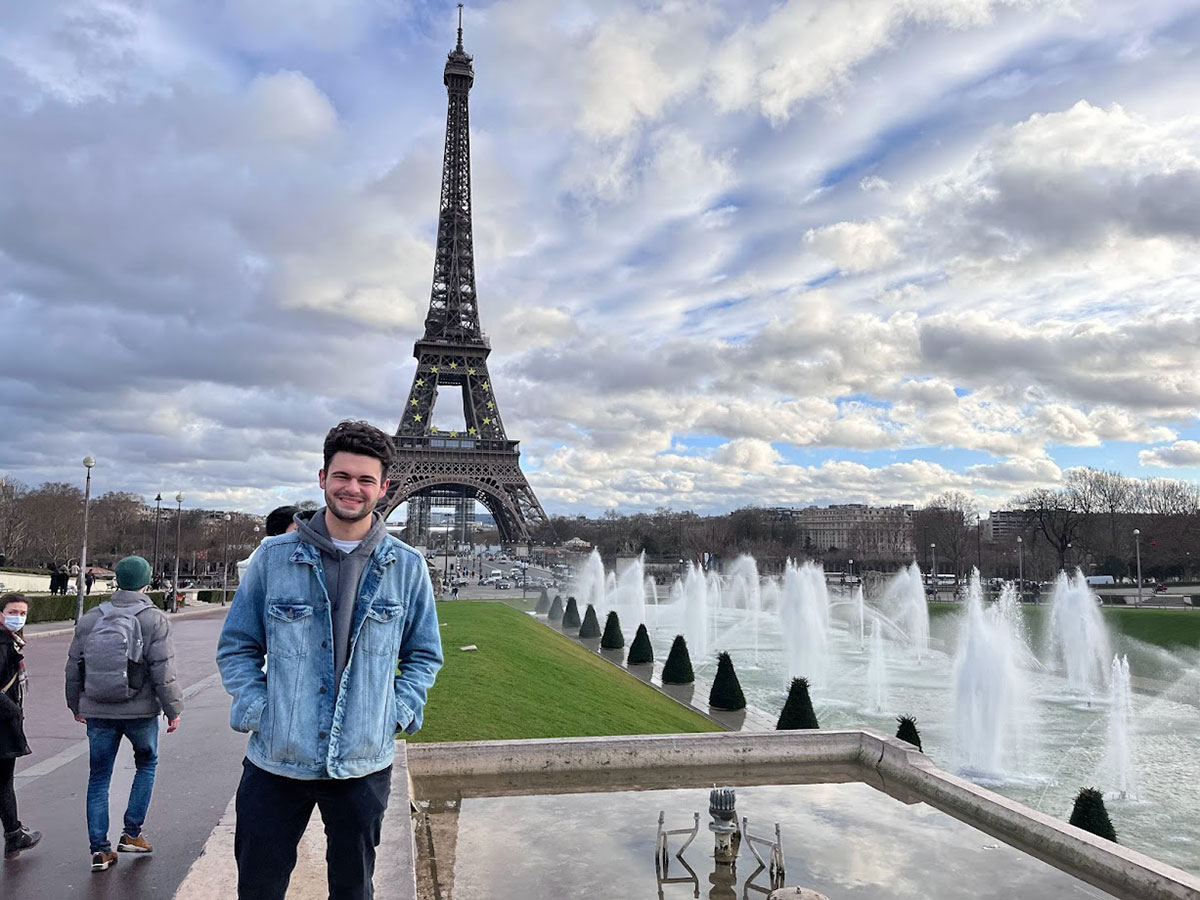 The COVID-19 pandemic has caused many things to be put on hold that were once took for granted — seeing friends in class, going out to eat and traveling for the holidays. As many places are beginning to take small steps to return to normal, Lamar senior Caleb Parker took a leap across the Atlantic to become the first student to study abroad since the start of the pandemic.
Double majoring in finance and economics, the Beaumont native is attending the Rennes School of Business in Rennes, France.
Arriving in late December of 2021, Parker said he has experienced both highs and lows, making memories and interesting discoveries, developing as a student, and facing challenges that have demanded to be met with painful journeys of personal growth.
"I was really excited, first coming, and then it was kind of, 'Oh, my gosh!' like, go live across the world for four months?" he said in a Zoom interview.
"Before this I've lived with my parents my whole life. It didn't really come across my mind, like, 'Oh, I'm about to be independent.' Not only independent, but across the world. and mom is not just 10 minutes down the road anymore."
During his first few weeks abroad, Parker struggled to adjust and dealt with feelings of anxiety and homesickness, he said. However, with the support of his family, friends and Mary Alice Haas, the Study Abroad and Student Exchange Coordinator, he was able to refocus on his reasons for coming and start to enjoy himself.
"I've always had the aspirations to see how other people conduct a way of life outside of where I've lived," he said. "And then, you know, why not be able to do it in school and then be able to come back and tell people all the stories I've had and the people I've met."
Parker said he definitely thinks studying abroad should be encouraged at Lamar, or just in general.
"It is really a life-changing experience; you grow a lot as a person," he said. "Whether that's personal growth, finding yourself, or finding, at least, what you want to do with your life, and being able to travel the world at the same time."
While studying abroad, Parker has learned of some of the unique aspects of French culture.
"Little things are a lot different here, and it's a lot of neat things that you don't see back in the U.S.," he said.
Parker said the grocery store baskets are on wheels with adjustable handles for when the basket gets too heavy, which he calls a "genius idea."
In addition to shopping-baskets, Parker's also sampled some chef prepared culinary experiences, such as having snails with a friend in Paris, enjoying almond butter croissants, and being curiously surprised by the French idea of the kebab.
"Kebabs, I thought, were the things you put on a stick," he said. "Over here, it's a little different. I guess it's a sandwich, because every time they're like, "You want a kebab?" it's almost like this tortilla, and then they put meat and cheese, and then you put french fries and lettuce and stuff."
Turns out, outside of North America, "kebab" can refer to either "shish kebab" — which is the food on a stick that Americans know — or it can refer to "döner kebab," which is similar to the Greek gyro or the Levantine shawarma.[1]
The French approach to regulating the COVID climate is also different from what has become the laxer reality in the US, Parker said.
"In France, their restrictions are a lot tighter than compared to the U.S.," he said. "I guess, to put it in perspective, if you have your mask not covering your nose or it's under your nose, they'll say something."
Parker also has traveled to the United Kingdom and experienced the COVID environment its government has in place, which he described as being more lenient and similar to that of the United States.
From an academic perspective, working with an international group of classmates has given Parker the varied experience he hoped for.
"I'm taking two management courses; I think those have really given me a perspective of being a manager, or really any executive, you're gonna have to deal with different people," he said. "Those have given me a lot of useful information, like how you're able to identify people's strengths based on their backgrounds. And then, don't be like a tyrant, per se, but, you know, be a team player."
Parker said he feels that studying abroad has helped him with both his professional and personal prospects.
"I would say, overall, they've benefited my major and my employment future, because this experience has really given me a perspective outside of the U.S.," he said.
"The beauty of it is, you go to class, and then you meet somebody new — that changes. Or you can go to England or Spain, and then you meet somebody there and that changes your mind there. That's really, I think, the one thing that stuck out with me."
"Things in life change, so it's an opportunity for your mind to see new things, meet new people. Then, with that knowledge, the world is yours. You can do anything that your mind desires, as long as you have a will, and you make the right decisions and keep on doing the right thing. There's no telling where that can bring you."