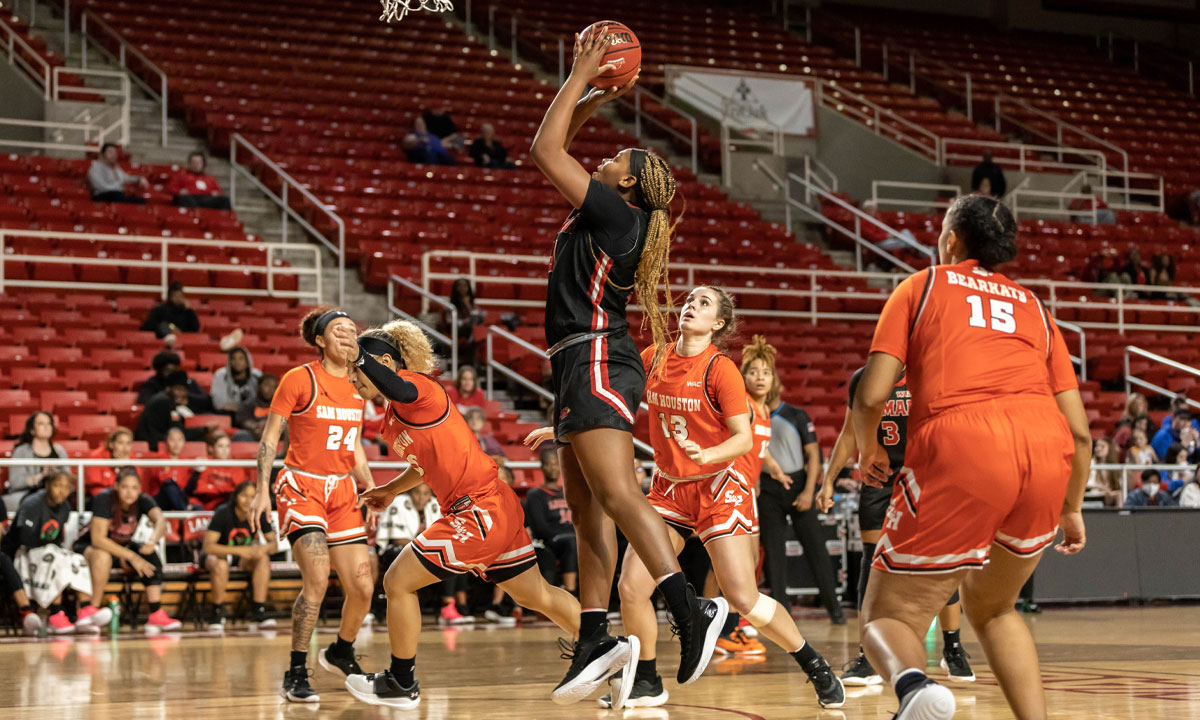 The Lamar University women's basketball team lost their third game in a row at home, Feb. 14. The Lady Cards struggled offensively, falling to Western Athletic Conference rivals Sam Houston State, 66-57, in the Montagne Center.
The Lady Cards (11-11, 6-7 in the WAC) shot just 37 percent from the field, and a devastating six percent from the three-point line, making only one three-pointer out of 16 attempts.
Lamar started off slow with just eight points in the first quarter, while the Bearkats had double that with 16 points. The Lady Cardinals started to
find their rhythm in the second quarter, scoring 16 points and shooting 60 percent from the field. Unfortunately, they still trailed by nine at the half, 33-24.
Sam Houston guard Faith Cook was a problem for the Lady Cards throughout the game, shooting 50 percent from the field and scoring 23 points with 8 free throws. The Lady Cardinals also struggled when it came to rebounding, pulling down 27 boards compared to the Bearkats' 40.
Lamar started to battle back in the third quarter, scoring 14 points. However, they still trailed by 12 heading into the final period.
Lady Cardinals' freshman forward Akasha Davis had 13 points and six rebounds, while  teammate Angel Hastings posted 10 points in her first start of the season.
The fourth stanza was Lamar's highest-scoring quarter of the game with 19 points. However, it wasn't enough to overcome the deficit. With the loss, the Lady Cards dropped to seventh in the WAC with five games left in the regular season.
Lamar University next plays at Stephen F. Austin University, who are currently undefeated and top the conference. The game will take place Feb. 19 in Nacogdoches. Tip-off is scheduled for 2 p.m.