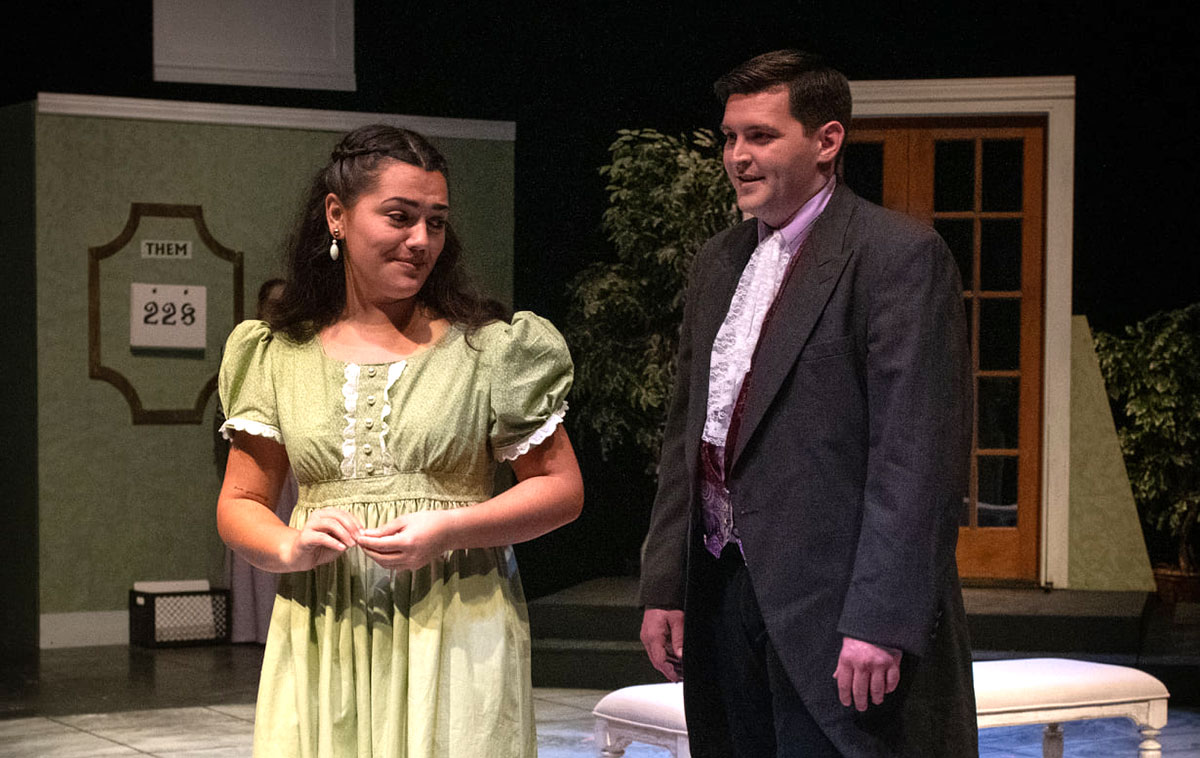 Beaumont Community Player's production of "Pride and Prejudice" takes the original Jane Austen novel and adds humorous dialogue, great acting and imaginative twists to refresh and renew this classic love story.
The play is set in the year 1813 and tells the story of the Bennet family, with Mrs. Bennet (Bryan Buzbee) eager to marry her daughters off to rich eligible bachelors to save their family financially. However, Lizzy Bennet (Emily Aguilar) is against marriage entirely, until she meets Mr. Darcy (Chaz Romero). The play tells their love story with Mr. Darcy "driven away by his pride," and Lizzy Bennet acting cruelly towards him "all in service of her prejudice."
This adaptation by Kate Hamill adds a comedic twist as it depicts the battles women faced during the Georgian period, where women were expected to compete for suitable marriages amid misogynistic societal rules.
Aguilar plays a strong female character who isn't afraid to speak her mind about her true feelings over marriage and her initial disdain for Mr. Darcy. Her character is one that audiences can admire as she is the most open about her true desires, regardless of her family's judgement.
Buzbee plays a "drag queen" rendition of Mrs. Bennet and steals the show. Throughout the first act, Mrs. Bennet's physical comedy, and body language carries the show with incredible charm.
The play also had great humor during the "asides." When some of the main characters are having a discussion, other side characters step off to the side and perform their own "side gig," by either talking or tossing a ball around. This made the side characters feel more personal and less stoic. During the ballroom scenes, Jane Bennet (Renée Celeste) and Charlotte Lucas (Leslie Hicks) alternate between typical ballroom dancing and the tango. It adds personality and charm to the characters.
Set designer John Manfredi's set of the Bennet home is minimalistic but adds character with an "Us" vs. "Them" scoreboard that changes during the play's events. It adds a great visual representation of the family's struggles and challenges.
Director Julia Rodriguez wonderfully reimagines this classic story to be fresh and lively and modern, despite the period setting, making it feel like an entirely different story while keeping the charm of the original.
'Pride and Prejudice' continues Feb. 3-5 at 7:30 p.m.
BCP is located at 4155 Laurel Ave. For more information, visit beaumontstages.com.