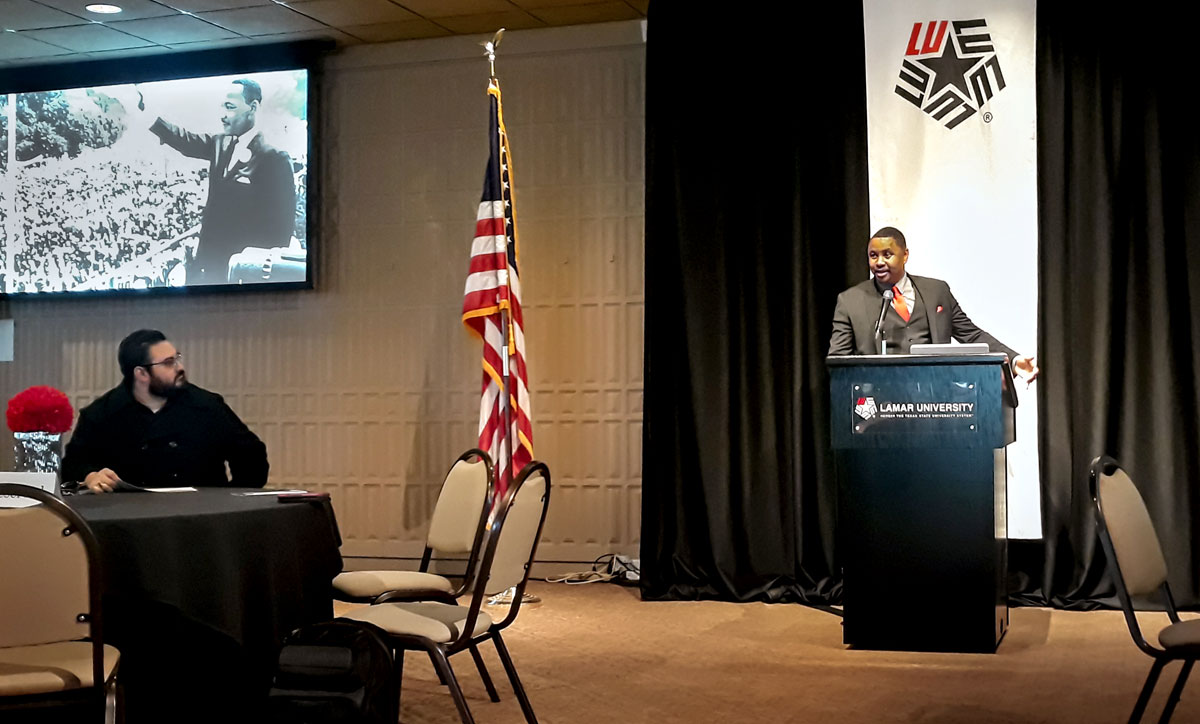 Lamar University's Office of Global Diversity & Inclusive Excellence held an event in honor of Rev. Dr. Martin Luther King Jr., Jan 20, on the eighth floor of Gray Library.
LU President Jaime Taylor set the tone for the celebration with his opening remarks, expressing his appreciation for the inclusive culture we enjoy today as well as a sense of admiration for MLK and others who fought for such a reality.
"I often say I am proud of Lamar University for who we are today," he said. "But it's even more important for me to acknowledge the people who fought to desegregate Lamar State College of Technology in 1956. They not only won the legal battles, but afterwards they worked to cultivate an on-campus environment of social understanding and racial reconciliation.
"Today, we work here at Lamar University to achieve for our students a campus experience that Dr. King dreamed of, but never got to see — equality of opportunity, access to diverse points of view and life experiences, compassionate citizenship, innovative graduates who turn our communities."
Norman Bellard, interim vice president of the Division of Diversity, Inclusion, and Community Relations, also spoke on the efforts and lasting impact of Dr. King.
"These annual celebrations of Dr. King's legacy are important, not simply to reflect on the life and work of a great man who led a movement that moved his nation forward exponentially," he said. "At this time each year, we reflect, we remember, and we recommit to continue Dr. King's work and, as he challenged us, to do our part to make America a better nation."
Seven students from Pietzsch-MacArthur Pre-K-8th Grade Center paid tribute to Dr. King through a reading of his "I Have a Dream" speech. Ranging from second to seventh grade, the diverse group powerfully embodied the realization of the very dreams of unity and inclusion that the late activist believed in.
Guest speaker and Beaumont City Councilman Albert "A.J." Turner addressed the youth, imploring them to heed the wisdom of those like Dr. King and lead honorable, intentional lives.
"My message today is that it starts with me," he said. "The time is always right to do what's right. That's one of my favorite quotes from Dr. Martin Luther King. Do what you say you're gonna do. Be a man, be a woman of your word. Take pride in everything you do. A genuine leader is not a searcher for consensus, but a model of consensus."
As a city councilman, Turner also addressed the audience from a community aspect.
"Accountability is everything," he said. "It's easy to shift the blame. But today I ask everybody to learn how to hold yourself accountable. Learn how to work with people who may not look like you. Learn how to sit at the table, have adult conversation — even if we agree to disagree — move forward and respect one another. We are in this community together. If we can't work together, we can't grow this community."
From the campus of Lamar University to the community of Beaumont and beyond, the life of MLK has left a lasting impact and legacy of excellence, unity, love and justice.
In remembrance of this legacy, Bellard quoted King's last major speech, which he gave on April 3, 1968, in Memphis, Tennessee, the night before he was assassinated:
"Let us rise up tonight with a greater readiness. Let us stand with a greater determination. And let us move on in these powerful days, these days of challenge to make America what it ought to be. We have an opportunity to make America a better nation."