Students share their advice for the fall 2021 finals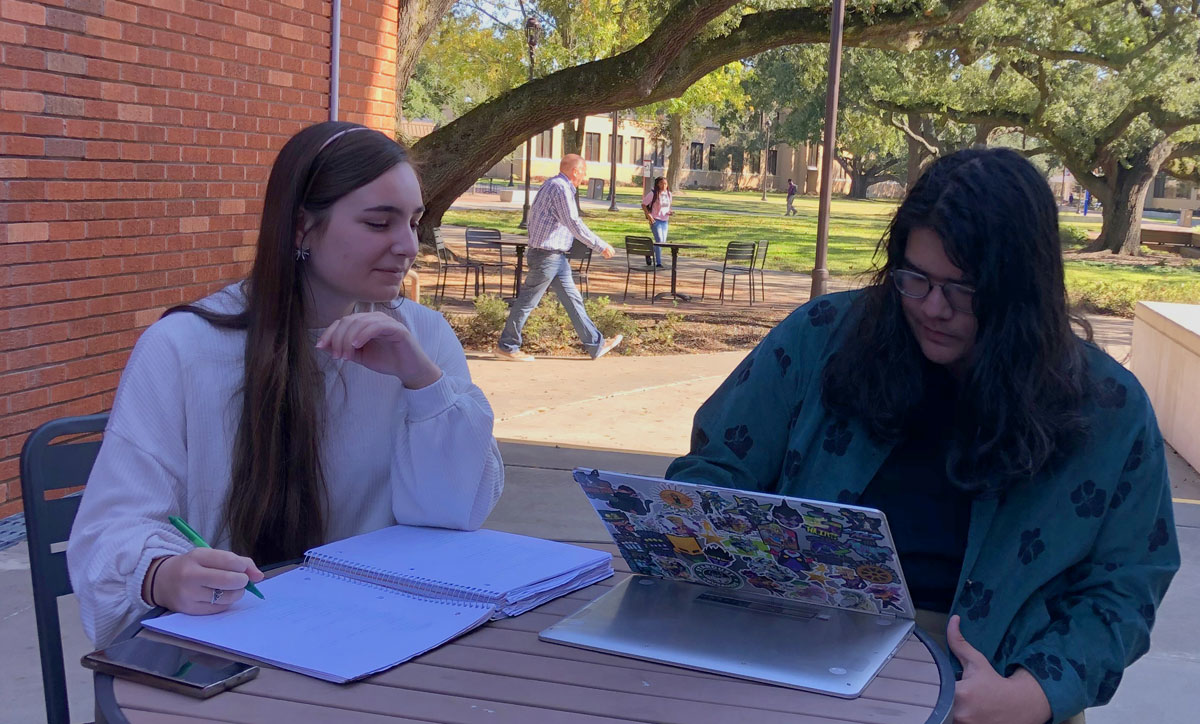 As the Fall semester comes to a close, several students share their thoughts and advice for finals.
Houston native junior Alondria Shields is one of the many students who live in the dorms on campus. Her major is in social work.
"I'm mentally drained but I'm making it through the semester," the social work major said. "It was easier than I thought it would be." The confusion of having some classes being in person and other classes being online took a toll on her this semester.
She hasn't yet had any of her finals. When it comes to preparation for finals, Shields' recommended methods include studying, note taking, and time management.
"Take your time and don't overwork yourself," She said. "Go at your own pace and do what works for you." 
Senior Yulisa Alvarez is another student who has yet to take her finals.
"It's nerve wracking that the semester is coming to an end," Alvarez said.
Her nerves mainly come from the fact that she'll graduate in the spring of 2022, with just one semester left to finish after this current one.
Her approach for preparing for the finals focuses more on mindfulness of getting enough sleep, eating well, hydration, and that everyone should remember to take care of themselves during that period.
"Keep a balanced flow of things during the week of finals, stay focused, and try not to overstress things," Alvarez said.
Sophomore Kyndall Kelley shares her own thoughts and advice for finals. Kelley is from New Caney and is currently majoring in Audiology. 
"Dealing with finals is very tiring," Kelley said. "It's not very fun, but I'm getting through it."
For finals, she encourages students to make comprehensive flashcards to study and take the time to talk with other students about tips.
"I tend to procrastinate a lot and tend to just wait," Kelley said. "There's this advice I adhere to: it's to do everything 30 minutes early. Don't wait. If you set a time to do something, do it 30 minutes early and it will help you a lot."
Kelley found that advice has helped her in most cases and happened to be shared with her from another student.
Winnie sophomore EJ McMillen is a marketing major and said he's glad the semester is coming to an end. 
"I feel like the fall semester went pretty good overall," McMillen said. 
Mcmillen's approach for preparing for finals centers more around time management, studying with friends, and focusing on one thing at a time.
"I'm not a big study person. I'll review my notes, but I can't just sit down and go over the information myself because that's not how I operate," McMillen said.
However, McMillen found that traditional methods such as flashcards or reviewing notes do not always work the best with him when it comes to studying.
"It's not good to study multiple things," he said. "Focus on one thing at a time. Just keep on, stay on top of things like scheduling, and make sure you get done what you need to get done."