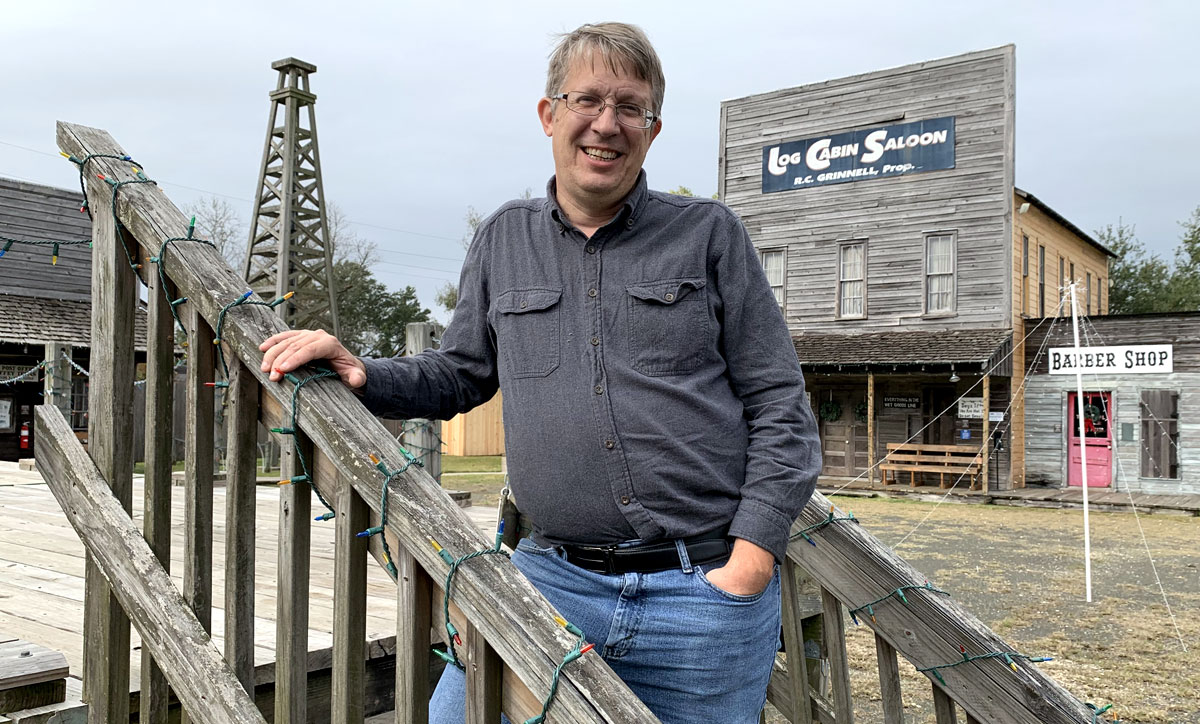 From wooly mammoths to Dr. Pepper, Spindletop Gladys City Boomtown Museum director Troy Gray is no stranger to interesting history. While many see history as a boring, mandatory subject, Gray seeks to change this by educating the community on Beaumont's rich history with an exciting and interactive approach.
After gaining experience as an educator, even teaching English in South Korea for 11 years, he found that teaching in a school setting didn't give him the creative freedom and independence that drives him.
Graduating from Baylor with a degree in museum studies, Gray said that he has always known he wanted a career in history.
Beginning his journey as a tour guide at what is now the Waco Mammoth National Monument, Gray gained a foothold in the field, becoming a program associate at the Dr. Pepper Museum from 2007-2009 and a program coordinator at the Bell County Museum from 2010-2015 before becoming the director at Spindletop in 2015.
"I always tell people, teachers make a lot more money than I do, but I get a lot more fun," he said in an interview. "I want to make my own footsteps, and this place allows me to really make this place my own."
As someone with a true passion for history, Gray uses his position as the museum's director to help bring the past to life.
"Many times, people think of a museum as a place with static displays, you know, they're dead. You're going to see something, and you leave, but really a museum should be exciting," he said. "It should be living; things should be happening. I want to develop this to be a place where people can come and see different things and relax."
In line with this mission, some events that the museum has recently held include Music and Wine, a Fall carving seminar, Open Mic/Family Picnic, a basic photography class, and a basic bladesmith class.
"Another big event coming in June next year is called the Black Gold Bash, and that's about innovation. There were so many innovations going into finding the oil at Spindletop that we want to spotlight the innovators that are doing things here today."
Despite having only part-time staff, besides Gray, the museum staff works hard to bring the history of Beaumont to the public and create a place where the community can come together for education, relaxation, and entertainment.
"I wouldn't feel good just opening the doors and saying, 'hey, there's a museum,' so there has to be programs, there has to be events," Gray said.
The importance of the discovery of Spindletop in Beaumont's history is something that Gray hopes to impart on the museum's visitors through such events and activities.
"You know, you're really looking at a place that should have been just small," he said. "Eventually, they would have found Spindletop, I believe, but Spindletop was the first big one. It wasn't the first oil find, but it was the biggest oil find up until its time, and this is why Beaumont and Southeast Texas is the way it is."
"So, I think you really learn history so you learn more about yourself and more about your community, so that tells you why things are being done as they are."
For more information on the Spindletop Gladys City Boomtown Museum, visit spindletop.org, or call 409-880-1750.