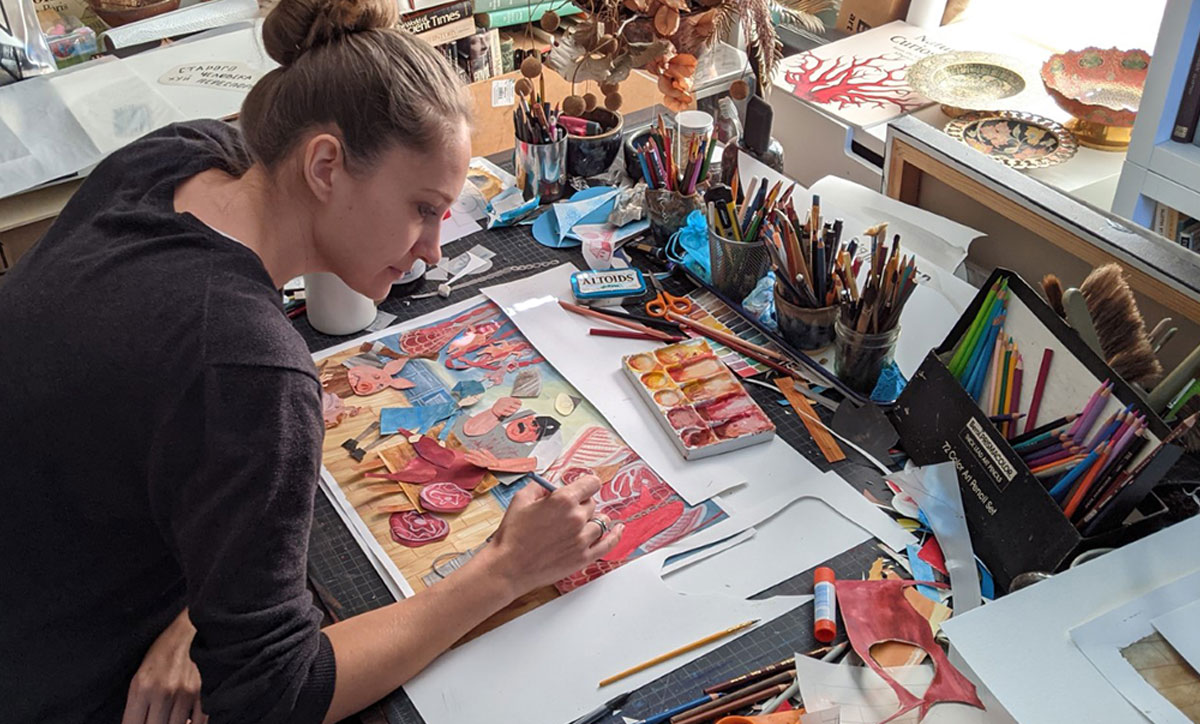 The Lamar University department of art will present "Against the Grain," the fall 2021 senior thesis show, in the Dishman Art Museum, Dec. 3 to Dec. 18.
The exhibit showcases a broad range of works from digital photographs to graffiti.
Sierra Davis' thesis is titled, "Silent Giants" and consists of eight digital photographs that provide a moment of connectivity between the viewer and nature, by presenting nature at a unique angle, she said.
"Inspiration for this series came from my relationship with nature," she said. "When I am outside and truly embrace my surrounding — the sounds, the colors, the life — I experience peace like it's the first time."
The New Orleans native said peace is hard to obtain.
"In order to capture an audience as nature captures me, I needed to create a new experience for them," she said. "I decide to take pictures of trees from the ground up, minimalizing the viewer in size, and I utilized a fish-eye lens camera which warped the canopy line creating an enclosed reality.
"During the brainstorming process for my thesis subject, I wanted to stick with something that I know I would enjoy creating. I am a nature photographer. For me, nature tells me when to take the picture. The subjects are always photo ready, and the lighting comes from the purest source."
Texas native Christina Ammel's digital works are titled "Industrial Renaissance."
"It is a collection of artworks created to represent the process of concept art with a steampunk theme," she said. "I have a strong interest in steampunk and my focus as an artist is to create concept art for animated productions, which both influenced and inspired me to create this project. I have created most of my artworks with traditional media but keeping in mind that concept art is done digitally nowadays, I decided to develop my skills in digital art and combine traditional media for this project."
Taylor Wells, a Beaumont native, draws inspiration from a popular drink, BobaTea, and from his dog.
"'Jack of all Trades' is eight artworks that are mixed media — each piece includes a traditional and digital element," he said. "The overall theme is of BobaTea, a popular milk tea drink, and a Siberian Husky based off my own dog named BubblaTea. The inspiration behind my work is the idea of breaking media specificity and to help bring attention to different types of artworks. This thesis pushed me way out of my comfort zone as this is the most artworks I have made in a semester at this scale, as well as using new materials to make art."
N'Namdi Jones' work aims to beautify the English Alphabet with graffiti.
"'Alphabet Soup' is a hand-lettered alphabet and mandala design themed around five letters of the alphabet," Jones said. "What inspired me was my interest in graffiti lettering and seeing how creative making an alphabet can be. Creating something like this has always been an interest of mine, but I just hadn't put much time into it as I'd like. (It's) something I plan to continue in the future, especially after graduation.
"For the mandala design, I am working on creating more in the future. I had created one over the summer as well as smaller ones in the past."
Thomas Duran has created a series of photographs, titled "The Only One to Smile" that explores the death of a friend.
"(It) is a series based on the death of my friend, Jeremy Arceo," Duran said. "It explores the grief and love that surrounded this tragedy, and gives the viewer a window to see the love and admiration that others had for Jeremy. The inspiration for this work comes from the grief that loomed over the artist's head over the past three years after Jeremy's death, and wanting to confront these feelings directly."
The Houston native said the work covered an area he had not explored before.
"I usually made very simple compositions that explored architecture and how it reacted and danced when light hit it in the right way," he said. "This series helped to push me into a new direction of the artform."
Vanessa Acuna's "Cryptid Belief" is inspired by folklore, illustrations and her Mexican roots.
"(It's) a graphic design thesis that redesigns creatures found in cryptozoology and turns them into more approachable figures, cartoon creatures," she said. "Cryptozoology is a study of mythical beasts in folklore theorized to exist. This thesis surrounds four specific cryptids — the Cactus Cat, the Mothman, the Loch Ness Monster, and the Chupacabra. In this thesis, the cryptids are inspired by existing creatures and objects from Mexico, such as the axolotl and the chihuahua."
Vera Gachot's "Grandma's Tea" draws inspiration from her memories of St. Petersburg, Russia. It is a series of five mixed-media illustrations for a picture book based on family memories.
"It explores the potential of a picture book as a vehicle for a personal narrative, illustrating childhood memories and stories told by my mother over a cup of tea back in Russia," she said.
Along with other forthcoming illustrations, they will form a picture book that will give Gachot's daughter a glimpse into her background.
"The concept of this project was initiated at the height of the pandemic when disconnection, isolation and fear of loss brought to light the fragility of human connections," Gachot said. "The theme of tea, which is an integral part of Russian culture, is used to symbolize the intergenerational connection and a vehicle for storytelling. I chose to use traditional media over digital to preserve a human touch.
"The illustration style echoes books from my own childhood. The stories are short and simple, they are merely vignettes that introduce the older members of the family who lived in different circumstances, in another country."
The Dishman Art Museum is located at 1030 E. Lavaca St. on the Lamar University campus.
For more information, visit lamar.edu/dishman.