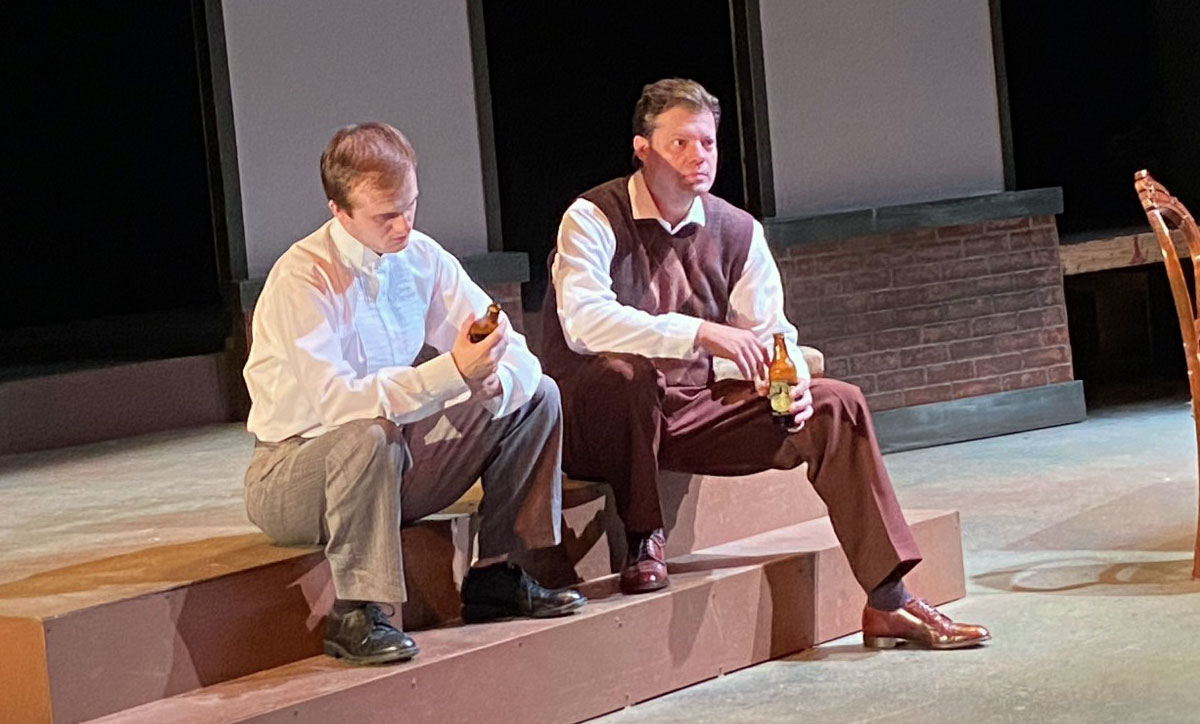 Lamar University department of theater and dance's production of "So You Can Look Ahead" is a masterpiece filled with incredible acting and a great story.
The play, which opened Nov. 4, is set in 1932 New York and tells the story of a southern Italian girl, Annabella (Janely Alvarez), who moves to America to live with her uncle Giovanni (Aaron McClendon). She has been placed with a host family by Alice (Ginger Mouton) who lives with her husband Stephen (Matt Hurt).
When Annabella gets pregnant, Alice turns to Stephen, a non-practicing lawyer, for help. However, Stephen has taken a job at the Museum of Natural History to organize a eugenics congress for his boss, Howard (Joel Grothe).
The resulting tension between Alice's social activism and Howard's disdain for immigrants is the central tension Stephen must navigate.
Mouton plays a strong female who isn't afraid to stand up for what she believes in and is willing to fight for moral responsibility. Mouton really gets the audience to empathize with her.
Grothe is incredible as the powerful eugenicist who is evangelical about the cause, talking about "our future tree" and "the grand puzzle of human evolution." Grothe's tone makes Howard suitably unlikeable. I disliked Howard as a character, but that made me love Grothe's acting that much more.
Straddling the bridge between Alice and Howard's philosophies, Hurt's Stephen initially, in an effort to keep his job, remain neutral over the political stances of the eugenics movement. Instead of agreeing with Howard, he makes comments such as, "I never saw it that way." When Howard toast the welfare of the congress, Stephen simply says, "Huzzah" or "Cheers."
However, Stephen cannot remain neutral in the face of pressure from his wife and his boss. Hurt shows great acting range between the play's moments of humor and joy, and anger at the broken trust between him and Alice.
Despite the serious undertones, the play has moments of humor, especially in the actors' facial reactions which conveyed so much. After Alice angrily confronts Howard, Stephen returns to work thinking he will be fired. When Howard says he has something to discuss, Stephen looks away with nervously, and his body language speaks volumes.
Liz Freese's set is simple but effective, suggesting both the physical George Washington Bridge, on which Stephen worked, which aimed to "join people together," Stephen says. Ironically, eugenics divides people.
Playwright and guest director Edward Morgan gives us an amazing story of people on different sides of the political spectrum during the eugenics movement, and how they affect each other. Even though the events are a fictional telling of a real historical movement, the philosophies, unfortunately, reflect the racial injustices prevalent today.
Stephen says we should look to history, "So We Can Look Ahead." This play will leave audiences questioning our roles in history, so we make efforts to avoid repeating our past in the future.
"So You Can Look Ahead" continues Nov. 5 and 6 at 7:30 p.m. and Nov. 7 at 2 p.m. Ticket prices $7 for Lamar students with a valid ID, $10 for faculty, seniors and students, and $15 for general admission.

For tickets, visit lamar.edu/lutdtix.