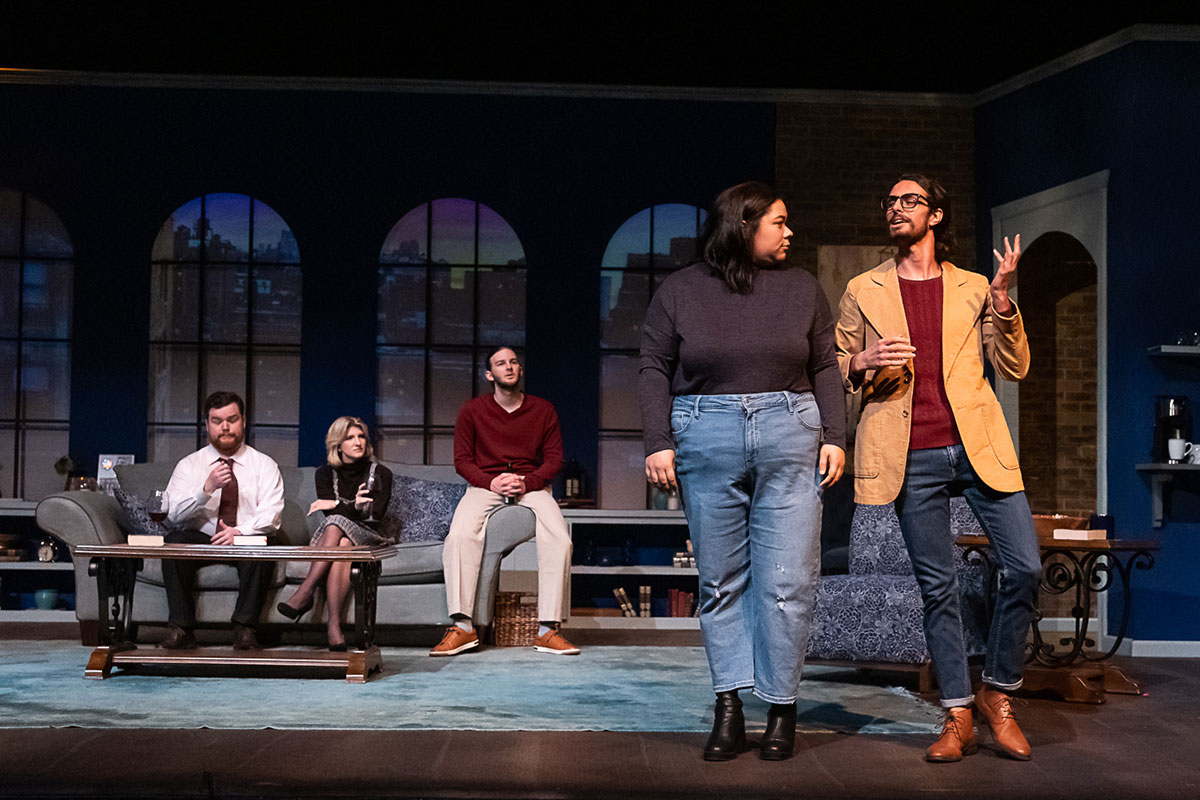 The book of life completely opens when a group of different individuals gather for their weekly book club meeting. During these gatherings, the meaning behind "opposites attract" takes on a different connotation. Add an always-on camera and unexpected additions, and things get interesting — and hilarious. New memories and relationships are created and some consequently get torn from the great book of life.
The Lamar University department of theatre and dance's production of "The Book Club Play," by Karen Zacarias, directed by Ashley Galan, which opened Sept. 30 and continues through Oct.3, delivers a behind-the-scenes look into six people's lives in a way that reminds the audience of the "The Office" in terms of character development, plot and technical details such as fourth-wall breaks.
As the play opens, we are greeted with an intricately designed living room that makes the audience feel welcome and connected to the characters' lives. Set designer Liz Freese pays close attention to detail and the set work well in all aspects.
This attention to detail is directly connected to Ana (Josie Landry) who hosts the book club. Ana pays close attention to detail in everything she does, including being a columnist at her local paper and leading the club. Ana is very proper and tries to seem like she has everything under control, which we find out later is not true. These traits can be good in many ways but are also detrimental as she opposes change and crumbles when things do not go her way. Landry does an excellent job connecting with the audience.
Ana's husband, Rob (Jude Cobb), is the complete opposite. We see this in the way he dresses and carries himself physically, with his shirt usually being untucked and him sitting on the arm of the couch. He drinks beer instead of wine, and cracks occasional jokes that don't always go down well. A former jock, Rob feels out of place — especially as he never reads the books. 
William (Josh Perdino) is similar to Ana. He is formal and proper, not only in the way he dresses, but also in the way he speaks and carries himself. William's shell of properness is unsustainable, though, and his facade eventually cracks and evolves. Perdino plays his part well and keeps a tight hold of the character who has a secret.
Jen (Dominique Roman) is the most relatable character in the play. She is looser than Ana and Will. She is very forgetful and seems to be dealing with anxiety and depression, which makes her relatable not only to the audience, but also to current times. She questions whether she is good enough for the club.
Lily (Taylor Bell) is a provocative and edgy character who challenges social boundaries. Her character accelerates the others' breaking points. She makes assumptions about others and ends up offending them. Her edgy humor connects with Rob and the pair makes the audience erupt in roaring laughter. 
As the play begins, the book club members are coming to terms with an intruder — a static camera which will record the group for a documentary. The group try to ignore the camera — with mixed, and often, hilarious, results.  
When Jen invites Alex (Kalan Bonnette), a comparative lit professor dealing with a broken heart, to join the group, the cracks that were already in the group's foundation are strained. Even though he comes across as a troublemaker, he slowly becomes an audience favorite.
The scene changes are well orchestrated with Kaylee Lambert and Lana Jeffcoat playing an ensemble of characters with humorous monologues.
Fans of "The Office" will love this play. It gave me flashbacks of watching the series.
The play explores themes such as mental health and the LGBTQ community, which makes the play even more relatable to all audiences.
For book lovers — and even book haters — this play is definitely worth a watch.
Showtimes are 7:30 p.m., Oct. 8 and 9, and 2 p.m., Oct. 10.
Tickets are $7 for students and general admission is $15.
For more information and tickets, visit lamar.edu/theatre.