Taylor aims to raise LU's profile, campus spirit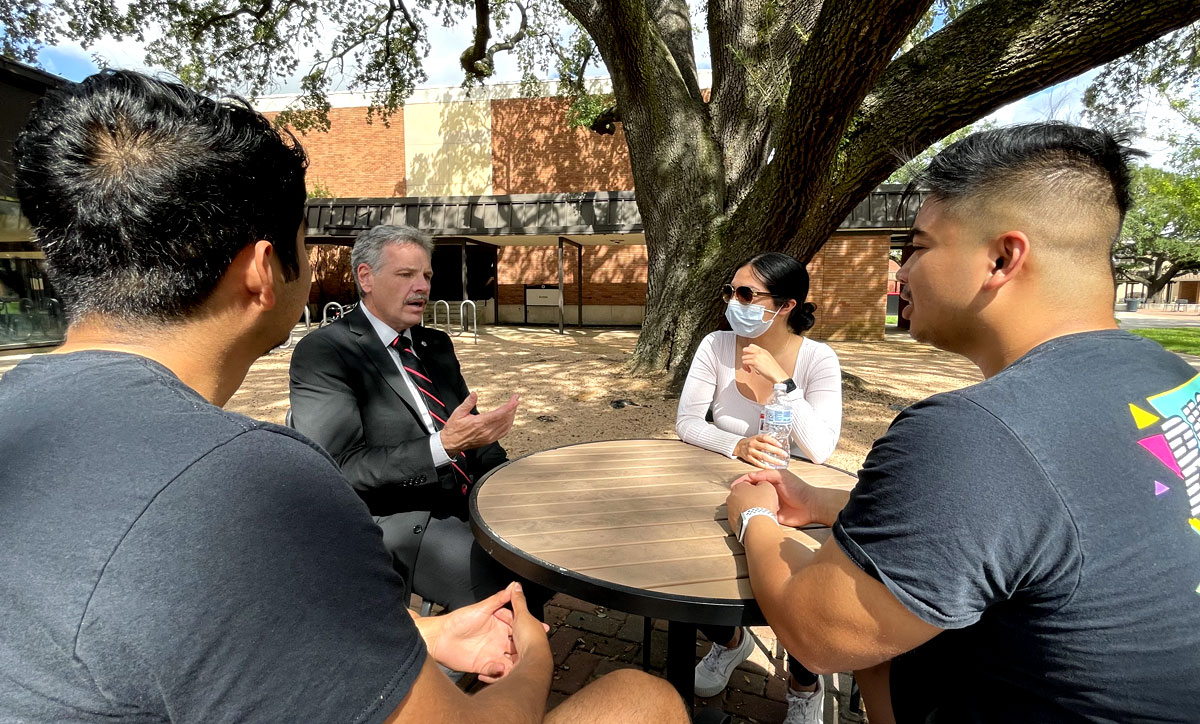 When Jaime Taylor looks out of the window of Lamar University's president's residence, he can see across campus — and he sees a campus full of possibilities.
"Lamar feels like this great hidden secret," he said.  "I don't think a lot of people recognize that it's here and how good it is. One of my goals is to help people recognize just what an outstanding university it is and get a lot more students onto the main campus."
Taylor started his tenure in July after previously serving as provost and senior vice president for academic affairs at Marshall University in West Virginia.
Taylor was born in Spain, where his father was serving in the U.S. Air Force. He spent the first three months of his life there and his mother named him after a bullfighter — his full name is Jaime Rafael Taylor.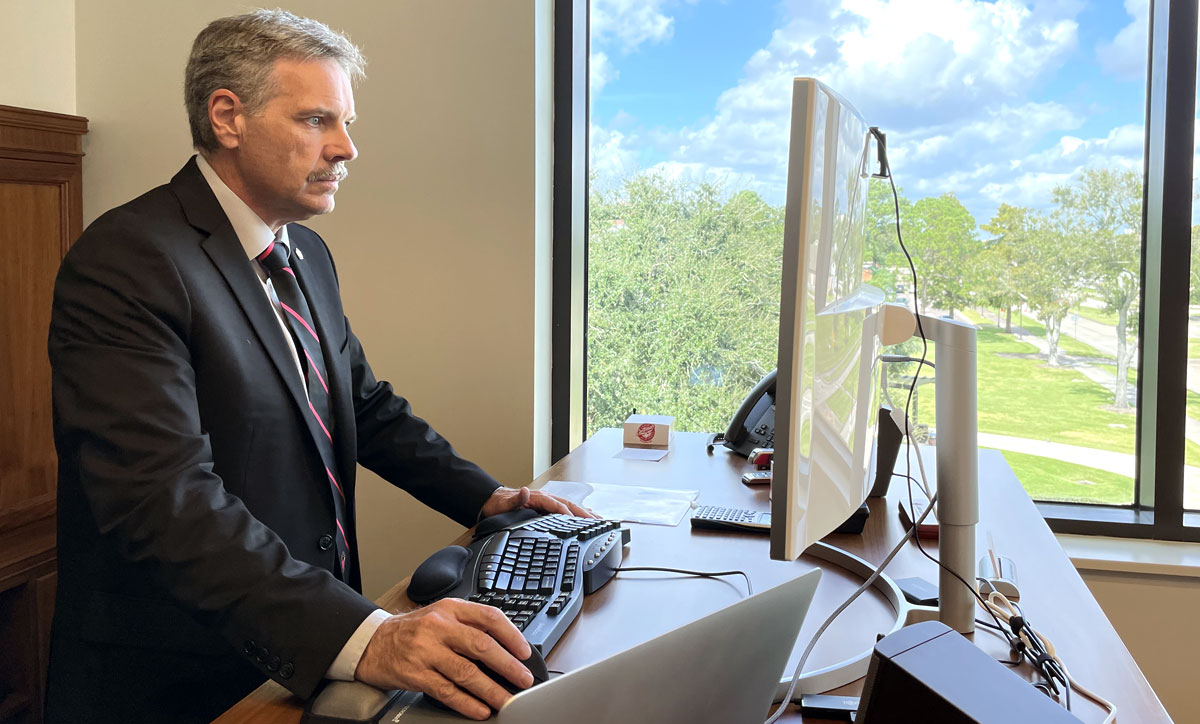 When Taylor started his education, he said his sole desire was to get a technical degree and enter the workforce.
"I actually started off at a two-year technical school," he said. "Both my brother and brother in law and I got two-year tech degrees and got jobs. My goal was just to get a job and make a living. I got a job at a factory running quality control. While I was at the two-year school, I was given a scholarship to a four-year institution."
Taylor said he planned to work the night shift and attend Austin Peay State University in the daytime. He thought he would take math and physics for fun as he never thought he could get a job in that field. However, he found himself in graduate school at the University of Tennessee Space Institute where he discovered a love for research. 
"I actually worked on electromagnetic guns — I wanted to work on weapons research," he said. "I really enjoyed that type of stuff."
Taylor said he discovered his passion for helping students by chance.
"Somewhere along the way I got an opportunity to teach a class, and I just fell in love with helping students," he said. "So, that's how I ended up back at Austin Peay as a physics professor.
"I really never had any intention of being in administration. What I really loved was just helping students and teaching students, so I just kind of ended up in administration as an accident."
Taylor spent 18 years at Austin Peay where he spent two years as interim provost and vice president of academic affairs, eight years as dean of the College of Science and Mathematics, and eight years as chair of the department of physics and astronomy. Taylor said that even after 18 years in administration, he still assumed he was going to be a faculty member and did not apply for the permanent position of provost as he wanted to be connected to students in a classroom. 
"Each step kind of removes you a little bit from the classroom, which bothered me a little bit," he said. "But at the same time, you have a bigger impact on more students. I started mentoring other faculty, and then I started mentoring department chairs, and in my last role I mentored the academic deans. "
Taylor said that even though he did not get to directly interact with students, he was creating a culture that impacted lots of students. He chose to apply to Lamar as the school serves a lot of first generation and minority students and he can continue to have an impact on students' lives.
"The president plays a big role in setting up the campus culture," he said. "I felt like that was something that I really wanted to do, because I have worked under three presidents directly as provost and six different presidents throughout my career. You can tell how the whole university changes depending on who the president is." 
Campus culture is important to Taylor and is important to his goals and strategies.
"My most immediate goal is to increase the number of students that come on campus —residential students," he said. "That doesn't necessarily mean living on campus, but students that either drive to campus to take classes or live in the dorms. It's part of creating a strong campus culture. It's always been my mission in higher ed to serve more students."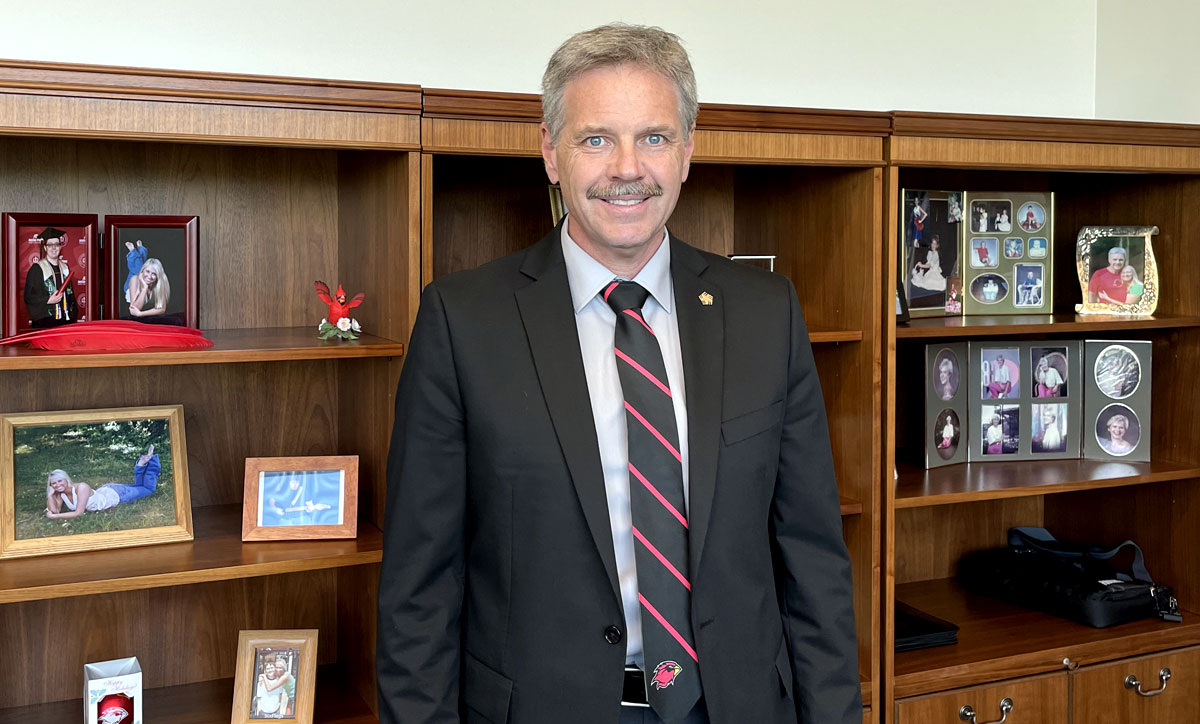 With the presidential home on campus, Taylor said he likes being able to wake up in the morning, look out his window and see students. He also likes the layout and all the greenery on campus when he walks to his office.
In his free time, Taylor likes to watch movies, particularly Clint Eastwood movies. He also likes the outdoors.
"I like to get out in the outdoors and just have quiet time — bike riding, hiking, things of that nature, just any anything outdoors I like to do," he said.
Taylor said if he could offer one piece of advice to students, it would to be to relax and enjoy their college experience. 
"Try not to get too stressed," he said. "Also, do not worry about making mistakes or failing at times because it's going to happen. Embrace those mistakes and figure out why it happened and learn from it. You learn so much more when you fail at something than if you coast right through it. If you don't fail at something or make a mistake, you didn't push yourself hard enough. Failing and making mistakes is part of learning."