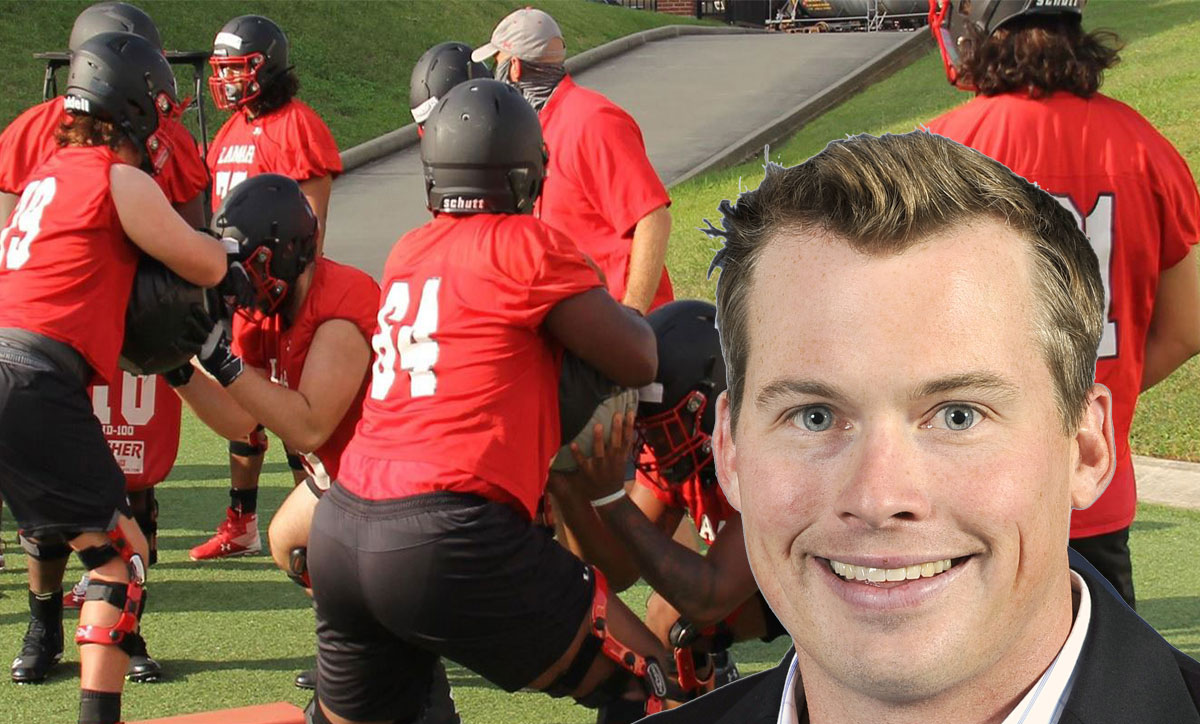 As the summer draws to a close, a new football season is set to begin — the return of college football lies just around the corner. Between the tailgating traditions, bright lights of the stadium, and crowds of passionate fans in the stands, there's no doubt the season brings a unique energy to any campus — and Lamar is no exception.
Ahead of LU's season opener on Sept. 2, head football coach Blane Morgan said he is ready for the challenges of coaching a young team in a new conference. Last year's squad was extremely young — the roster included 57 freshmen. Now, most of these players are returning with a year of experience under their belts.
Morgan said he is impressed with what he's seen in training camp.
"Fall camp has been a good one, it's been exciting to finally get to see younger guys get on the field and see some of the older talent take charge and take on bigger leadership roles," he said.
Morgan expressed confidence in the newcomers, especially two starters on the offensive line who are true freshmen — center Jacob Bayer and right tackle Drew Moss.
"When you're starting guys up front in your offensive line that are true freshmen, usually those guys don't even play," Morgan said. "That says something about our guys, because when you turn on the tape, they don't really look any different. That's really a testament to them."
Coach Morgan said the Cardinals' strength this year will be on the lines.
"I really like our defensive front," he said. "I think you'll see a lot of improvement with our offensive line as well and, hopefully, be able to run the football more, especially with direct runs. Of course, we'll still mix some option in, but we won't be leaning on it near as heavily as last year."
Morgan said the biggest focus when coaching a youth-heavy team is that getting the players game experience.
"When you turn on the lights, how are they going to play?" he said. "They practice really well and they're smart guys. The question is, will they be able to maintain the way they practiced and look like good D-1 football players like we hope they are when under that pressure?"
Coach Morgan also said several players have stood at training camp.
"I think guys like James Jones, plus Tyler Jackson on defense, in the back half you've got Anthony Ruffin," he said. "If you flip over to offense — Jalen (Dummett) has been great, Jeremy Davis, Kirkland Banks — I'm excited because he's practiced well in these last couple of weeks and always plays hard. I'm very excited to see our guys all play."
With Lamar's move to the Western Athletic Conference, there's a whole selection of new opponents to compete against. The WAC has reinstated football this season and has expanded to add several new schools apart from Lamar.
Morgan said he knows he's up to the task of facing new competition in the WAC.
"I love it," he said. "I think we try to be unique on both sides of the ball, both offense and defense, and special teams, too. So, I like facing new teams that we haven't seen yet — outside of Sam Houston who is really the only common opponent (from the Southland Conference). Otherwise, it's 10 new opponents, so I'm excited about that. We'll see how much we grow up as a team as we move along."
Since Lamar will be playing against a new slate of schools this season, the 2021 season will look much different for fans than 2020. The return of tailgating and bigger crowds will hopefully lead to a real college gameday experience in Beaumont. 
The prospect of gamedays looking like a true college football game is exhilarating, Morgan said.
"I'm pumped, just so thrilled to get back to when football is supposed to be played," he said. "It all feels a little more normal — it just feels right. As a coach, you're just kind of plowing away. You coach and prepare for all these games and build a team together through camps and practice. The journey is the fun part.
"Going into this first game, I think our guys are just ready to play against somebody else. They're just flat-out ready to play. It doesn't matter who it's against."
The Cardinals open the 2021 campaign at home at 7 p.m., Sept. 2 against the North American University Stallions at Provost Umphrey Stadium.
The game will air on 560 KLVI radio.