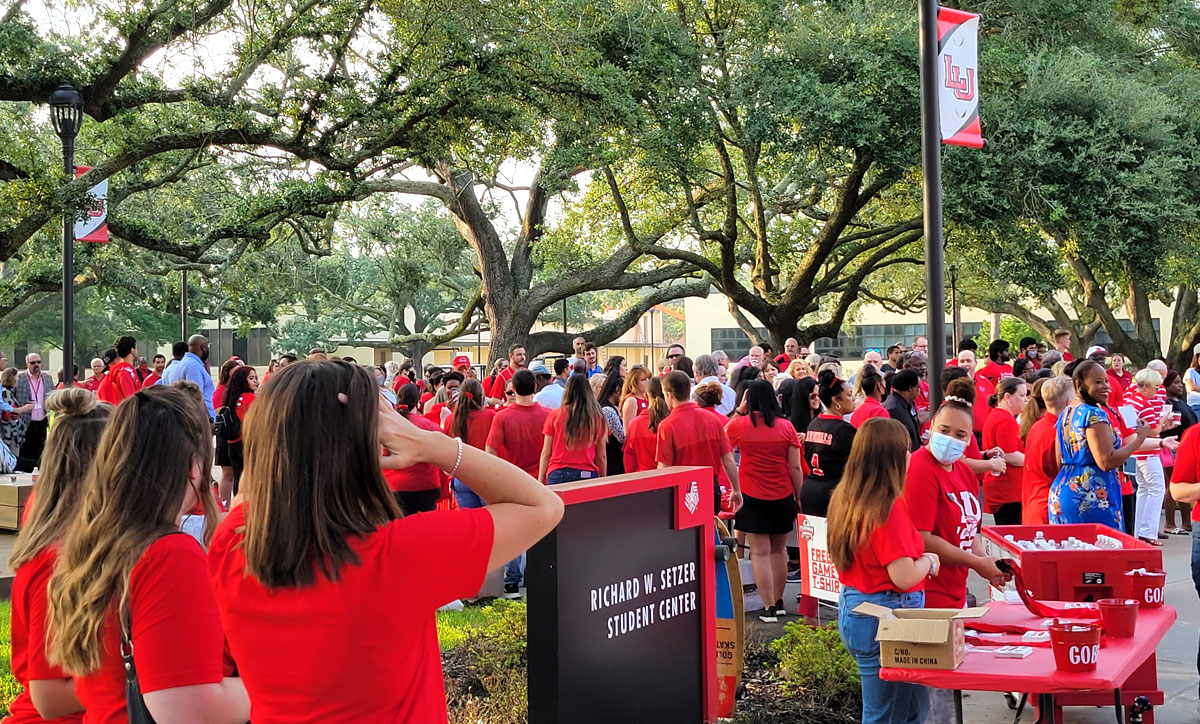 As a wrap up to Week of Welcome, and a kickoff to the LU football season, Lamar hosted a Community Welcome Breakfast in the Quad, Sept. 2.
The band, cheer and dance teams provided entertainment and breakfast was provided by Chartwells and Smoothie King.
Athletics director Marco Born, head football coach Blane Morgan and LU President Jaime Taylor talked about LU football coming back after COVID and the campus spirit that comes with it.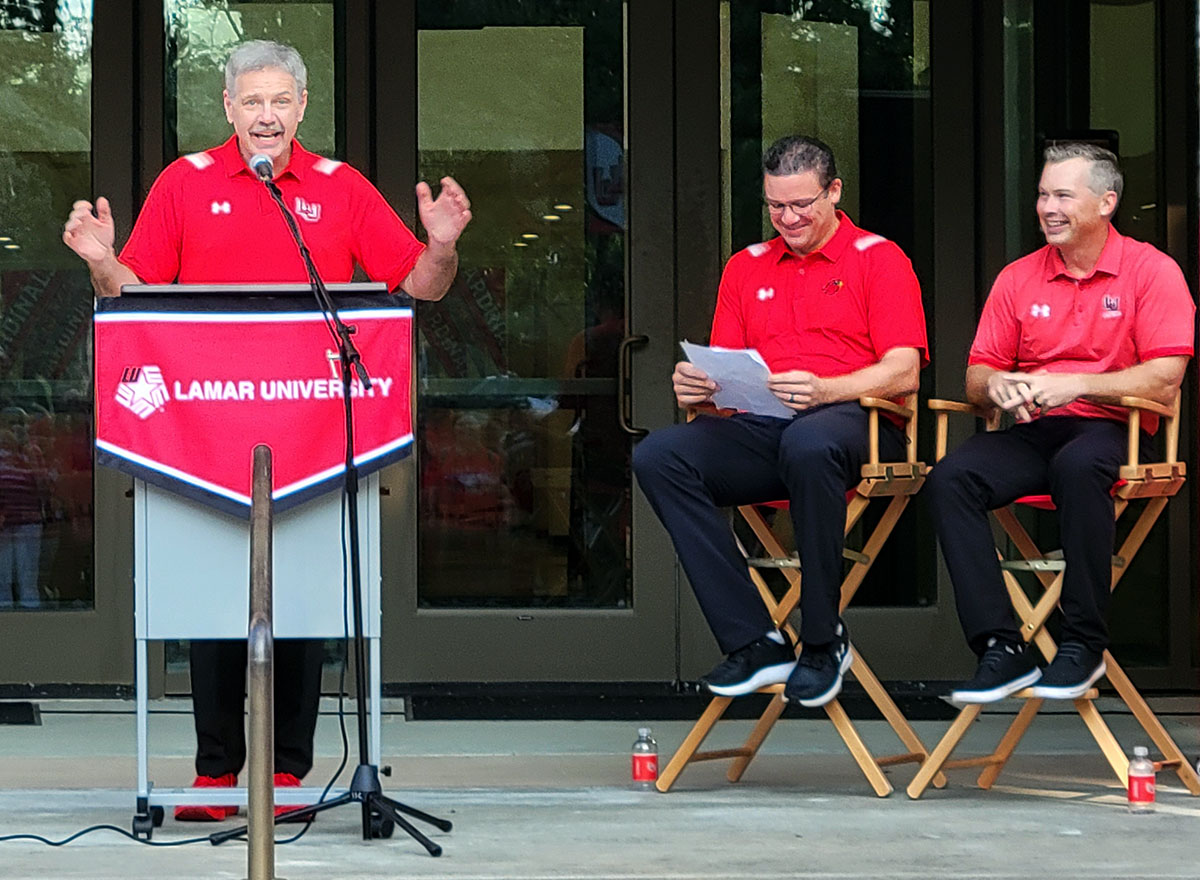 This is Taylor's first game as LU president, and he said he hopes the team takes on the personality of Coach Morgan. 
"I'm incredibly excited," Taylor said. "Of course, I'm a big fan of the coach. I watched him when he played in Air Force— nationally ranked — he's an overachiever. I like that kind of a personality. 
"I think our team is going to be very disciplined, and if they take on the personality of our coach, it's going to be a hard hitting, overachieving, hungry team."
Taylor said he liked seeing the campus spirit in the Quad. Taylor displayed his spirit by wearing his now customary LU polo and red shoes.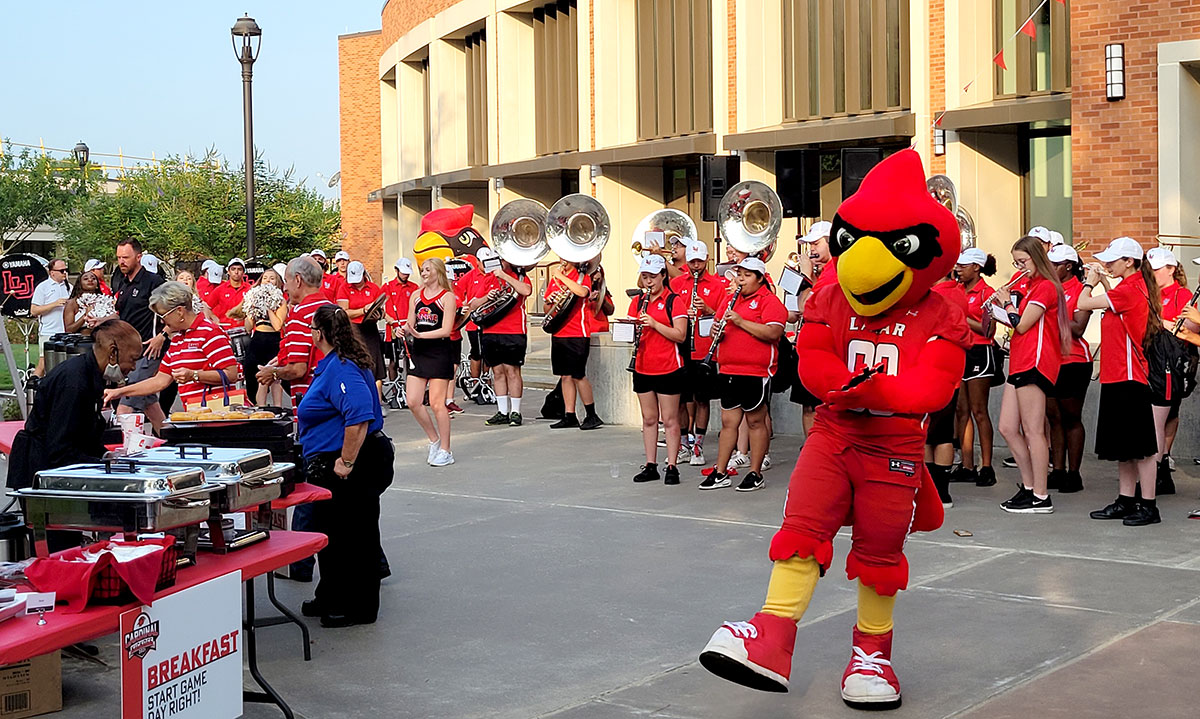 "This is amazing, everybody's in red, I mean the whole group and everybody's red," he said. "You can tell people are excited, and I think people are excited to be past COVID and get that behind them. We're going to be living with COVID for the rest of our lives. We kind of have to move on with life, we can't just stay hunkered down."
Morgan said Taylor is doing a great job bringing the community together.
"Dr. Taylor's done such a great job of just rallying campus, especially at 8 a.m., which is early for a campus — not early for the rest of the world, but it feels great," Morgan said. "It feels great to (have) a sense of being back to normal a little bit — fall in Texas means football."
It is Morgan's first fall football game after his first season being a non-traditional COVID-impacted spring season and he said he is excited to start the season.
"We just want to see when the lights come on, you just don't know how your guys are gonna play," he said. "I'm anxious to see them play and I'm excited to see those guys play, because we've got some talented players on this team."
Lamar kicks off against North American University at 7 p.m. in Provost Umphrey Stadium.