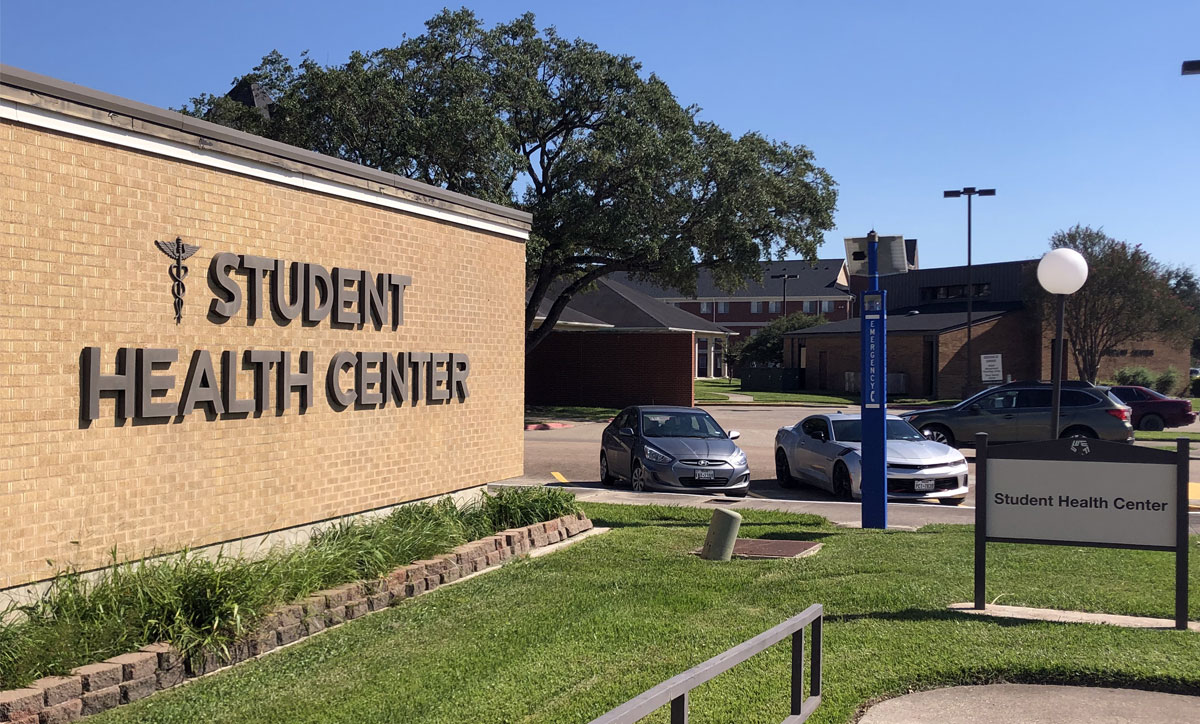 Students, faculty, staff eligible; testing available to students only
The Student Health Center is offering COVID testing and vaccinations, Monday-Friday, 8 a.m.- 5 p.m. with an appointment. Testing is currently available for students only. Vaccines are available to students, faculty and staff.
SHC assistant director Nancy "Danette" Dover said students who want a vaccine or have a COVID test can schedule an appointment through the Lamar website, or by calling 409-880-8466.
"Once you get a vaccine, that information has to be put into a Texas state site and is tracked," Dover said. "We give you your vaccine card which lists the days of your vaccine, what vaccine you got, and the lot number."
COVID vaccines may be taken by all Lamar students, faculty and staff and are free of charge. However, the general public outside of Lamar may not receive the same services from the SHC, mainly due to them not being in the banner system.
The SHC also offers COVID testing which can be done with two methods. The polymerase chain reaction test, or PCR, and the rapid antigen test are both done through nasal swabs on each side of the nose, Dover said. The center does not currently do saliva COVID tests. Compared to the PCR test, the rapid antigen test produces results in about 15 minutes, with PCR test taking three or four days. COVID testing is not offered to Lamar faculty or staff. For students, COVID testing is offered free of charge.
"We will keep doing the vaccine for as long as it is needed," Dover said. "It all really depends on what COVID does, and I do not see testing going away.
"Taking a vaccine is a personal (choice) and even though I encourage people to do that, that is a decision you have to make on your own. Regardless of that decision, the decision needs to be respected."
There are currently two types of COVID vaccines being offered, Moderna and Pfizer. Dover said that both Moderna and Pfizer are the same type of vaccines and the main differences between the two deal with how they are prepared — Pfizer needs to be mixed, while Moderna is already in the vial. With Moderna, after the first shot, the person may need to wait about four weeks before getting the second shot. With Pfizer, after the first shot, the person may only need to wait about three weeks before getting the second shot.
"Once Pfizer got their FDA approval, we saw a large interest in Pfizer and I think a lot of people were waiting for that," she said. "We have had a good response for both Pfizer and Moderna."
Students can ask medical personnel at the SHC about any questions they may have related to the testing and vaccines offered there.
"I suggest, research and educate yourself about the vaccine," she said. "On social media, there is a lot of false information."
Students who live in the dorms and test positive can then self-report, and afterwards are encouraged tell their resident advisor, or RA and to self-isolate. Arrangements can be made for food to be delivered. If the student has a roommate, they are encouraged to inform their roommate and isolate as best as they can in the same environment.
"If done the right way — and you keep everything clean, wash your hands, sanitize, wear a mask — you can keep other people from getting sick," Dover said, "It can be done."
Shared spaces in the dorms, such as the common area or bathrooms, can be sanitized and cleaned after every use or daily, depending on the circumstances.
"Our nurses will go and check up on these people, not only about how they're doing but also (to check on) their symptoms," Dover said.
The nurses make sure the student who has tested positive has everything they need from drinks, food, and so on. Medical staff at the SHC may also offer other resources and information related to COVID for the patients.
Most student patients are given Vitamin C and D, and zinc, to aid the immune system. For patients who have asthma, they can be given inhalers. However, each COVID case may differ, depending on the person and their medical history, Dover said. In the future, the SHC may also begin to offer COVID booster shots.
"If you're going to be around a big group of people and if you're concerned, wear a mask," Dover said, "You cannot get away from good hand washing and sanitizer."
For more information, visit the Health Center website, or call the Student Health Center at 409-880-8466.