SGA president Tiffany Tran has 'vision' for LU, students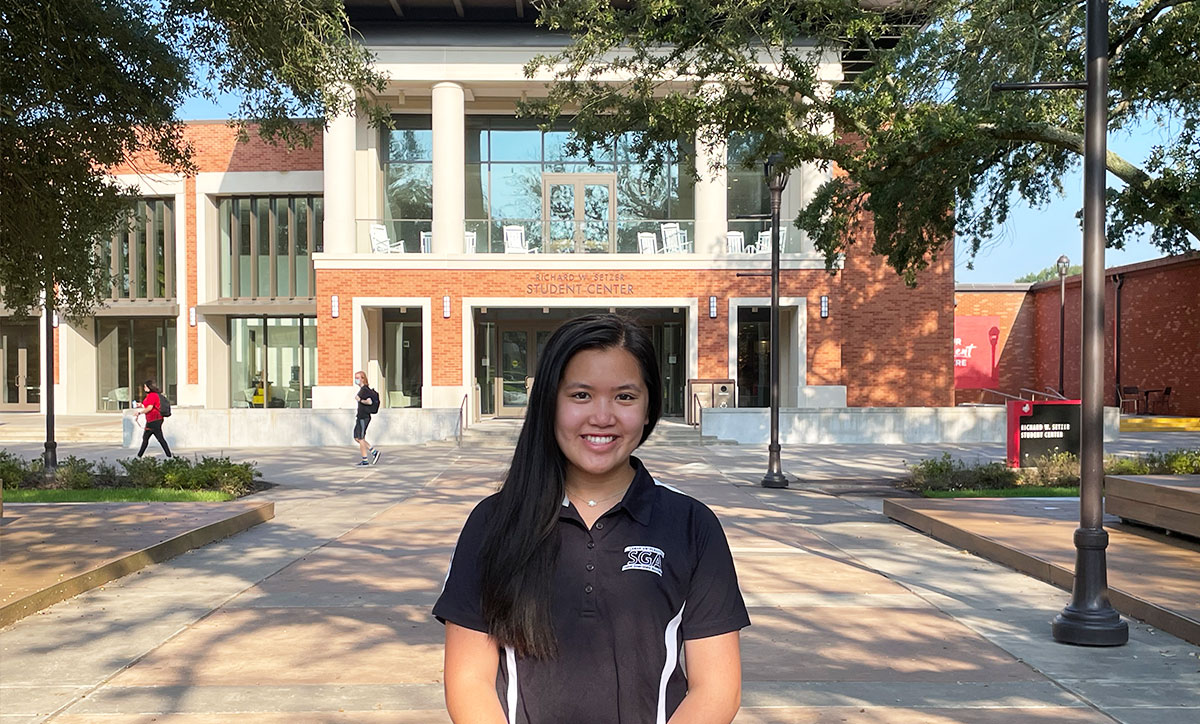 When Tiffany Tran decided to run for president of Lamar University's Student Government Association, she had one goal — to align her vision with the student body's vision.
She ran under the slogan "LU Vision" and won. Now Tran and her team get a chance to put that vision into practice.
"We believe that every student who comes to Lamar has a vision of what they believe their college experience," she said. "So, with the challenges that we faced in the past year with COVID-19, with the multiple hurricanes and the ice storm, we really felt as if that vision that college students had wasn't meeting their expectations.
"I'm trying to incorporate both my campaign's vision and their vision together so that we can create a better campus environment for everyone."
One example Tran said she wants to improve is the availability of late-night study spaces. She said the STEM building is a popular place for students to study, but last year the hours were reduced, and the facility closed at 7 p.m.  
"Many of us, as college students, work on a different schedule," she said. "That often means staying up late at night and being more productive around that time. So, one of our main goals is to extend the hours of some of the facilities we have here on campus, so that there are more study spaces and resources that students can use, whether that may be a simple quiet space, or the use of printers at the library or an internet access. We want to increase the accessibility in those areas for all students."
Tran's team includes Vice President David Williams and Secretary-Treasurer Jane Tzul.  The diversity of the team is important as Tran seeks to strengthen diversity and inclusion of campus.
"For us, that's always a really important topic — this is something that's always going to be an ongoing effort," she said. "There's no way that you can be done with addressing the needs of diversity inclusion. There's always room for improvement."
Tran said SGA will seek to create pathways for students to get involved in the decision-making processes, whether that is through SGA, or other ways to participate in the university's decision-making process. One idea is to create a Diversity Inclusion Senator on the SGA Senate panel.
"This student's sole role (will be) to address the needs related to diversity inclusion," she said. "We have the Diversity Inclusion Task Force on campus, which is the university's initiative to lead efforts into promoting diversity and inclusion. (We need to make) sure that we always have a student representative on that panel whenever it comes to those types of decisions."
Diversity and inclusion mean making sure that everyone, no matter their race, gender, sexual orientation or any other person, feels included and part of the conversations on campus, she said.
"Sometimes, the students suffering the most are silent, so I want to make sure that we address the needs of the silent, and those who may be vocal as well, as they're both important to the conversation," she said.
SGA activities start the second week of the fall semester.
"We're going to be leading projects throughout the year, specifically towards different needs — that could include diversity inclusion, health and wellness, food inclusivity, (and) transparency," she said. "That way we can really expand our outreach towards certain needs on campus."
Joint Sessions for the semester will be held on in the Setzer Student Center Room 218 on Oct. 13 at 4:40 p.m. and in Room 229 on Nov. 10 at 4:30 p.m.
"Students can come tell us the ideas or the concerns that they have from the things that they noticed around campus, or something they just may have thought of walking to class, and share that with us," she said. "We'll work together to see if we can create those ideas and those concerns to make sure we've properly addressed them."
Tran said her goal is to get as many projects as possible completed before the end of her term.
"Time goes by really fast and oftentimes these projects require a longer timeline in order to get accomplished, just because we may need approval from several departments or several administrators," she said.
Tran has been part of SGA for two years, first as Honors Students College senator and then as College of Arts and Sciences senator.
"When I was reaching my end of the term last year, I really began to think to myself, would I want to run for a position within SGA, as this year as my senior year?" she said. "So, either go big or go home. I knew that I was really passionate about SGA (and) I felt as if I had the experience to know exactly how projects should be led, and all the different branches within SGA."
Tran said she encourages all students to be involved with SGA and applications for committees are open. Students can apply by emailing a résumé, their classification, their L-number and why they're interested in this particular position, to sga@lamar.edu.
Even if Tran had not won her election, she said she is committed to being part of SGA. While she was campaigning, Tran said she was able to hear a lot of students' personal stories about their journey.
"It was really great to hear their stories and hear about their passions," she said. "I feel like every day that I'm on campus, I'm always meeting new students, trying to learn more about them, and really open the door of SGA to everyone so that everybody feels welcome to come here and speak with us."
For more information, visit lamar.edu/sga.