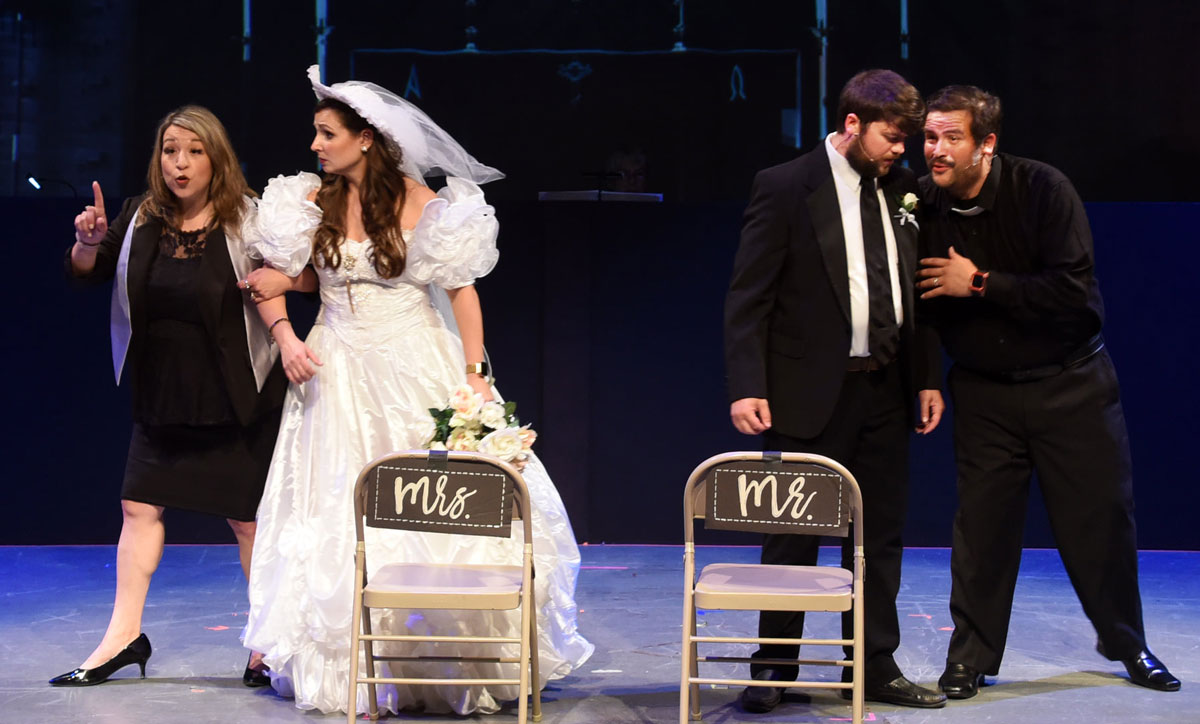 The Beaumont Community Player's latest musical, "I Love You, You're Perfect, Now Change," is a coM.E.dic story about modern dating. This is the first regular season BCP show on the main stage since COVID.
Saturday's matinee had a lively, wine-lit front row — special cabaret seating included wine — who hooted and hollered at the humorous, adult-rated content. The enthusiastic support added to everyone's experience of the show, as well as displaying the actors' ability to perform through distractions.
"I love you, You're Perfect, Now Change," has much depth, even though it's portrayed with humor, and is the perfect show for right now. The 20 scenes show how standards rise and fall from the first date to picking soM.E.one up at a funeral. The relevance of the show had M.E. laughing for the most part— and sad about what my future may look like as a senior citizen.
The four-person cast — Genevieve Brassard, Bert Sanchez, Lara Strawther and Austin Wise — is a perfect mix of sopranos and altos that compleM.E.nt each other beautifully and their coM.E.dic timing was on point every tiM.E..
Sanchez is remarkable in all his scenes. However, in "Scared Straight," his portrayal of a Hispanic convict is incredibly funny and his character seems well researched.
Strawther has fluid chemistry with the other actors, and shines bright during big numbers such as, "Always a Bridesmaid" and "Funerals are for Dating," the first showing her range as a soprano and the second showing her depth as an actress.
Wise's talent is singing low bars without wavering (at least from where I was sitting). "Shouldn't I Be Less in Love With You," was beautiful and heartfelt. If it were possible, I would have M.E.lted right in my seat.
Brassard delivers my favorite scene in the entire show, "The Very First Dating Video of Rose Ritz." Her performance was perfectly tiM.E.d and so heartfelt that I had tears falling fast into my mask. The scene reminded M.E. of a Natalie Portman's performance in "Closer," where she begs Jude Law's character to, "Pick M.E., choose M.E., love M.E.." Brassard's performance has us hoping Rose has better luck in the dating gaM.E..
The production's 20 scenes are deftly directed by Bryan Brassard.
"I Love You, You're Perfect, Now Change," is well worth a trip, either with friends and a bottle of wine, a date, or alone. Maybe you'll find "the one" sitting next to you. How's that for modern dating? Or is that old school?
The show is presented at the Betty Greenberg Center for the Performing Arts, 4155 Laurel Ave. ShowtiM.E.s are Sept. 23, 24, and 25 at 7:30 p.m. Masks are required in the theater.
For tickets, visit www.beaumontcommunityplayers.com.