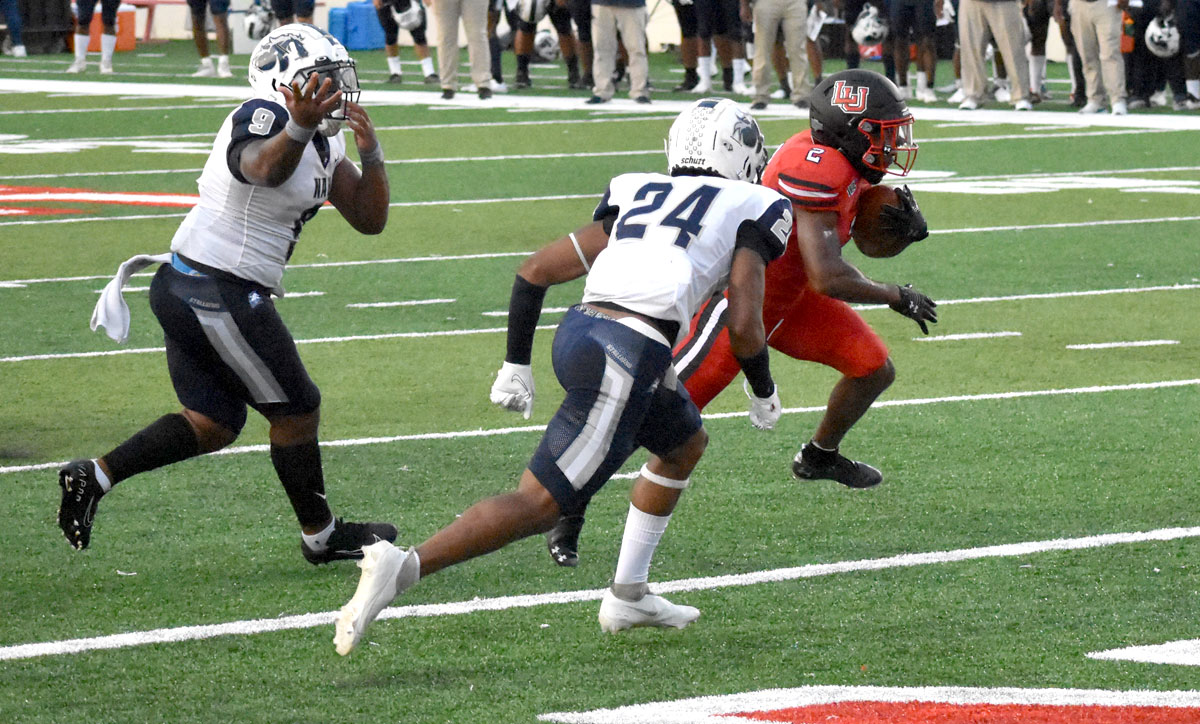 The Lamar Cardinals opened the 2021 football season with a dominant 47-3 win over the North American University Stallions.
The Cardinals' defense set the tone early, sacking NAU's quarterback at their own one-yard line. After a 10-yard return on the punt, Lamar took over from the NAU 30-yard line. After a short drive, running back James Jones punched in a 3-yard rush for the Cardinals' first touchdown of the season.
Lamar would go on to score on their next drive — quarterback Jalen Dummett placed a perfect throw into the hands of a wide-open Jack Roe, who found his way to the end zone for a 42-yard touchdown. The Cardinals' defense held the Stallions to a three-and-out, ending the quarter with a 14-0 lead.
LU drove downfield to begin the second quarter, settling for a Bailey Giffen field goal to extend the lead to 17-0. The defense once again forced a quick three-and-out and the Cards' offense took over. This time, Dummett rushed for 20 yards and followed it up with a 41-yard touchdown pass to Erik Pizarro.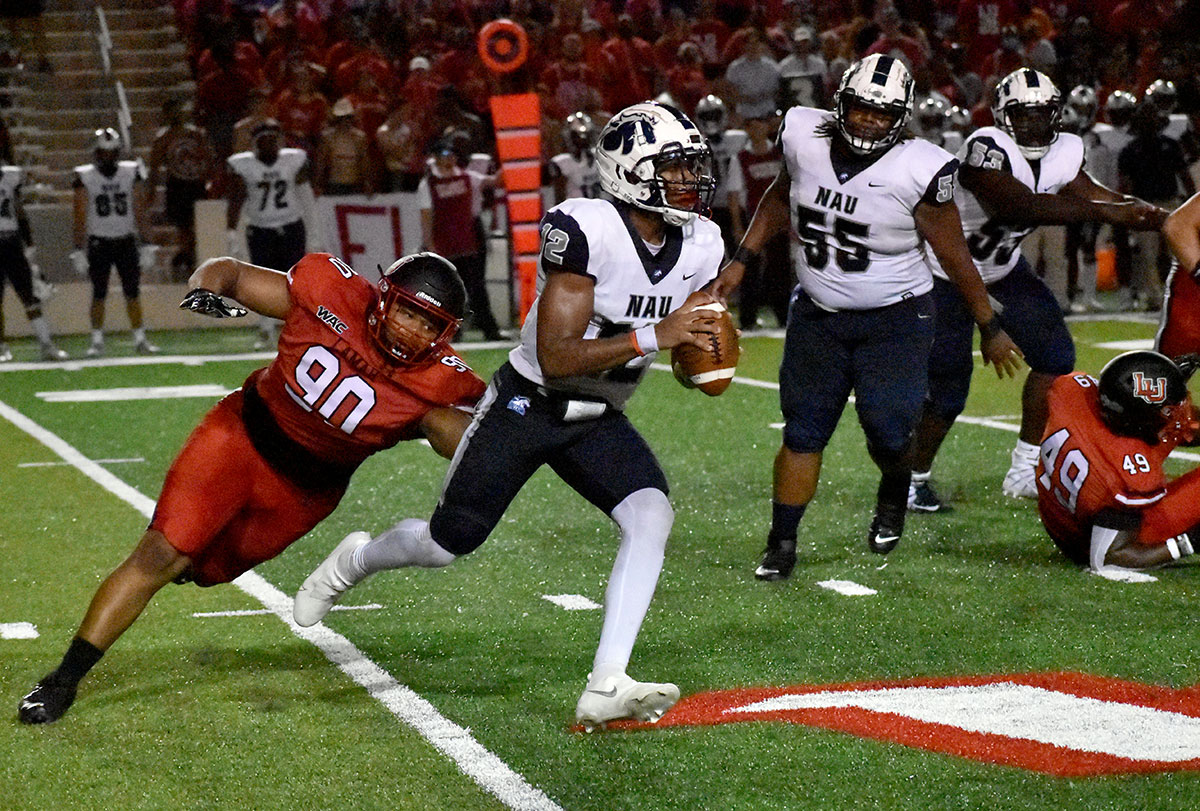 With a commanding 24-0 lead just halfway through the second quarter, the Cardinals took Dummett out and let his backup, Mike Chandler, get some reps. Chandler would help lead an 85-yard drive downfield — capped off by Jones' second rushing touchdown of the night. Entering halftime, Lamar remained ahead 31-0.
Jones left the game at the half with two touchdowns on the ground, a marked change after taking snaps at receiver last year.
"I feel like it's good for me because running back is my natural position," Jones said. "Of course, Coach Morgan gave me the opportunity to perform on the field and perform in practice, and I'm just taking advantage and going with it."
The Cardinals' defense continued to shine in the third quarter, forcing another quick three-and-out. Thanks to a rough punt from the Stallions, the LU offense took over with great field position. Running back Chaz Ward shouldered a heavy load, rushing eight times for 34 yards and a touchdown as LU went up 38-0.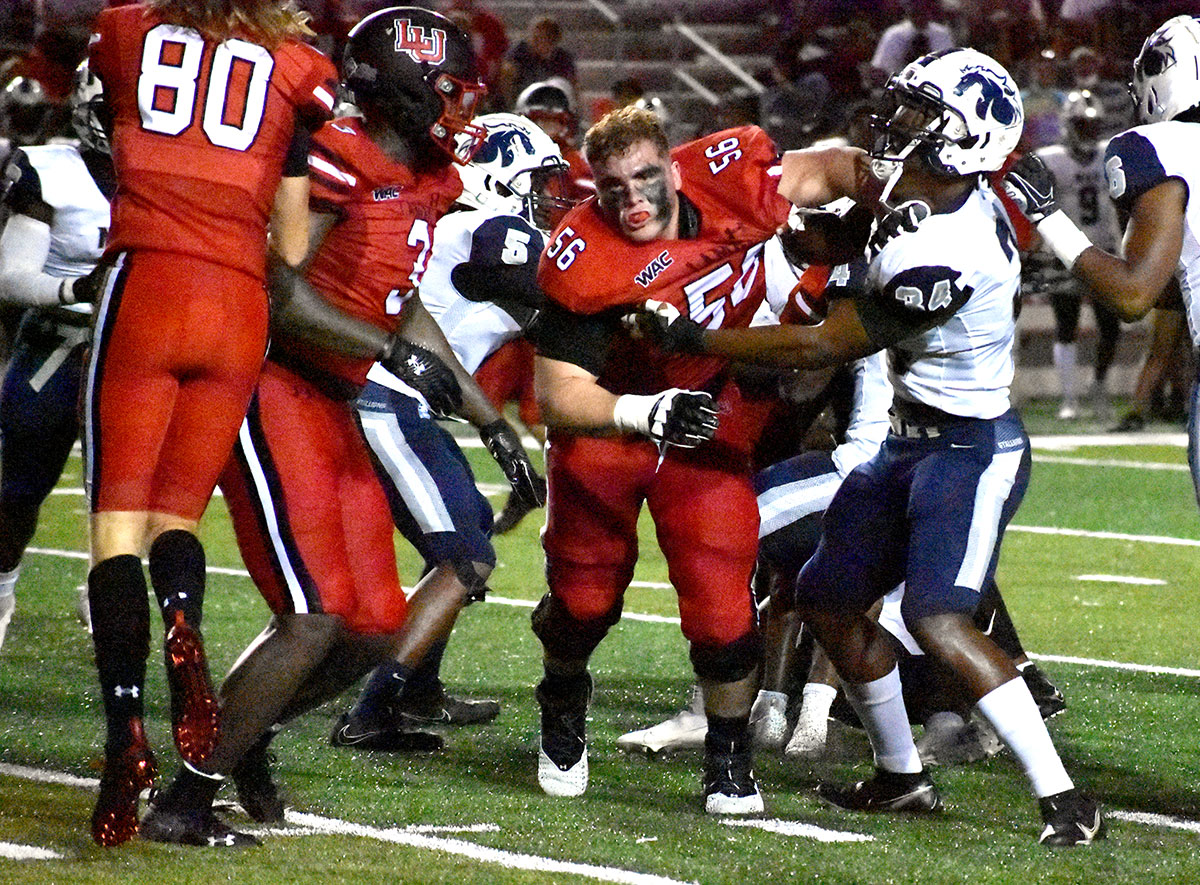 The Stallions couldn't get any offense moving, punting to Lamar's 43-yard line. A few plays later, Chandler completed a 38-yard pass to Connor Venetis — continuing the rout for the Cardinals. While kicker Colby Sessums failed to convert the extra point, LU still led 44-0. After another failed drive by NAU, LU gained possession to end the third quarter.
Giffen kicked his second field goal of the game to start the fourth quarter and Lamar continued to rack up points. However, a shutout eluded the Cards as they gave up a field goal halfway through the final quarter.
On the Stallions' final drive, defensive back Seth Johnson intercepted a pass and the LU offense subsequently ran out the game clock.
Overall, the Cardinals finished with 437 yards of total offense (194 passing, 243 rushing), along with six touchdowns (three of both rushing and passing). Lamar's defense also was also impressive, holding NAU to just 138 yards of total offense.
North American University is a small school with an enrollment barely over 500, so it is hard to get an accurate feel for where the Cardinals stand, but a win is a win and Coach Blane Morgan was encouraged by what he saw.
"I've liked throughout camp how hard we've played," Morgan said. "It looked like they were flying around tonight and having fun. They've really gelled as a unit, and it'll be fun to go out next week.
"Next week (against UTSA) we'll get an idea of how physical we are. You'll play a really good football team, so you'll have an idea of where we're at right now."
In the first half, junior QB Dummett completed six-of-eight passes for 124 yards and two touchdowns —despite missing several practices during training camp.
"I feel like I'm caught up now and that game really helped," Dummett said. "I'm back to my proper form, just trying to grind and do it all."
If the offensive standouts can maintain the high level of play, and if the defense can hold up against a physical team like UTSA, the Cardinals might find themselves on a hot streak to begin the season.
Lamar will travel to face the University of Texas-San Antonio Roadrunners at the Alamodome, Sept. 11, at 3 P.M. The game will air on ESPN3 and 560 KLVI.