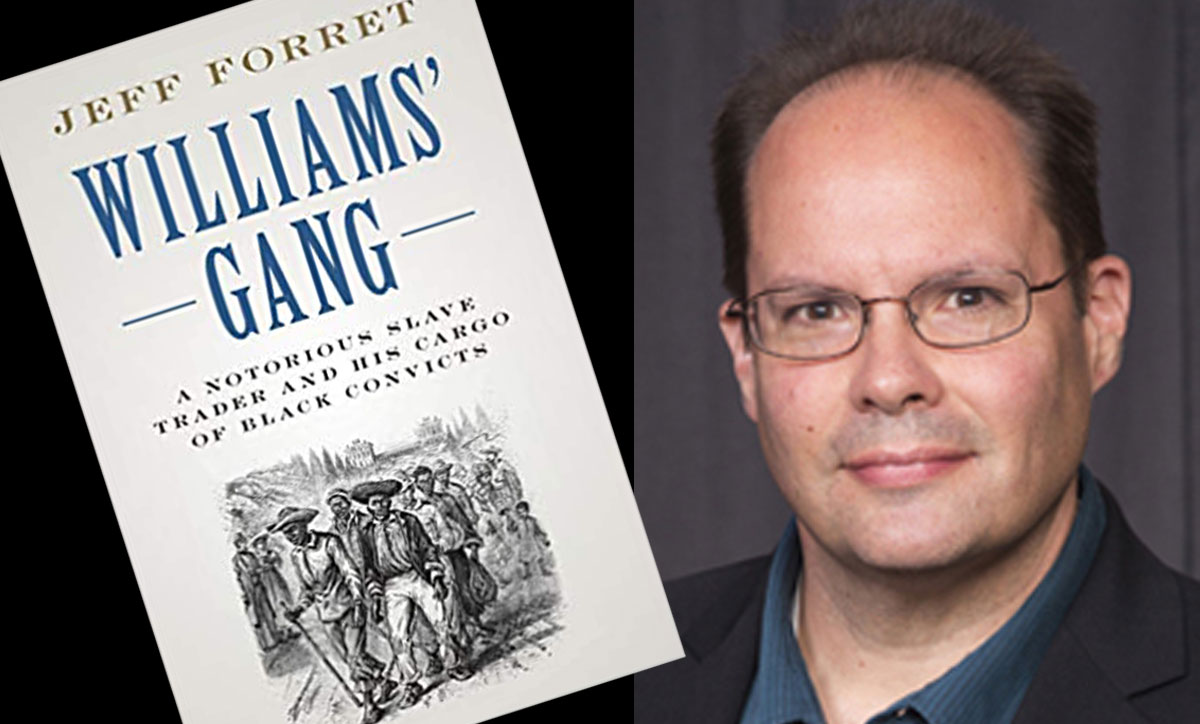 Lamar University history professor Jeff Forret was named 2021 Leadership in History Award winner by The American Association for State and Local History for his book, "Williams' Gang: A Notorious Slave Trader and His Cargo of Black Convicts."
"(The book) tells the story of Washington, D.C., slave trader, William H. Williams, who in 1840 purchased 27 enslaved convicts out of the Virginia State Penitentiary in Richmond for transportation and sale outside the United States," Forret, distinguished faculty research fellow, said in an email interview. "Williams carried his shipment of captives to New Orleans, allegedly while en route to the independent Republic of Texas to sell them, but he was arrested, and his human cargo confiscated. This set off a series of court cases that would not end until after the Civil War and the abolition of slavery."
Throughout the novel, Forret discusses the enslaved and the many prisons they were detained in — both while under Williams' control and also while he fought to regain possession of them.
In late February 2020, Forret said he received an e-mail from Catherine Nuzum, curator of Dumbarton House in Washington, D.C. Even though they had never met, she had read "Williams' Gang."
"Catherine was involved with the AASLH and encouraged me to apply for its Leadership in History Award," he said. "It turned out, though, that since my official publication date was in January 2020, it actually wasn't eligible for the award until 2021, even though copies were in circulation in late 2019. The AASLH kept the copies of the book I had sent to them, and then I resubmitted an application early this year for the most recent round of judging."
Forret said "Williams' Gang" took five and a half years to write, from start to finish.
 "I began the research in the summer of 2014, and that took several years," he said. "Some of it I could do online, but I also had research to do at the National Archives in Washington, D.C.; in Richmond, Virginia; in Louisiana; in Alabama; at the Harvard law library; and elsewhere. That was all pre-COVID, so traveling was safe and easy."
The writing itself only took about a year or so — far less time than the Research, Forret said.
"The writing just involves forcing myself to sit down in front of the laptop and seeing what I'd all accumulated, source-wise, over the previous several years," he said. "The other big step was finding the right agent to represent the book. I eventually found Cecelia Cancellaro, who was great to work with. She found a willing publisher for me in Cambridge University Press, and my editor there, Debbie Gershenowitz, helped improve the manuscript."
Forret said that previous research presented a murder mystery that inspired his award-winning novel.
"One of the earlier books I wrote was 'Slave against Slave: Plantation Violence in the Old South,' which examined violence among the enslaved, inside the quarters," he said. "Finding evidence for that book was tricky. I ended up using a lot of court cases and other legal sources, including Louisiana State Penitentiary records. More than any other state, Louisiana was willing to incarcerate enslaved people in prison for life."
Curiosity led Forret to research if any enslaved inmates were imprisoned for killing other enslaved people.
"While looking at the penitentiary records, I noticed a cluster of 10 inmates labeled 'Williams' negroes,'" he said. "I had no idea what that meant. Everything else in that column was a crime: assault, theft, murder, and so on. I really wanted to solve this mystery, but I knew it didn't apply to the work I was doing at the time. So, I saved it for a later book."
The award presentation will be made at a special reception during the 2021 AASLH Annual meeting in Little Rock, Ark., on Sept. 24.
AASLH is a national award program for books that preserve and interpret state and local history. The Leadership in History Award was established in 1945 to build standards of excellence in the collection, preservation, and interpretation of state and local history throughout America. Publications are categorized according to the press size, and books published in the past two years are eligible. Each nomination is peer-reviewed by AASLH's publication award committee for good history, innovative scholarship, and contribution to the field.
"Williams' Gang: A Notorious Slave Trader and His Cargo of Black Convicts," published by Cambridge University Press, is available on Amazon for $17.57.