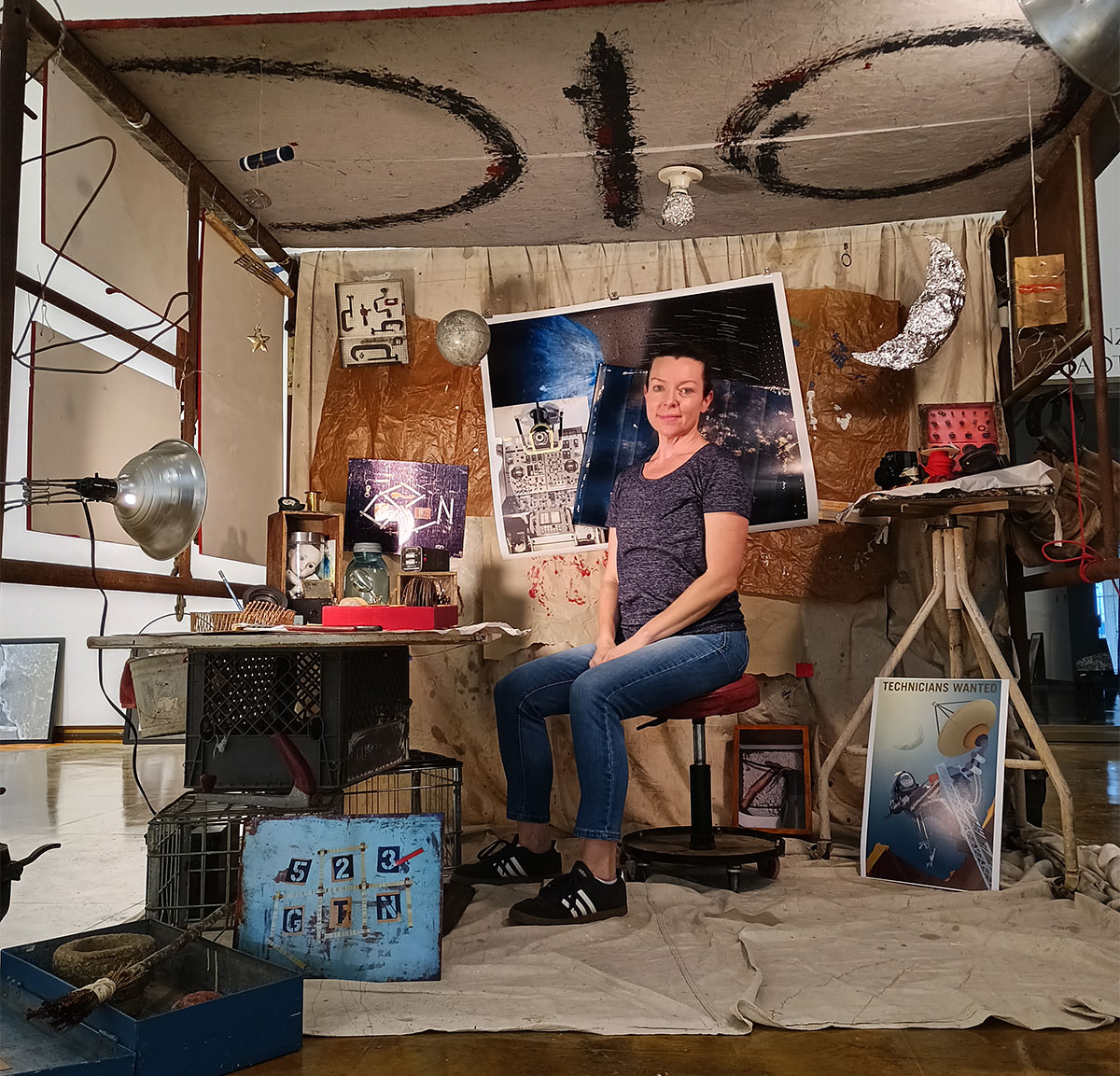 Lamar University's Dishman Art Museum will host "Peritia," the spring senior thesis art exhibition, April 30 through May 15. The event is free and open to the public.
"The Latin word 'Peritia' means experience, knowledge and skill," Emily Lewis, Vidor senior, said in an email interview. "I thought this word perfectly described our experience during the pandemic, but also covered our time as students at Lamar."
Lewis' thesis series is titled, "Journey," which stems from her desire to be an environmental concept artist.
"My work is emotionally charged with broad, subtle narratives," she said. "Rather than having a specific commentary, my work allows viewers to generate their own narrative.
"One could argue that since the series is based on four locations from around the world — Germany, Italy, Ireland and Canada — that commentary on a desire to travel is present but that was not my intent with this work."

Lewis, who hopes to work freelance or for an animation company, said her biggest influences are Julie Bell, a fantasy artist and a wildlife painter; Jorge Jacinto, a concept artist for cinema, video-game development and computer graphics; and Wang Lin, a hobbyist digital artist born in China who illustrates fantasy worlds.
"I am also inspired by Romanticism and German Expressionism," Lewis said. "After graduation, I will pursue my career as a concept artist, through development of my portfolio and growth of social networking."
"Life Imitates Art," by Mackenzie Boyett, is themed around connecting personal life experiences with symbols found throughout art history.
"With all of the uncontrollable things around me, I needed a safe space where I could explore things that I previously felt I had no control over," the Vidor native said in an email interview. "This series allowed me to revisit and re-envision some of the hardest times in my life."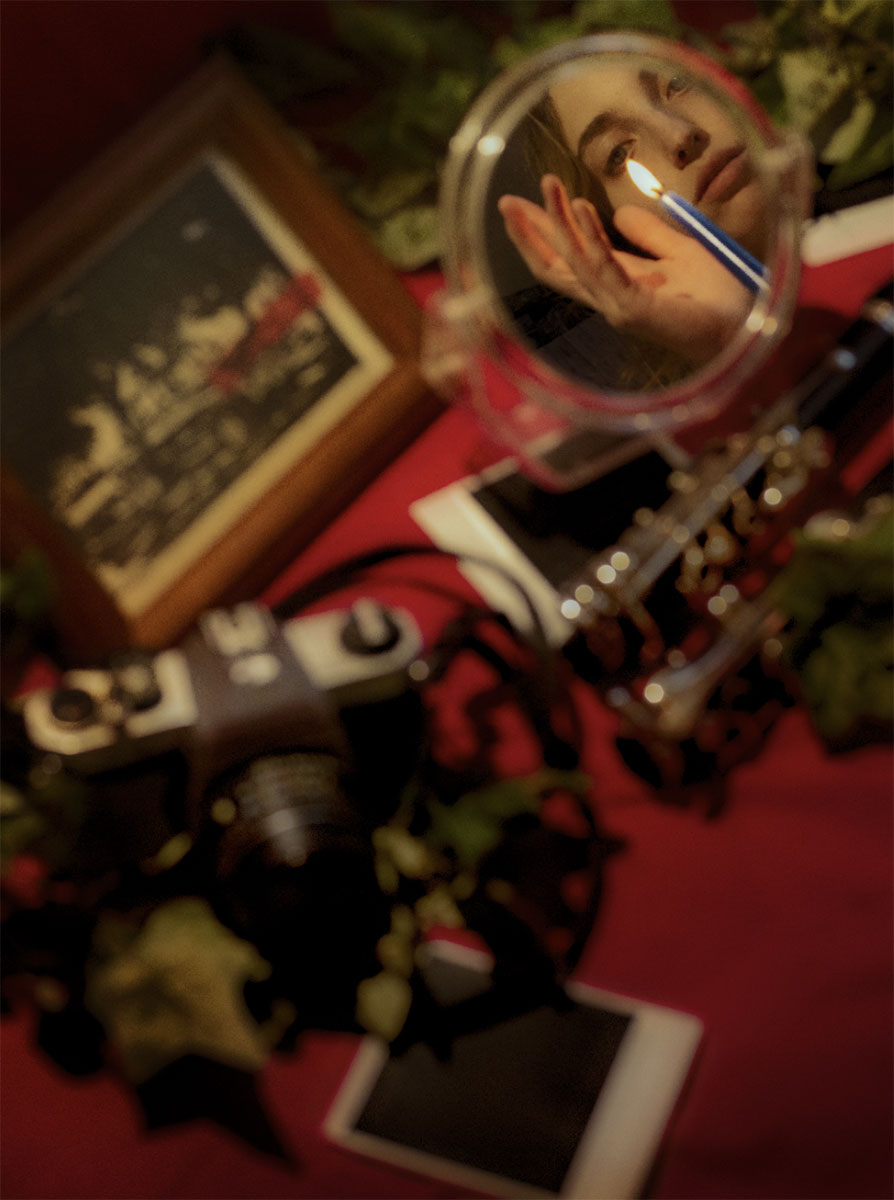 Boyett said her pieces comment on current social or political issues, but without context would be hard to decipher.
"'Red to Blue' is about my journey from growing up in a conservative household and realizing that is not the way I want to conduct my own life," she said. "We don't talk about it, 'it' being about sexual abuse and the silence that women are, unfortunately, almost always forced into when it occurs."
Boyett's thesis project is influenced by the Pre-Raphaelite movement — a group of English painters, poets, and art critics, founded in 1848, who sought a return to the abundant detail, intense colors and complex compositions of Quattrocento Italian art, and Cindy Sherman, an American artist whose work consists primarily of photographic self-portraits.
Boyett said she doesn't have a set plan for after graduation.
"Working as a freelancer over my time here at Lamar, I plan to bring that out more and see where life takes me," she said. "I would love to combine my love of photography with the other mediums I am exploring currently, painting or printmaking. Overall, I just want to relax for a bit before diving into anything super serious, this semester was a killer."
Brandi Hamilton's "Technicians of New meaning" depicts two large chapters of her life coming together in one visual piece. Hamilton served in the military for 20 years where she worked in satellite communications.
"I am (combining) my pre-military life and my life here with the people I grew up with, and merging that with imagery to tell my story," the Lumberton native said. "The theme of the thesis is using tools — basic tools like a rock, a stick and a vessel to carry — from those most basic tools to satellite, which are highly technological tools. Using tools as an enabler and metaphor for humanity's search for meaning."
Hamilton's work seeks meaning that is bigger than oneself, she said.
"Chasing happiness isn't necessarily the answer," she said. "In my philosophical readings, the quest is to find something with a deeper meaning in life to pursue, and in that journey, happiness will follow."
Hamilton said her thesis draws inspiration from Port Arthur-native Robert Rauschenberg, whose early "Combines" anticipated the Pop-art movement, and Tom Sachs, who built numerous space-related sculptures.
"After I graduate, I plan to pursue small-scale agriculture, with a system design bringing in the aesthetics that I have learned in art school," Hamilton said. "It is gardening 2.0, trying to figure out for our local area some other new movements in sustainable, small-scale food safety on a small plot of land."
The Dishman Art Museum is located at 1030 East Lavaca Street.
For more information, visit www.lamar.edu/dishman.
For more on Lewis, visit her YouTube channel, or her Instagram page.
For more on Boyett, visit www.mackenzieboyett.com.
For more on Hamilton, visit www.brandihamilton.com.