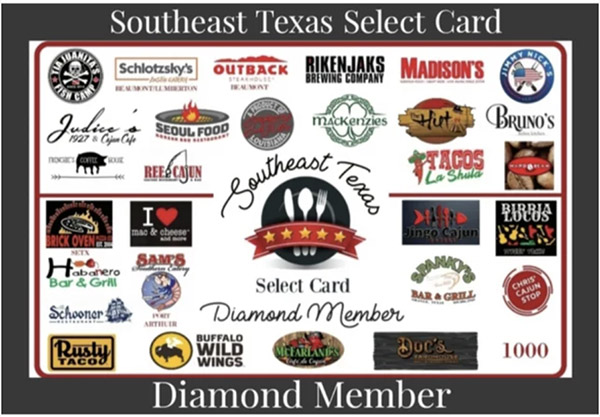 Six years ago, when David Lyons and Daniel Flynn started the Southeast Texas Restaurant Reviews Facebook page, there was one thing they wanted to bring to the area — a loyalty card that gives patrons discounts for dining at local restaurants. 
Now, they've accomplished it.
Lyons and Flynn, Southeast Texas natives, announced to their 32,900 members on their Facebook group page, in February, a loyalty program where members could purchase a Diamond Member card for $25 and receive a 10- to 15-percent discount at local participating restaurants.  
"My co-admin, Dan Flynn, was always traveling and dining using national loyalty cards and I thought, 'Why not unite 20 to 30 local restaurants on one card and offer it to our members?'" Lyons said. "Once I mentioned the idea to Dan, we just brainstormed for the last six years while we grew our review group."
Flynn said once the pandemic hit and they saw how much it was hurting restaurants, they thought about it even more.
"Why not try and do something fun that will stimulate more restaurant visits and save our members money at the same time?" he said.
There are 30 different restaurants participating in the promotion, including Tia Juanita's Fish Camp, Buffalo Wild Wings, Bruno's Italian Kitchen and Madison's. The full list can be viewed on their Facebook page, Lyons said.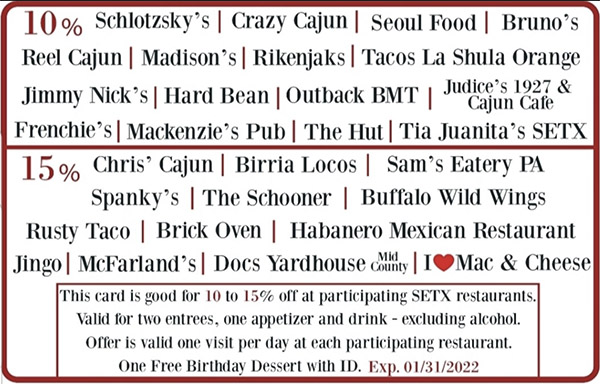 "We didn't know what kind of response we would receive, so we made a special post letting local restaurants know that we were planning a big restaurant promotion, and if anyone was interested to message us for details," Lyons said. "Then we pitched the concept to restaurant owners through Facebook and via in-person visits.
"The response was overwhelming — we basically went with the first 30 restaurant owners that inquired. We already have a lineup of restaurant owners wanting to be involved in 2022. We are expecting more restaurants and more incentives for the second edition."
Lyons said he and Flynn are not openly recruiting more restaurants, but their list is long for 2022.
"Our group is a great group, and local restaurants owners and managers want to be a part of what we are creating — and their eagerness to be involved is heart-warming," Flynn said. 
There are two main goals for the membership card, Lyons said.
"One, to get more of our 32,000-plus members into local restaurants to assist (restaurants) in their recovery efforts from the COVID-19 pandemic and other natural disasters that have hit this area recently," he said. "And two, give back to our members with gift card drawings, merchandise and other fun items that we purchase from the participating restaurants with the proceeds from the cards."
Flynn said the only requirement for purchasing a Diamond Membership is to be a member of the Southeast Texas Restaurant Reviews page and to enjoy the variety of Southeast Texas restaurants.
"We really do have the best food in the nation in our little area," he said.
The card can be purchased online through the group's Facebook page or at the following restaurants: Madison's and Rusty Taco in Beaumont, Reel Cajun and Sam's Southern Eatery in Port Arthur, Spanky's Bar & Grill, The Hut and Tacos La Shula in Orange, Judice's 1927 in Nederland, Judice's Cajun Café in Bridge City, Chris's Cajun Stop in Silsbee and Jimmy Nick's BBQ in Vidor.
The card expires on Jan. 31, 2022 and can be used daily for one visit. The discount applies to two entrées, one appetizer and a regular drink. Alcohol is excluded. Some exclusions apply at each location. The card is also valid for one free birthday dessert with ID.