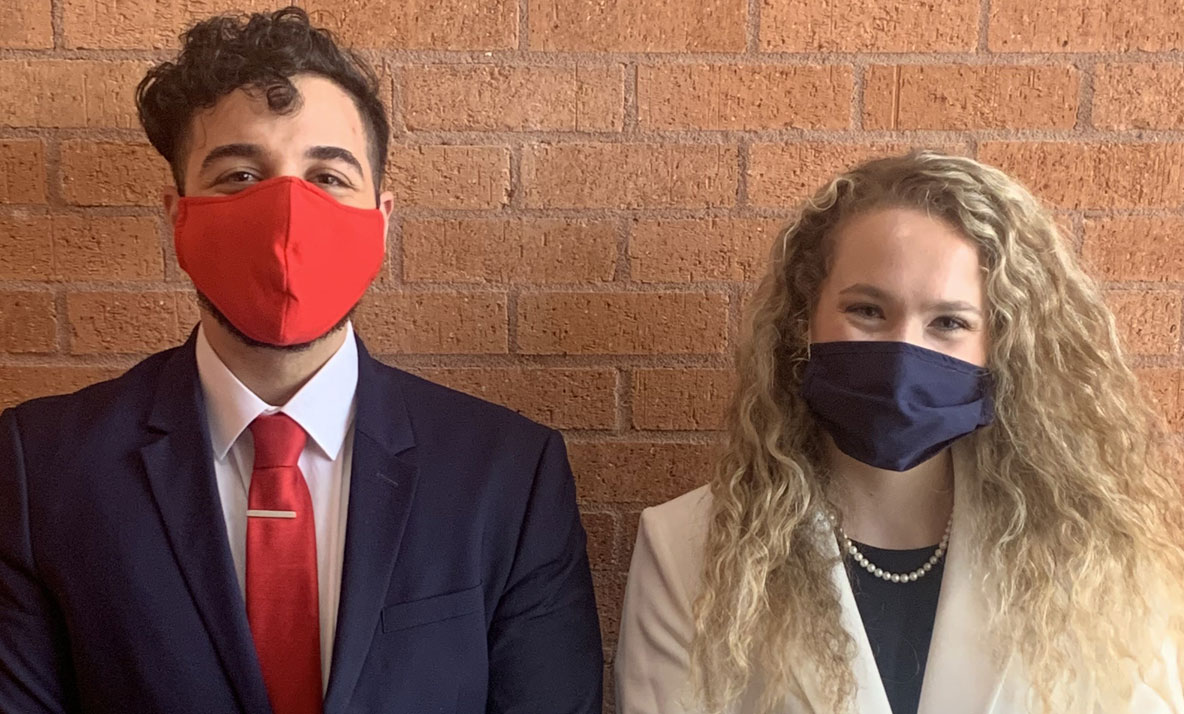 The Lamar University moot court team reached the semi-finals at the Texas Tech University School of Law regional tournament in January. The team set an LU record by advancing to the elimination rounds.
"Moot court is when two teams argue an imaginary case in front of the mock Supreme Court of the United States," Ali K. Hamza, a junior political science major, said in an email interview. "Moot court prepares you in a multitude of ways as it helps develop oratory, research and writing skills.
Hamza said moot court also promotes critical thinking and open-discussion tactics.
"These skills are essential in any field," he said. "It specifically helps me because I want to enter in the field of law, and learning how to write case briefs and conduct legal research will make law school significantly easier for me. Furthermore, moot court enables one to dip their toes in the water, so they know what to expect after law school if they were to ever argue in front of an appellate court."
Due to COVID-19 restrictions, all students competed using Zoom resulting in more opportunities than obstacles for the competitors, Katy McCall, political science senior, said.
"Each year and competition season brings a new set of challenges," she said in an email interview. "This year, COVID-19 was undeniably the team's largest challenge. We had to learn how to compete remotely, practice socially distantly and navigate new competition guidelines for Zoom tournaments.
"Our challenges with COVID-19 led to fantastic advancements for our team. We were able to meet with attorneys, judges and law students across the nation. Our team was able to meet more often than ever before due to the flexibility virtual meetings allow. Our coach, Craig Tahaney, helped us adapt to a virtual landscape and used it as an advantage rather than an obstacle."
McCall said time-management is a learned skill that she had to work on the last three years while doing moot court.
"The challenges I have overcome are relatively common among college students today," she said. "Sophomore year, when I joined the team, I had to learn how to juggle schoolwork, extracurriculars, volunteering, work, personal life and preparing for moot court competitions."
Moot court prepares students for law school and turns them into advocates, McCall said.  
"To be an attorney is to have the fantastic ability to advocate for other people," she said. "It provides the unique opportunity to serve your clients and community through oral and written argumentation. It allows us to clarify legal issues and provide a voice for others in the legal system. Lamar's moot court program teaches these fundamental skills to undergraduate students, so they can go to law school and succeed.
"Craig Tahaney best summarized the necessity of advocacy skills when he told us that, 'One day, when you have a client who needs your help, all that will matter is that you can help them.' Through his mentorship and LU's moot court program, I can confidently say we already know how to help those clients and are well on our way to becoming attorneys that can make all of the difference when someone needs legal help."
The LU prepares for competition through a series of practices and consultations with legal professionals.
"Each competitor does hours of research into the Supreme Court cases related to their specific constitutional question," McCall said. "We formulate our arguments, research the issues, and practice our advocacy skills individually. As a team, we meet weekly to practice oral argumentation, go over any new court cases team members found they felt would be beneficial for everyone to know about, and practice our advocacy skills. We also met at least bi-weekly with other schools, attorneys, law students and judges to hold practice rounds."
Hamza said the main competition is not with other teams but with one's self.
"I have always been one to perform better under pressure or as an underdog," he said. "I am a confident speaker and, although I was nervous at times, I would constantly tell myself that I can outspeak, outperform and outwork any team that comes my way.
"Another aspect is that I know one day someone is going to join moot court and think that they can't make it. It is tough to find confidence when you are facing Ivy League schools or schools that specifically specialize in moot court. However, I wanted my journey to silence that misconception that just because you're the underdog doesn't mean you can't be the champ. Because of this mindset, I don't think I let any team shake me — it was me vs. myself. I hope I can pass that on to someone else."
Students interested in joining the Lamar Pre-Law Society or applying for membership in moot court should email Tahaney at www.cjtahaney@lamar.edu.