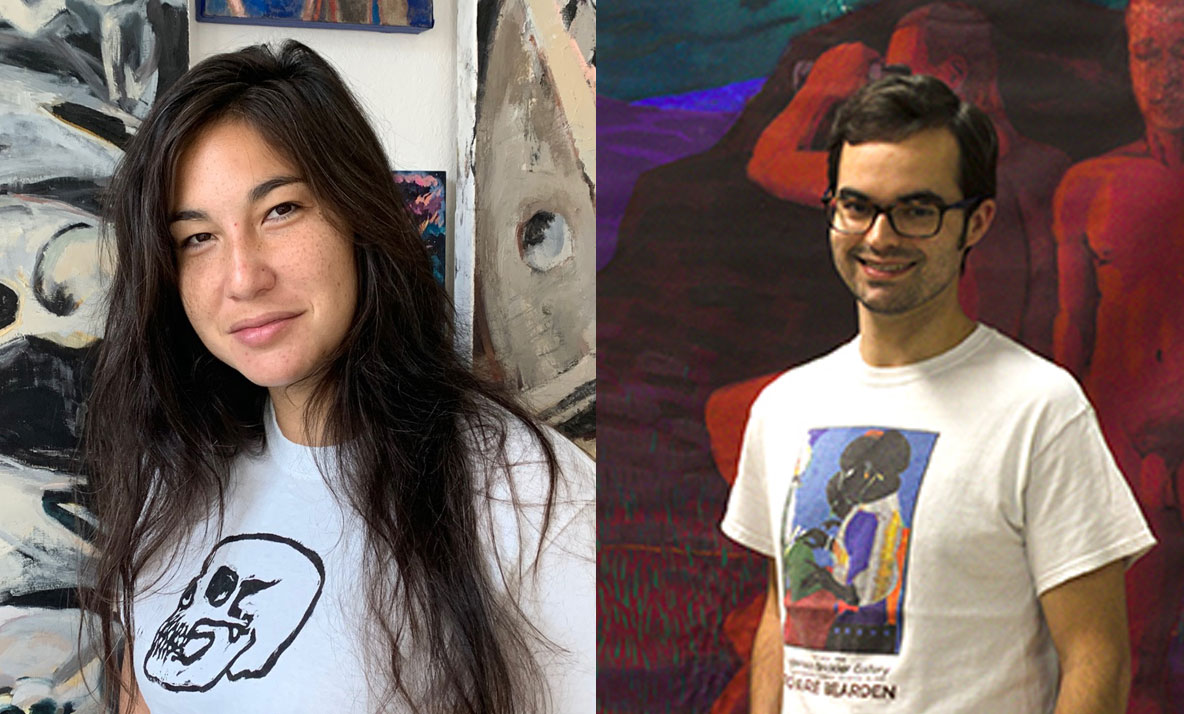 A friendship formed through a "Southern connection" has culminated in a exhibition about the inner workings of humanity. Sirena LaBurn and Nathan Mullins' "Powers At Play" is on display at The Art Studio, Inc. through March 27.
Citing a song as the inspiration for the title of the show, Mullins and Laburn said that "Powers At Play" is a broad exploration of mankind and the human experience.
"We got the title from a lyric in a Nick Cave song called 'Anthrocene,'" Mullins said. "Anthrocene is a shortened version of the word Anthropocene, which is the major mass extinction event that we're in right now. It's caused by human interaction. So I think that there is there's a lot in the show that deals with humanity's role in human conflicts."
LaBurn said the pair's art is a reflection on human nature.
"We're contemporary artists, we're living in this time period, and that means, ideally, you're reflecting on what's happening in your current time that you live in," she said. "And that the work is just about sort of human-related concerns and issues.
"There's no statement about the environment or some sort of political slant on this work. It's just his work and my work in dialogue, and just seeing how these paintings and this imagery — I think about humanity — what that sort of brings to the conversation. I guess it's a little bit our perspective. Is it optimistic? Is it full of doom? Is it somewhere in between?"
LaBurn and Mullins credit their close friendship for making "Powers At Play" a relaxing experience.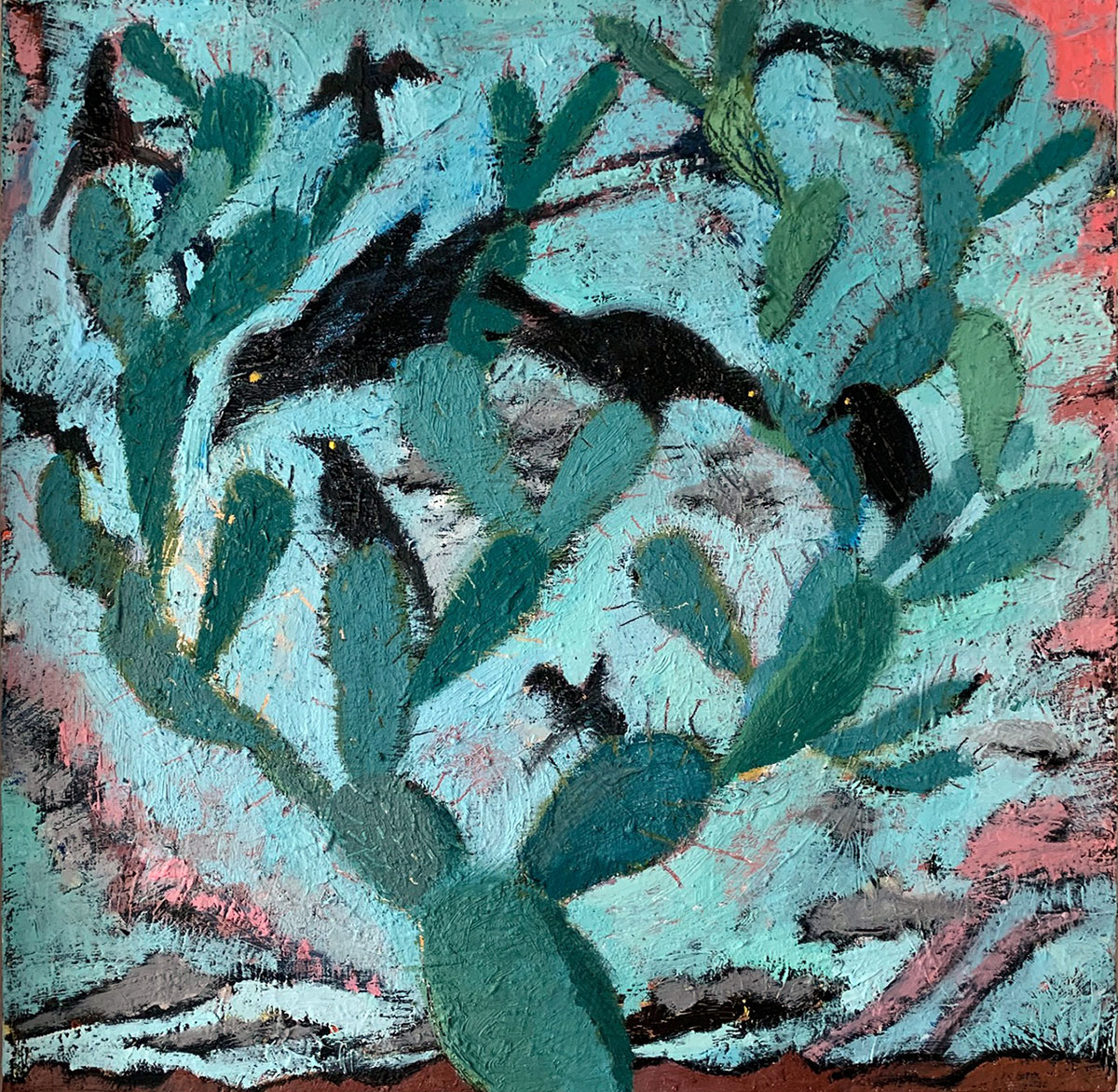 "Personality wise, we're lucky," LaBurn said. "If one person has a big ego or is selfish or is being a diva, you're going to have problems hanging a show. In a way. it was more joy and actually less stress to try to combine our work than to just focus on being solo. I feel like he was taking care of that for me; he was trying to put my work in the best light and in the best scenario, and I was trying to do the same for him. And so I think the result was a good show.
"I think it really came down to what is working and what is not. I think that's why it was so much fun. We didn't get bungled down in our personalities or wanting our own pieces to be more visible. Then the show would have never worked out this way — it would have been miserable, actually."
A mutual admiration that began in their graduate studies led to a dynamic partnership.
"The New York Studio School is where I initially went to grad school — that's where I met Serena," Mullins, who hails from Clarksdale, Mississippi, said. "I ended up transferring to American University, which is where I got my master's in fine arts, but we've stayed in touch. I think that there was a connection immediately in terms of the aesthetic mode that we were both working in. There's a real connection between the kinds of paintings and drawings that we were making."
LaBurn, who hails from Nederland, earned her bachelor's from Wagner College on Staten Island before attending the Studio School.
"Even though we only overlapped for a year, I was pretty sad when he decided to transfer," she said. "There was definitely a respect for his seriousness and intelligence. It's like when you meet somebody and they're completely different than you. That's what's awesome. It was somebody else who is trying to make work in a sort of similar mode but from a completely different perspective — so I connected in that way. It's like somebody who was doing what I was interested in doing, in a way that was more interesting than myself at the time.
"And then, in New York, there was a Southern connection. Anytime, whether I was an undergraduate or graduate school, if you heard a Southern accent, it was always like, 'Excuse me, where are you from?' Because everybody else was from New Jersey or Connecticut or upstate New York."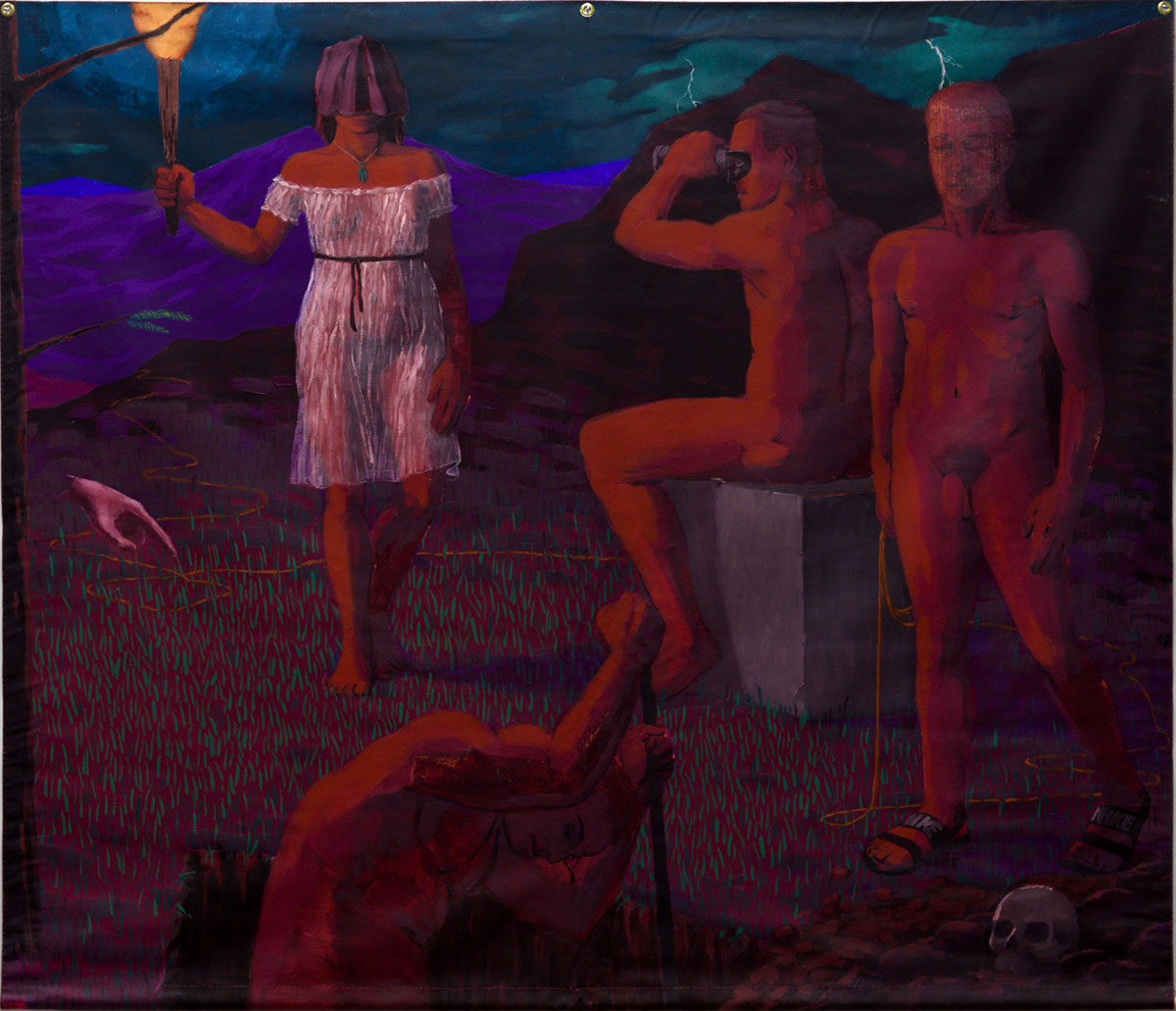 While navigating the COVID-19 pandemic, Mullins and LaBurn have used social media to complement their work, and to engage with other artists.
"I feel like artists are turning to Instagram and really connecting with other people," LaBurn said. "I've reached out to different artists who I've never met in person, which I probably would not have done before, just to be like, 'Hey, I really like your work.' That's kind of kept me going. I bought my first painting this year, and I felt it was important. That was somebody who was recently graduating. It wasn't just about me getting something, it was about supporting other artists and just acknowledging that we're all suffering. How is art going to survive if artists aren't supporting other artists? I felt very strongly about buying something from somebody who I know was about to graduate and, hopefully, helping them just pay one more bill."
LaBurn and Mullins advise new artists to utilize platforms like Instagram as a networking device.
"You get on there, and you find an artist that is important to you," Mullins said. "You follow them, and then you look at who they follow, and you follow all those people. Do that as much as you can, and you get your work in front of people's eyes."
LaBurn said the art hubs have been broken down a little bit because of social media.
"You really don't have to be based in LA or New York or Berlin or London to get people to pay attention to you," she said. "Now, I don't think students have to be like, 'Oh, I've got to move off to New York or I'm never gonna be anything.' Right now, during COVID, everybody's just looking."
The Art Studio, Inc. is located at 720 Franklin St. in downtown Beaumont. The exhibition may be visited in person, or virtually at www.artstudio.org, on The Studio's Facebook and Instagram pages.
For more on LaBurn's work, visit sirenalaburn.com, or Instagram @sirenalaburn.
For more on Mullins' work, visit nathanmullins.com, or Instagram @nathanmullins_.