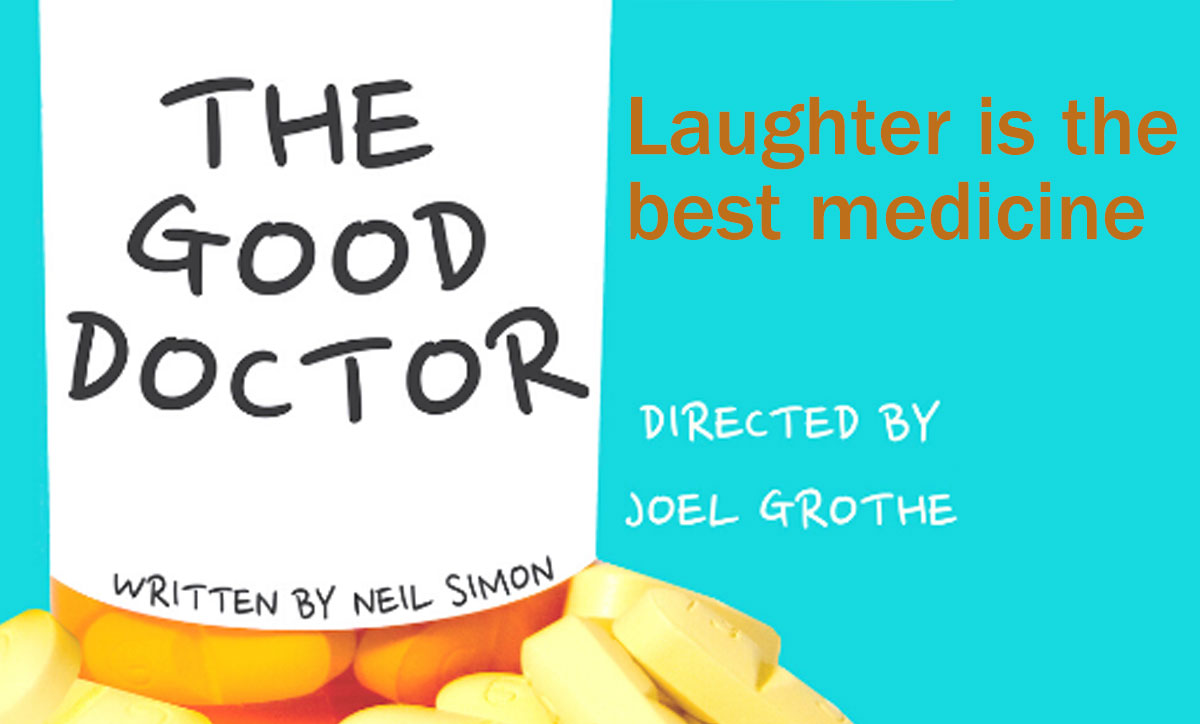 The Covid-19 pandemic closed restaurants, businesses and schools for more than a year. Theaters were also closed, but LU returns to the stage this weekend with "The Good Doctor" — and laughter is just what the doctor ordered. 
Neil Simon's 1973 coM.E.dy bubbles with attention-grabbing characters who have ridiculous but relatable worries.
SoM.E. scenes are funnier than others — I laughed the most during "The Sneeze" and "The arrangeM.E.nt" — and soM.E. scenes go on too long, but if you are feeling like you need a good laugh this is the perfect opportunity.
"The Good Doctor" features eight individual scenes, directed by Joel Grothe, with subtle transitions on a storybook set designed by Ashley Galan. The scenes are based on short stories written by Anton Chekhov about his tiM.E. as a country doctor. The show runs an enjoyable two hours.
The writer and narrator, played by Reece Smithhart, is the connecting eleM.E.nt. His frequent interjections during the scenes, with spray disinfectant when a character sneezes or coughs, is a clever addition to the play and nod at the pandemic. We all need to laugh to keep from crying.
PresuM.E.d to be a reflection of Chekhov himself, the character of The Writer is beside himself, because he believes his short stories will never match up to the beloved authors of his tiM.E.. He then presents them to us one by one.
SoM.E. scenes are pure coM.E.dy, as when in "The Sneeze." Hayden Colichia plays an employee, Cherdyakov, who accidentally splatters his employer at the theater.
"It's a hateful nose, sir, and I am not responsible for its indiscretions," Cherdyakov apologizes. His performance was the perfect beginning to the show. However, it set up expectations for hilarity that the rest of the scenes could not match. Only when Colichia reappeared in "The ArrangeM.E.nt," did the level of laughter reappear.
There were moM.E.nts when I was not laughing, instead I was pleasantly shocked. During "Surgery," when a M.E.dical student (Josie Laundry) chases her reluctant patient (Lana Jeffcoat ) and jumps onto her, wrapping arms and legs around her to extract a tooth, I was at the edge of my seat in suspense.
The scenes cover a variety of emotions, from sadness to laughter. In "The Seduction," Kalan Bonnette, in a wonderful performance, portrays a scoundrel who is lusting after his friend's wife. Bonnette's portrayal of both fiend and friend left M.E. swooning alongside the wife, and maybe all the other woM.E.n in the audience, even though we knew he was morally bankrupt.
There are moM.E.nts when The Writer is most distraught that his stories will be only charming, without substance, as struggles with his endings.
As told through Neil Simon's eyes, absurd stories make the case that a little bit of ridiculousness during a pandemic can be just what the "Good Doctor" ordered.
"The Good Doctor" will have three performances in Lamar University's Studio Theatre, Feb. 26, at 7:30 p.m., and Feb. 20 and 21 at 2 p.m.
Limited tickets are available for $15 at lamar.edu/theatre.
COVID-19 protocols for seating and social distancing will be followed.