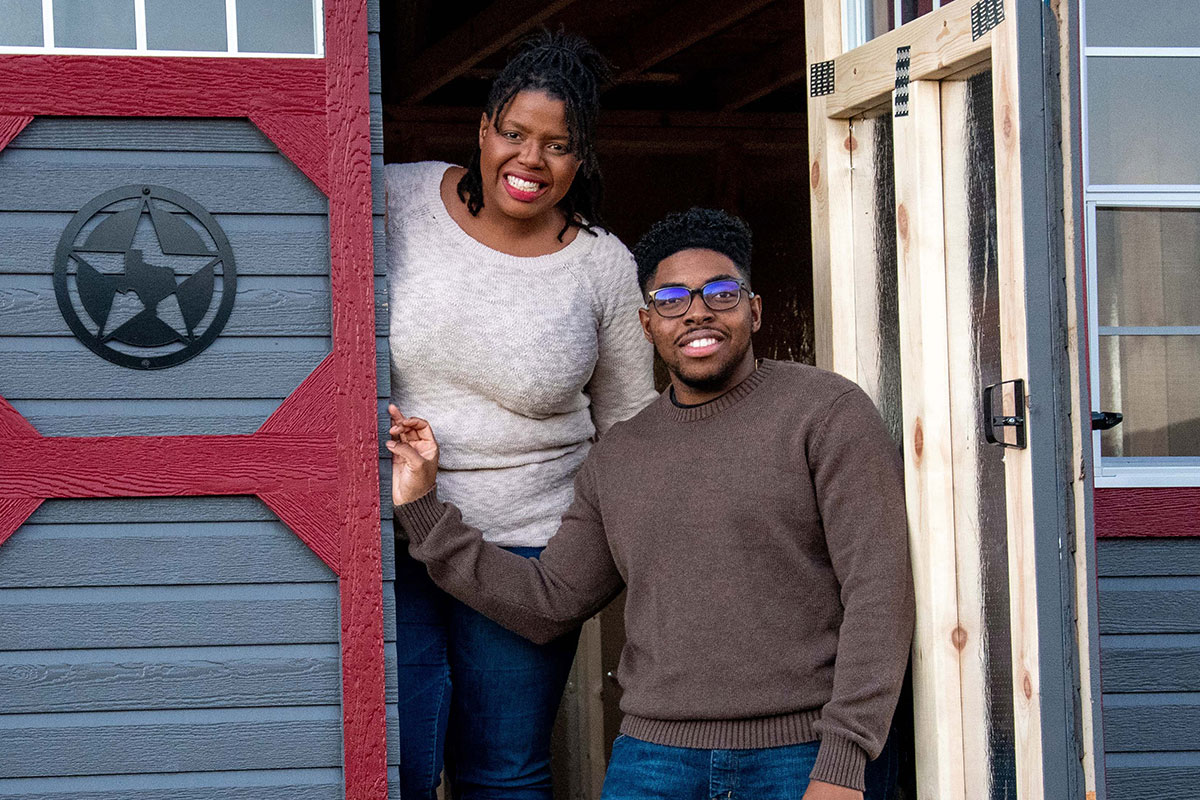 Siblings' new business focuses on Black representation
As the Coronavirus Pandemic continues to plague the world, simple forms of pleasure like board games and puzzles are making a comeback.
Last summer, siblings Ericka Chambers and LU art graduate William Jones decided to create a business that shined a light on Black representation as well as pursuing their dreams of entrepreneurship.
Puzzles of Color is a series of jigsaw puzzles that create a photo representing Black culture when made whole.
"It was Ericka's idea," Jones said. "She told me one day after church that she wanted to do puzzles of (the work of) one my Lamar University classmates, Kwanzaa Edwards. She has gorgeous art of Black women and (Ericka) wanted to do a puzzle of it to theme her nursery.
"I instantly loved it. I thought it was a great idea and a product that the market was missing, so we met to start figuring it out. We grew up doing puzzles, and we always choose landscapes or cartoons because we didn't see any art that represented us that we liked."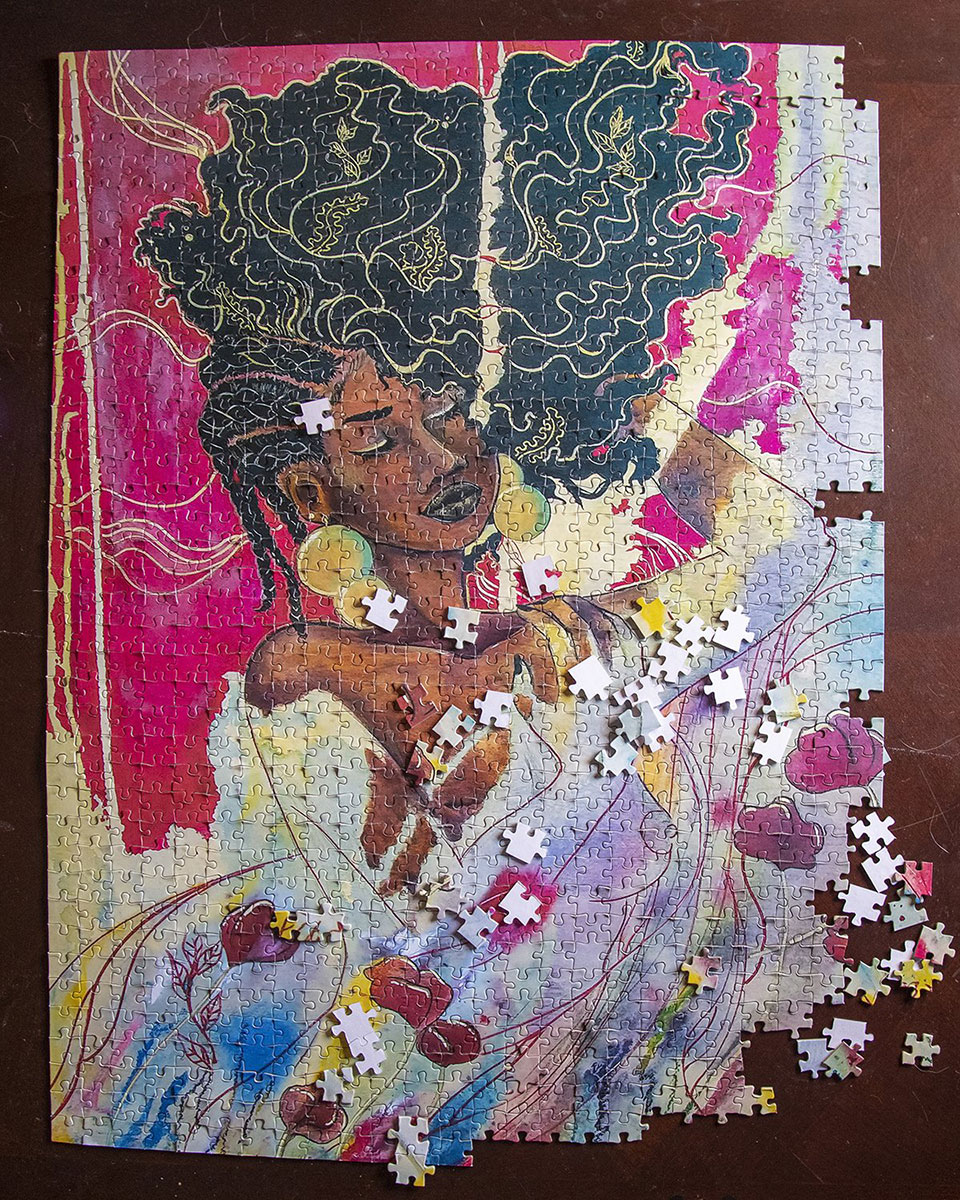 Jones said the market for people of color in puzzles was empty and it is important for people to see themselves in their hobbies or everyday normal activities.
"I think we found a niche that is absent and, possibly even though you might not think, it's something missing," he said. "Not until it is brought to your attention do you notice it. Plus, we can see that puzzle sales have increased during the pandemic so that played a factor in interest in puzzles around the nation."
The siblings market their products as tech-free entertainment and as art.
"We have artists of color that have amazing art and are great centerpiece on your wall," he said. "The benefits of putting the piece together yourself is that you get to admire all the details, and if you are not an artist, when you put together this art you get to become the artist yourself.
"We have worked with artists from around the nation and wanted to have a variety of artist's representation. So, we have a few digital artists, contemporary artists and even abstract artists."
Chambers said the pair have got messages from people tell them how special it is for them to see themselves.
"Those just warm my heart, because that is what we wish we had and the main reason we started the company," she said.
Navigating a new company has been a fast-paced learning experience for the new business owners.
"At the moment this is a side hustle," Chambers said. "An average day is waking up and taking care of my daughter, checking my business email to handle any urgent messages, then going to work on my day job. William has a key to the house, so he comes over a little later in the morning to cut puzzles and fulfill orders while I work."
Chambers said at the end of her workday at her first job, she and her brother debrief on statuses and next steps, and he goes home to handle marketing work while she takes over with fulfilling orders and handling customer service messages.
"William is the operational person and creative director," she said. "So, anything to do with selecting artists, manufacturing the puzzles and marketing are his job, while I handle the project planning, customer service and working with vendors."
Chambers said she uses her skills as project manager from her day job in Puzzles of Color.
"I have to keep everything organized and make sure we hit the deadlines or are prepared with a plan if we can't hit them," she said. "I have been in the hospitality industry for several years, so my customer service skills are constantly being tested. Having a baby and wanting to have more control over my own destiny inspired me to start a business. We have a lot of family that own their own businesses, so I have seen the freedom that comes with being the boss."
Jones is a graphic designer and uses his skills to create the branding as well as the marketing graphics.
"Skills I learned from schooling and freelancing as a graphic designer," he said. "I really enjoy getting to also use the skills I forged in production and print from my days with the Lamar University Press, as well as a print production artist. The job market is really competitive for graphic designer and steady work-flow can be hard to come by, especially due to the pandemic. But I have always wanted to be an entrepreneur and have always been doing a side hustle that involved my skill set, so it was almost a natural transition.
Chambers said running a business during a pandemic has many struggles and setbacks.
"One thing that has been a challenge is that vendors are delayed which throws off our schedules quite a bit," she said. "It also limits our ability to ask for help. Since we run the business out of my house, and I have a young child, we must limit the number of people who can assist us. We are very fortunate to have a family that is willing to assist and they are in our COVID bubble."
From the beginning of the endeavor, the siblings said they have had a huge learning curve on the manufacturing side.
"Our machine was broken when it arrived," Chambers said. "So, we had to find someone who could fix it, which is very rare. Then we had to figure out how to use the machine properly, like the right pressure to cut the puzzles without causing them to split. Some of our items were delayed getting here due to COVID, so we had to push our presales."
The siblings hit a big break when they received national recognition from CBS evening news and other media outlets.
"This created a huge demand on our production that we weren't ready to scale," she said. "There have been many more hurdles than we ever imagined, but we have been lucky that people have given us a lot of grace. I think that being transparent about what is going on really helps people to understand that we are human and are doing the best we can — the fact that we are filling a gap in the puzzle industry and helping people to see themselves.
"We also pride ourselves in a mutually beneficial business model. We help to uplift the artists and, in return, they share about us with their audiences."
The sibling's advice to aspiring entrepreneurs is not to wait to begin your business.
"Be prepared to fail and be frustrated a lot," Jones said. "If you are doing anything online or dealing with customers, things out of your control will go wrong and you will be blamed for it. But for any negative or selfish comments you get, there are three times the positive comments.
"Also, the secret to starting a business is to just start. You will have setbacks and you will want your product or service to be perfect, but at the end of the day you will be forced to learn on the job and roll with the punches. My wife always says there is no perfect product and if you wait until it's perfect to start you will never start."
Chambers added that one must be willing to sacrifice time to pursue the success of the business.
"There are a lot of late nights and missed weekend plans to get everything done," she said. "When you are an entrepreneur, it's not a 40-hour work week. There will always be days when you must check in and do something for the business."
There are some overarching concepts that all entrepreneurs find themselves in, Jones said, but it's really a mix of timing and going after one's dream.
"You don't want to go in with no real plan, but you must be willing to flex and know when to accept advice or help," he said. "That, and just trusting your gut. I think getting the puzzles out to the customers, and getting the feedback and reaction from seeing either a completed puzzle or a kid seeing themselves in the puzzle is worth it.
"Also, getting the call to be on 'CBS This Morning' was pretty awesome and helped us to know that we are on the right path."
For more information, visit www.puzzlesofcolor.com.