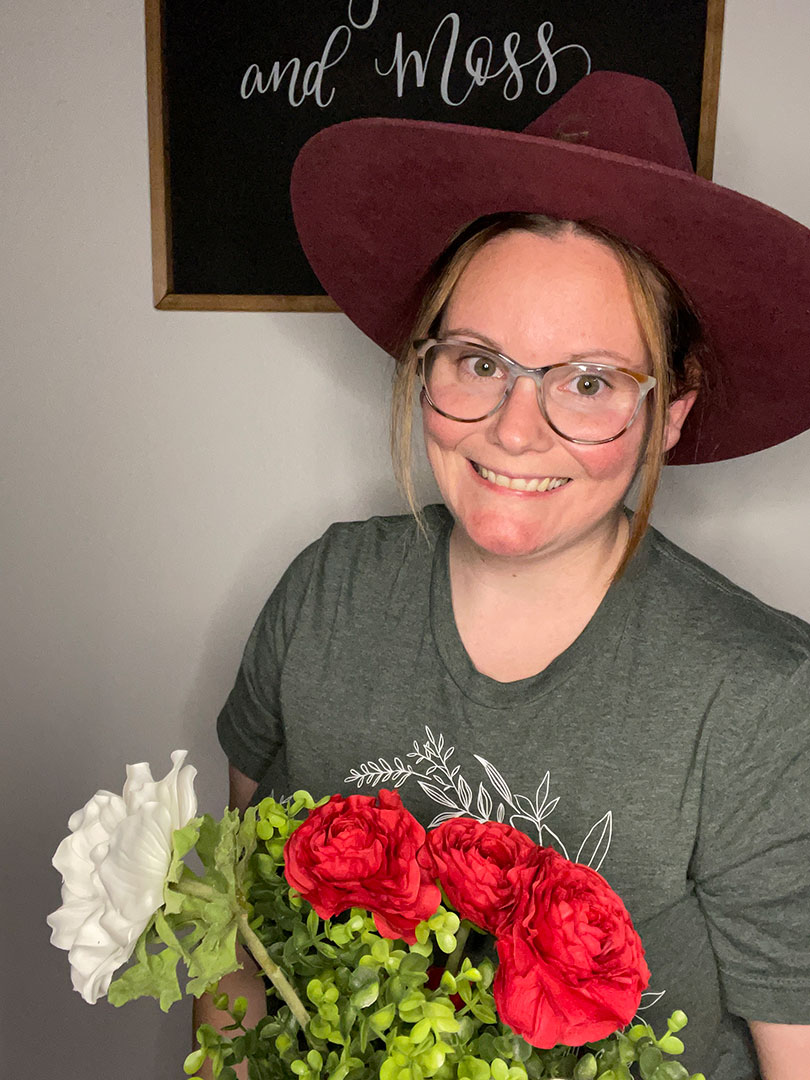 In the wake of the coronavirus pandemic, a Lamar University student took advantage of the extra time at home, not to sulk or stay glum, but to reinvent herself with a new company, "Myrtle and Moss," creating silk floral arrangements.
Amber Johnson, speech and hearing sciences major, began her business in March 2020 in response to stresses caused by the COVID-19 pandemic.
"Aside from taking a floral design class in high school, over a decade ago, I have always loved the art of floral design, but never really had a moment to focus on it until the pandemic forced everyone to stay at home," Johnson said in an email interview. "At the peak of COVID-19, when I rediscovered my lost passion creating the arrangements, it helped me adjust mentally and emotionally to our new way of life, for however long that would be."
Johnson said the floral arrangements inspired her to create her business.
"My first goal was to officially launch Myrtle and Moss Company," she said. "So, that way I could really bring this idea to life. When I started this business, my intentions were to do everyday arrangements and special requests. The more I researched and found people that inspired me, I realized that I wanted to focus on weddings and events."
Johnson said the name of her company reflects who she is as a mother, wife and friend.
"Myrtle means love and marriage and Moss means maternal love — important factors that are priority in my life, and I also wanted to bring a unique style to people that could tell a story, bring back a memory, or just bring a smile to their faces," she said.
Johnson describes her style and vision as clean, fresh, and airy that is seen commonly at weddings or spring inspired events.
My inspiration is the garden-style arrangements, and I have been focusing on learning the fundamentals and mechanics of this style," she said. "A garden-style arrangement is a hand-tied bouquet with a loose style. It is almost as if you went out to your garden and hand-picked different flowers and placed them in a vase. When I think of a garden-style, I think of a couple getting married at Martha's Vineyard or strolling through Savannah, Georgia. It is very sophisticated and can put a lovely touch to any wedding or event. I have always been drawn to this type of style because it just feels so fresh, clean, and calming."
Johnson said her turnaround time for arrangements range from an hour to a week depending on size of the order.
"I have been able to get them out quicker, but I do ask that customers reach out 3 weeks prior to when the arrangement is needed," she said. "This allows me time to find specific items for that particular arrangement."
Johnson said that supporting local businesses is important because they give back to the community in many ways.
"Small businesses will donate, support, and give back," she said. "As far as responses from the community, it has been very positive and very encouraging. I have gotten a lot of feedback wishing me much success in my new business venture. Floral design started as an effortless love and through the growth of this, it brought me so much joy and happiness during the pandemic."
For more information, visit www.facebook.com/myrtleandmossco.