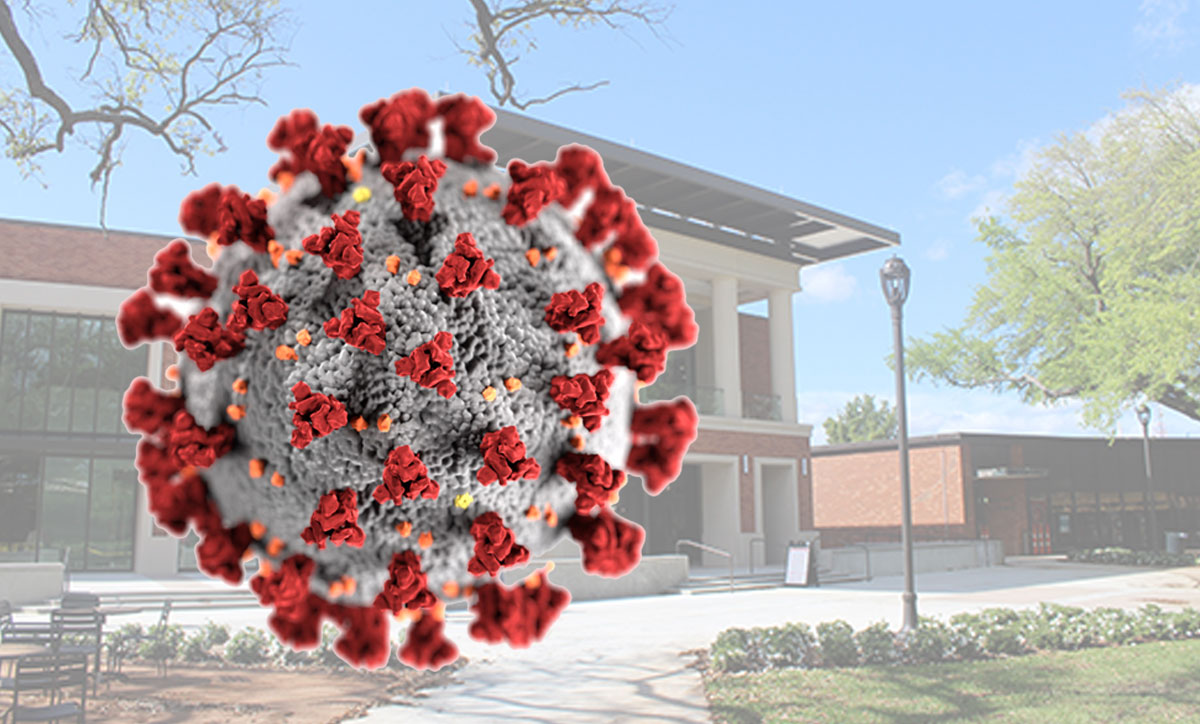 With the continuation of the COVID-19 pandemic into the spring school semester, universities have had to accommodate for the transition to online learning. For some instructors it has been a struggle, and at the same time students have had to adjust to new learning method.
Some classes have been made fully online with no in-person lectures and others have become hybrid classes, a mixture of in-person and online classes. Students have struggled to keep up with the changes that seem to have piled up at once.
"One of the biggest challenges I've personally faced with online classes is not being able to ask questions face to face," Arely Medina, Beaumont junior, said. "Although emailing our professors about any concerns or questions is possible, it's hard to explain or give a definite answer to a complex question."
Even though teachers are doing their best, some students are finding it difficult to have that interpersonal communication with their professors.
"Live lectures were incredibly rare, and it was difficult to contact some of them by email throughout the semester," Maissa Salibi, Beaumont junior, said,
For both Medina and Salibi, a computer screen can't replace the face-to-face interaction of a live class.
Students have also had to deal with internet connectivity. Not everyone's internet is high speed and connections can sometimes be spotty. This causes freezing screens or lagging audio during lectures, and sometimes no consistent connection at all.
"My house has an unreliable internet connection." James Cottingham, San Antonio junior, said.
Cottingham said he had to go to his friends' dorms when his Wi-Fi wasn't working. However, students said that the dorms were not always a reliable either.
Salibi said some of her professors were unable to accommodate her online courses. When one of her professors moved a hybrid class to online after students started testing positive for COVID, the teaching methods changed.
"She never held live lectures or anything after class moved online, it was kind of like, 'Go at your own pace and teach yourself,'" Salibi said.
Cottingham said he had a similar experience with a professor, saying one of his professors cut zero slack and didn't allow any accommodations.
The mental and emotional side effects were also concerning for the students. Spending less time in a classroom environment and having fewer social interactions with others has taken a toll. Medina said that throughout the semester she experienced a range of emotions. She had moments of unhappiness and fatigue while trying to juggle her classes with working two jobs.
Lamar University's Student Health Center is a resource for students who find themselves struggling. They offer counseling and programming to help students cope with issues arising from the pandemic.
Another resource is the Health Education Department, assistant director Marie Murray said.
"We actually put on a lot of programming for students to provide information or activities to kind of help that stress relief, or to learn a little bit more about stress relief," she said.
The programming includes REDtalks that discuss dealing with stress. The week leading up to finals, they put on a de-stress week programs to help students deal with stress in a healthy way. Murray said students and faculty may request presentations and workshops about dealing with mental health and stress management.
Salibi, Cottingham and Medina said tuition should have been lowered for the fall. Salibi said that tuition should have gone down significantly.
"I'm didn't receive the same resources or help as I did before our courses moved online," she said. "I'm paying the same amount, if not slightly more, for less services."
Services, such as the Fitness Center, were impacted, since not all students felt comfortable being in an environment with other people. Some sporting events were canceled or pushed back wioth students questioning why they still had to pay an athletic fee.
 Not everything has been negative, though.
"The convenience of being at home and not having to drive a 30-minute commute to Lamar to attend class has been my favorite part," she said.
Cottingham said that he likes the freedom that online classes allowed.
"My favorite thing is generally following my own pace, since I'm typically busy with work," he said.
Murray said her biggest piece of advice is for students not to be afraid to ask for help if they feel like they are struggling — or even if they don't. That doesn't have to be a counselor.
"It may be that you go to your favorite faculty member or staff member, or maybe just a mentor, or maybe you just reach out to your family or friends," she said.
Whether someone considers themselves an extrovert or an introvert, Murray said finding a social connection is important during the pandemic.
To make an appointment with any of the Health Center's four counselors, students should call 880-8466. The cost for a session is $10 and is charged to the student's account. Masks are required and students must attend alone. Students should arrive to the appointment 5-10 minutes early for a screening that involves temperature checks. Virtual appointments are also available.
To contact Murray at the Health Education Department, email mculik@lamar.edu.