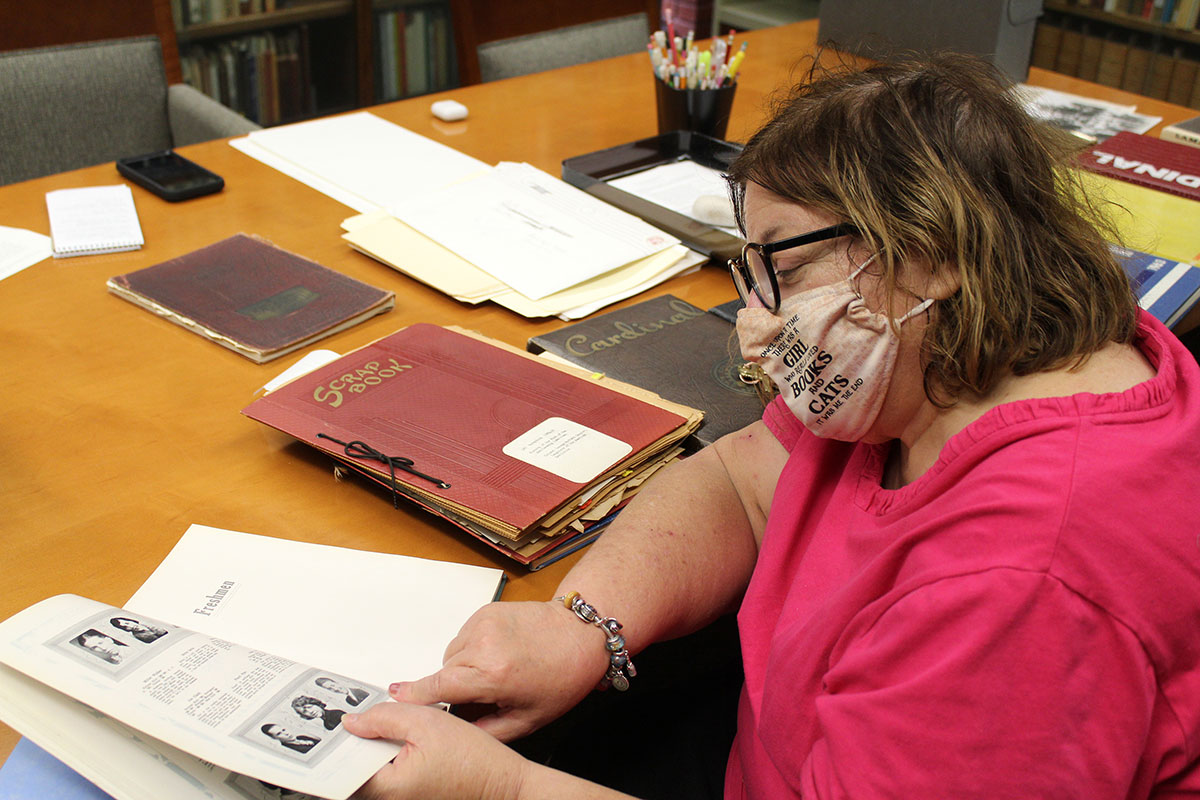 The Lamar University special collections department, located on the seventh floor of Gray Library, is the repository for campus history.
The department has a collection of yearbooks from Lamar's founding as South Park Junior College in 1923 until 1976, when Lamar stopped printing yearbooks.
"It was something that virtually every school did at that time," Penny Clark, special collections librarian, said. "They would list everything that you were involved in underneath your name. And for some of us, it was like a rivalry to see who could have a longer list in the yearbook.
"You know, it was a big social thing to have everybody in school sign your yearbook and so a lot of people cherished it. A lot of people keep it until their death, because there is so much sentimental value — so many kids signed the yearbook, and there were photos of activities. It was really something that was very special to a lot of people. There's just page after page of empty pages for autographs.
"I remember when I got my yearbook, you had everybody in class sign it, and, you know, you're looking to see what people wrote and so there's a lot of sentimental value."
Clark used to work at the Tyrrell Historical Library in downtown Beaumont, and said yearbooks are used for genealogy and heritage research purposes.
"When I worked at the Tyrrell, I probably had three people a year that were doing genealogy and they didn't know anything about their biological parents," she said. "Sometimes they would know their dad went to Lamar, and so they would try to go through the Lamar yearbooks and figure out who you know their natural father might be. Back in the old days, they go through and say, 'Is there somebody that's got a family resemblance? This could be my natural father.' That was one of the things that people used to use them for. Maybe they don't have a picture of their grandfather. Sometimes you have families that know mother's side going back to the Mayflower, but they don't know anything about their dad's side. For a lot of people, these are ways to get family photographs."
Yearbooks also document how Southeast Texas has changed over the years as one can find small historical details, such as old businesses or buildings, in a photo documenting something completely unrelated.
"The one thing that we used to utilize the yearbook photos for a lot is looking for photos of buildings downtown," Clark said. "Sometimes they're showing a homecoming float. That was what they were showing, but they they've also taken a picture of the San Jacinto Building or the Jefferson Theatre. A lot of times, you can document things that weren't intending to be documented."
The collection's yearbooks also shows societal changes and differences between the past and now.
"We had the advertisement for the KKK in one of our yearbooks," Clark said. "You can see social changes. You can see changes in the role of women. You can see back in the old days when the students first come here, they're throwing them in the duck pond."
The yearbook collection is digitally accessible at lamar.edu/library/services.