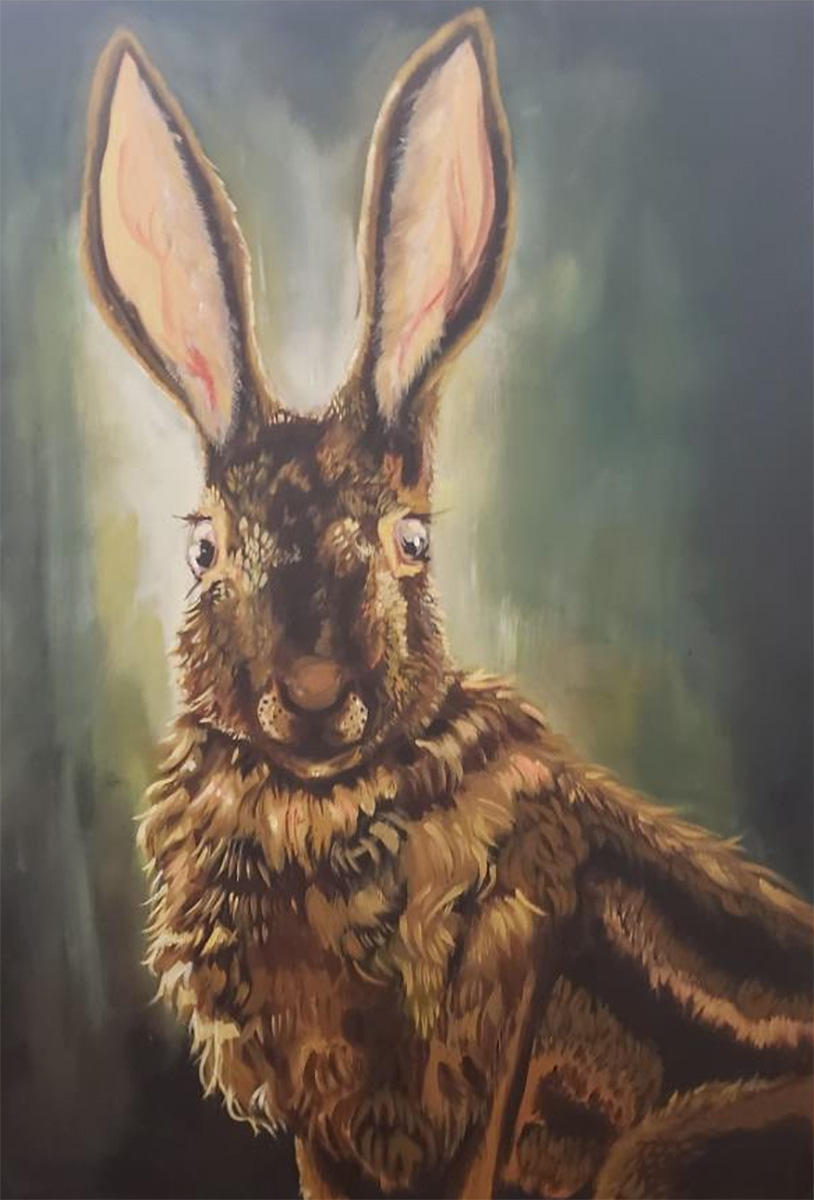 The Lamar University art department will present "Anomalous," the fall 2020 senior thesis show, beginning Dec. 4 in the Dishman Art Museum. The theme emphasizes the deviation from what is standard, normal or expected.
The exhibition is a chance for seniors to display their final projects ahead of graduation. Painter Sirena Nieves utilizes oil paint on canvas and linocut print for her project, "Unseen Divinity."
"It is about bringing new life into ancient symbolism, religious representations and traditional iconography with my personal narratives and spiritual identity," she said.
"I wanted my series to be relatable to anyone who has gone through an identity crisis dealing with spirituality, family or culture. The closest thing that comes to mind when I think of 'out of the ordinary' and my work, is rather than using common icons or symbols, I made sure each individual representation was historically tied to rabbits."
Nieves inspiration for her project comes from her childhood and upbringing.
"Being born in Germany and raised in America, I didn't have the same experiences growing up as the rest of my Puerto Rican family," she said. "I am not familiar with their cultural festivals, folklore, dances, I did not grow up with the rural experience, nor can I speak our native language. I cannot even hold a conversation with my grandparents and other family members.
"Overall, I feel very disconnected from my family and their traditions. The idea of this thesis project is to retain practices, imagery, folklore, and just anything our ancestors have left us behind, to maintain a spiritual connection between us and them."
Nieves said it is not too late to learn about her family's Puerto Rican heritage.
"I believe I still have time," she said. "I can still learn Spanish, I can still learn to dance, I can research our history and talk to bilingual Puerto Rican folks who can tell me about their experiences and our history.
"I don't think I am any less of a Boricua than the rest of my community, but in order for me to establish a connection with my history and roots, I have to put in the work."
The coronavirus pandemic has caused an array of inconveniences since March, with access to the department's art studio limited to certain times by appointment.
"Being an art student, I feel a universal experience we share is having access to the studio, and working nights that stretch into the morning — we did not have that this semester," Nieves said.
"For what it's worth, I believe this experience made us all collectively stronger. We adapted to sudden changes and still pumped out the required amount of work within the same deadline as previous students. Despite the difficulties we faced, it's a relief that we finally get to display our hard work to the public," she said.
Photographer Paige Lucas utilized photo lithographs on porcelain clay for her project, "Listen to Flora."
"I wanted to utilize my other skills, and present my teachers and peers with something they may not have seen before," she said. "I chose to combine printmaking, ceramics and photography to create work that falls out of the realm of 'norm.'"
 Lucas said she was inspired by "Nature," an essay by Ralph Waldo Emerson.
"This essay states, 'If man can see the earthly delights of flora and fauna, then he will be able to open his mind and recollect the wisdom he wields,'" she said. "This thesis raises awareness to the depravity caused by the advancement in technology, man's need for knowledge, and urges society to slow down and reflect on what nature can provide spiritually."
Lucas said her project has helped her recognize that self-care is acceptable.
"This thesis has helped me understand that it is OK to stop and smell the roses," she said. "It has helped me be okay with taking time to be alone, and take care of my own mental and physical health."
Lucas said she has not faced any hardships in completing her project during the pandemic.
"Thankfully, I did not have many difficulties due to COVID-19," she said. "Professor (Linnis) Blanton was always there to help me out in the ceramics room, and my thesis committee was always one email away for any questions I had."
"Anomalous" will be on display through Dec 12. Visitors must follow Lamar University COVID-19 protocols which are posted on the Dishman's website.
The Dishman Art Museum is located at 1030 East Lavaca St. on the Lamar University campus. Hours are Monday-Friday, 9 a.m.-4 p.m., and Saturday noon-4 p.m.