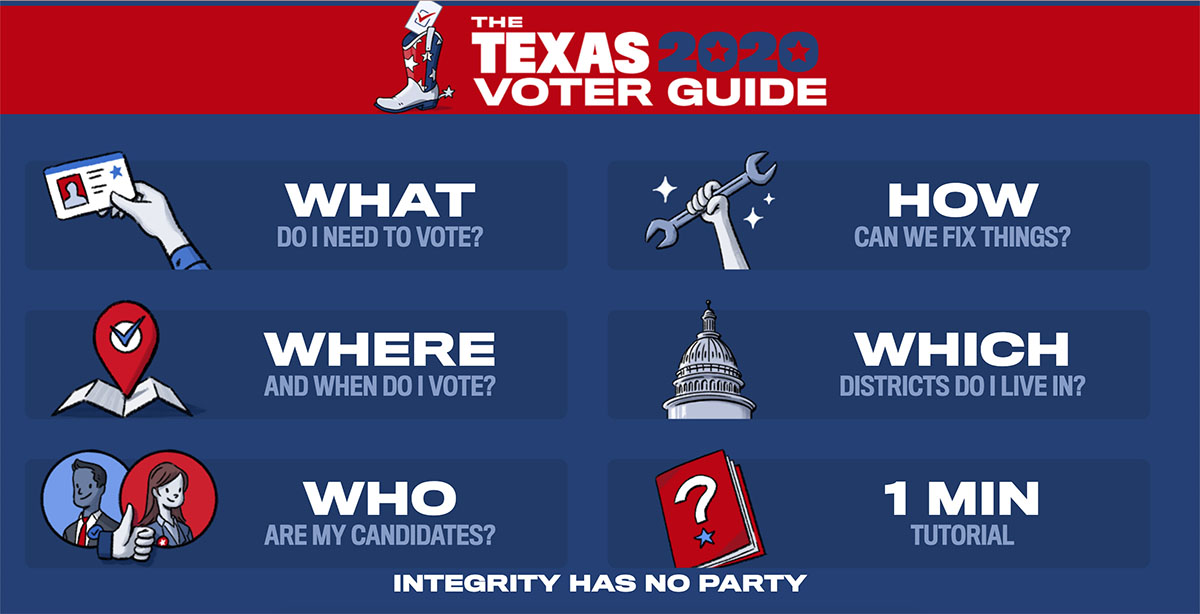 There are more than 400 offices at the federal and state level up for grabs in Texas on Election Day, Nov. 3. It can be hard for some voters to know who their candidates are and what positions those candidates have on key issues.
Gina Fant-Simon and Paula Barkan noticed this and decided to create a guide to streamline the information gathering process for voters in Texas. Texas2020.org is a nonpartisan one-stop shop where people can get information on candidates, issues and other voting information — it also has a function that allows people to enter their address to find out who their state and federal representatives are.
"The purpose of the guide is to educate the public about the real reasons our nation is incapable of making progress on any of the issues we are facing, like the climate crisis, racial injustice, affordable healthcare and gun violence," Fant-Simon and Barkan said in a joint response email interview. "It's not the fault of one party or the other, or one candidate or the other.
"It's the system that is flawed, and until we fix it, we should expect more division, more disenfranchisement and more voter apathy. Armed with the facts on how to fix this mess, we hope people will be more motivated to vote and stay engaged between elections." 
Fant-Simon and Barkan said they were motivated to create the website after they saw a video from RepresentUs, a nonpartisan, nonprofit advocacy organization that aims to reform the American political system.
"(The video) revealed the flaws in our political system and how we fix them — how to change how we elect our representatives and get better representation," they said. "Our state legislature determines the laws governing how our elections are run, including federal elections. Who we elect for these offices will have the power to fix what's wrong, or to maintain the broken system.
"If we vote for candidates who support these solutions, and we hold them accountable once in office, we can affect the change we need. But how do (voters) know which candidates support electoral reform? We ask them, and then we make sure every voter has access to their responses, then we create an electoral reform voter guide." 
Fant-Simon and Barkan said they have spent about a year working overtime putting the guide together. The site officially launched on Aug. 1, and they have continued gathering candidates' responses and raising awareness of their platform.
"Since (the launch), we have been working hard to market on various social media platforms, newspapers and search ads," they said. "The website traffic has been steadily growing since mid-September. We have had almost 600,000 users who average about three minutes on the site. The average time a user spends on a site is less than 15 seconds, which is a crazy short amount of time to capture someone's attention, but we blew past that."
Fant-Simon and Barkan said the process of getting candidates to respond to their questions has been tedious and time consuming.
"Adjusting for the candidates running unopposed — who have no need to campaign — we received submissions from a little more than 50 percent of the candidates," they said. "The participation rate for incumbents was 14 percent compared to a 67 percent rate for challengers. This disparity makes sense when you realize incumbents are less incentivized to support changing a system that has worked for them.
"We used many methods — email, phone, social media — to motivate candidate responses and also encouraged constituents to personally contact their candidates."
Texas2020 is targeted towards all Texas voters, not just a certain group, Fant-Simon and Barkan said.
"The guide is intended to engage all Texans and all types of voters," they said. "However, some voters, even if they support electoral reform, may be too set in their voting habits to consider choosing candidates differently.
"First time voters, newish voters, voters who have opted out or given up may be more receptive to voting to strengthen democracy rather than voting on specific policy stances or by party affiliation."
The response to the voter guide has been positive so far, Fant-Simon and Barkan said. 
"We have had some criticism surrounding our claim that the reforms are nonpartisan," they said. "For the record, the reforms are nonpartisan. Not agreeing with a reform doesn't make it partisan. A poor showing of Republican candidates didn't help optics, but incumbents and members of the party in power are understandably less inclined to embrace changing the system that favors them.
"Compiled responses from Republicans, Democrats, Libertarians, Independents and members of the Green Party illustrates just how nonpartisan these reforms are."
Work on the voter guide will continue even after the 2020 election cycle ends, Fant-Simon and Barkan said.
"On a local level, helping voters identify candidates who supported electoral reform was just the first step," they said. "Post-election, we expect those voters to continue to use Texas2020 to help identify the newly elected representatives who supported electoral reform while campaigning and hold them accountable.
"On a national level, a few organizations have expressed an interest in taking what we've created to advance electoral reform efforts in other states. We love this idea and will be developing a package for any organization to adapt to any state's specific needs." 
As hard and time-consuming as the work has been to build Texas2020.org from the ground up, Fant-Simon and Barkan said they are pleased with the results they're seeing statewide.
"We are especially encouraged by young voter interest and turnout," they said. "We're thrilled to have this opportunity to reach voters who are becoming more aware of their voting power, the great responsibility they have to use it, and use it wisely."
Visit Texas2020.org for more information.