Despite President Trump's claims, mail-in ballots secure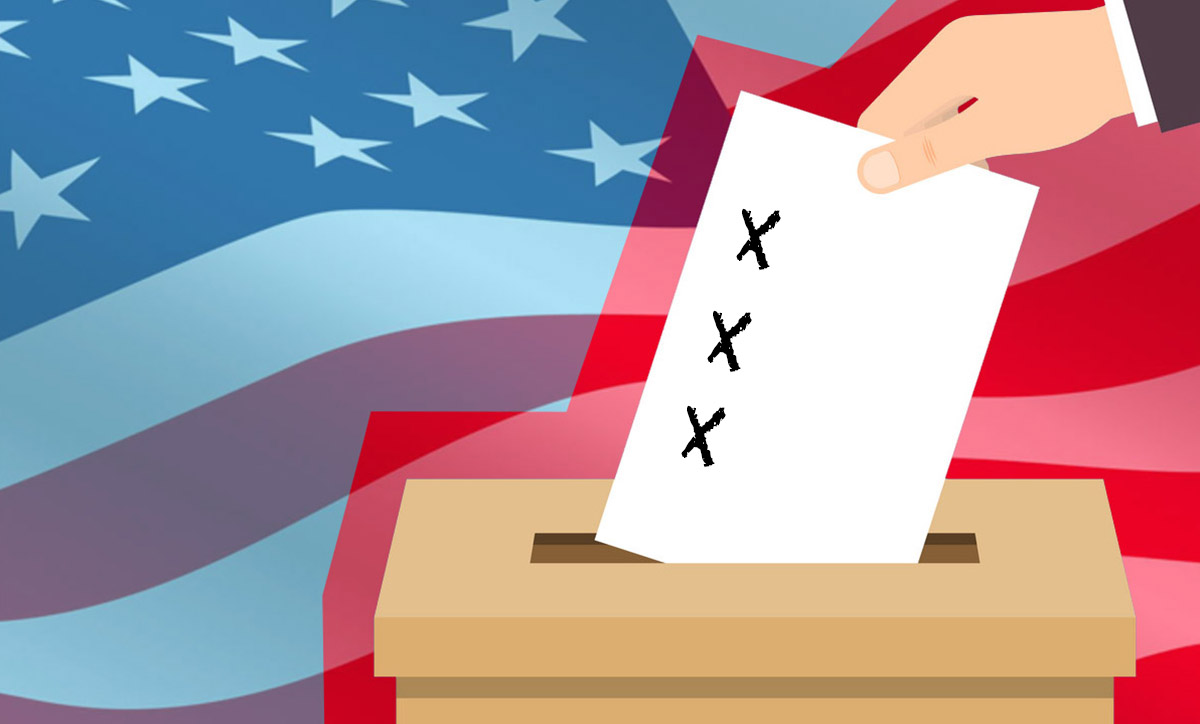 With early voting well under way and polls showing President Donald Trump trailing Joe Biden, the president has emphasized his narrative of a potentially rigged election, specifically that mail-in ballots are fraudulent and open to corruption.
Contrary to what many people may believe, mail-in voting is not a new method of voting that has spontaneously arisen in response to the coronavirus pandemic. The initial practice first began in the United States in the 1860s, when soldiers who were away from home fighting in the Civil War wanted to vote in the 1864 presidential election. Today, five states — Oregon, Colorado, Hawaii, Washington and Utah — are fully vote-by-mail states, and 29 states, along with the District of Columbia, allow citizens to vote by mail without having to provide an excuse.
The coronavirus pandemic hit the U.S. around March, when many states were in the middle of holding primary elections and has continued during our presidential election season. Older voters and voters who have pre-existing health conditions are at the greatest risk if they contract coronavirus. This has led to an increase in mail-in votes as they are worried about having to vote in-person as no one can guarantee that every person who shows up to the polls will wear a mask, or that voting locations will take precautions seriously by regularly cleaning and enforcing social distancing.
The safest option for voters who fear catching COVID-19 is to vote by mail, and many states are giving citizens the option in light of this pandemic. Texas is one of only five states — which are all Republican led — that has not made accommodations to offer mail-in option to voters who are worried about contracting coronavirus at a polling location, instead limiting the option to those over age 65.
Texas Governor Greg Abbott's recent executive order prohibits Texas counties from providing more than one drop-off location for voters casting absentee ballots. This means Harris County's four million residents have only one drop-off point.
Abbott is also allowing political parties to install poll watchers to observe the process. He is currently facing two federal lawsuits in response to the order on grounds of potential vote suppression through intimidation.
President Trump has claimed countless times that voting by mail is fraudulent. Many of his allies, which include the Republican leaders of the five states not offering a mail-in voting option, support these claims. This brings the age-old question to light: does mail-in voting cause massive voter fraud?
In a tweet from June 22, Trump wrote, "RIGGED 2020 ELECTION: MILLIONS OF MAIL-IN BALLOTS WILL BE PRINTED BY FOREIGN COUNTRIES, AND OTHERS. IT WILL BE THE SCANDAL OF OUR TIMES!"
After this tweet, National Public Radio reported how Federal Bureau of Investigation officials stated that they have seen no evidence of any foreign plot to counterfeit or forge mail ballots. The FBI further stated that they have no information about any nation state engaging in any effort to undermine any aspect of mail voting, and also noted how difficult any coordinated fraud scheme involving mail ballots would be to pull off because of the decentralized nature of U.S. elections and the numerous safeguards that are in place.
 On Sept. 17, Trump tweeted, "Because of the new and unprecedented massive amount of unsolicited ballots which will be sent to "voters", or wherever, this year, the Nov 3rd Election result may NEVER BE ACCURATELY DETERMINED, which is what some want. Another election disaster yesterday. Stop Ballot Madness!" The tweet was flagged by Twitter as a misleading statement.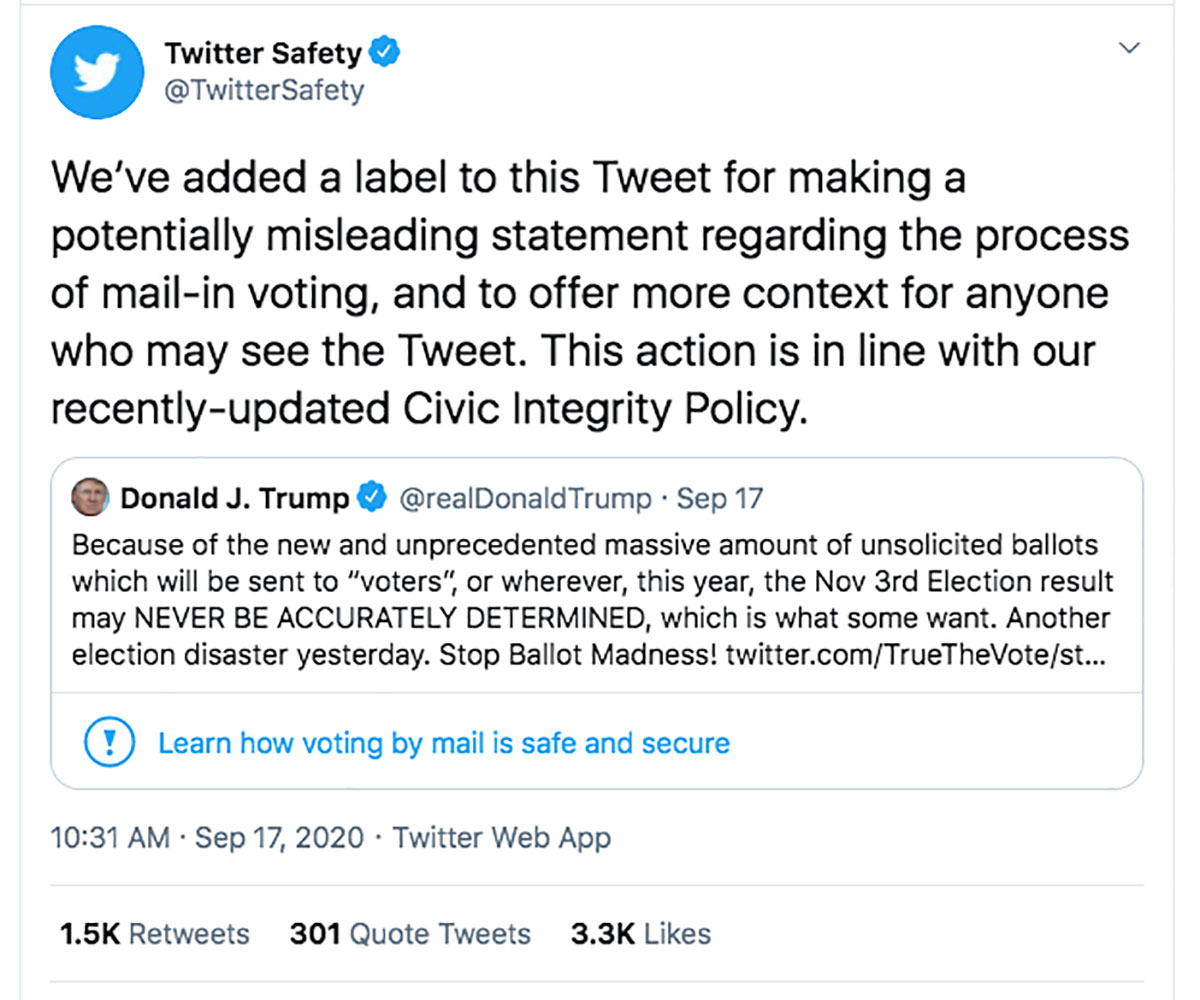 Ironically, the California Republican Party has admitted responsibility for placing more than 50 deceptively labeled "official" drop boxes for mail-in ballots in Los Angeles, Fresno and Orange Counties — an action that state officials said is illegal and could lead to election fraud. They are virtually indistinguishable from drop-off sites sanctioned by the state, which are governed by strict regulations intended to prevent the partisan manipulation of ballots.
A report by the Brennan Center for Justice finds mail ballot fraud to be incredibly rare, and legitimate security concerns are easily addressed. Oregon was the first state in this country to become a fully vote-by-mail state back in 2000. Since then, more than 100 million mail-in ballots have been sent out and the state has documented only around a dozen cases of proven fraud. This represents 0.00001 percent of all votes cast. To put things into perspective, although mail-in voting is more vulnerable to fraud than voting in-person, it is still more likely for an American to be struck by lightning than to commit voter fraud.
States have multiple tools and technologies at their disposal to address security concerns when it comes to mail-in voting, such as identity verification, bar codes, ballot tracking, secure drop-off locations and drop boxes, polling sites as a fail-safe, post-election audits, and harsh penalties for those who do commit voter fraud.
All in all, mail-in voting is not as fraudulent as President Trump claims. Furthermore, there are comprehensive security measures taking place to ensure that it doesn't occur, along with strict consequences for those who do commit fraud.