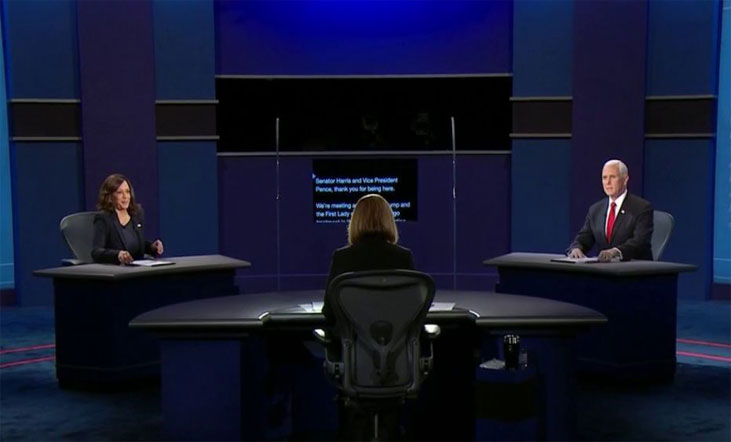 The vice presidential debate between Vice President Mike Pence and Senator Kamala Harris took place, Wednesday, at Kingsbury Hall in Salt Lake City, Utah, with Susan Page of USA Today moderating.
The debate coM.E.s five days after President Donald Trump announced that he and the First Lady had tested positive for coronavirus and there was a subsequent outbreak in the White House. COVID-19 guidelines required everyone in the audience to sit socially distant from one another and were required to wear masks. The two candidates were seated 12 feet apart on stage, with plexiglass separating their two desks.
Before beginning, Susan Page made it clear that she will strictly enforce the rules set by the commission during the debate. This coM.E.s after nuM.E.rous rules were broken countless tiM.E.s during last week's presidential debate.
The first topic of the debate was coronavirus with Page asking Harris how a Joe Biden administration would handle the pandemic differently.
"On Jan. 28th, the vice president and the president were inforM.E.d that (COVID-19 was) lethal in consequence, that is airborne, that it will affect young people, and that it would be contracted because it is airborne," Harris said. "They knew it was happening, and they didn't tell you."
Harris said the Trump administration minimized the seriousness of the coronavirus and called it a hoax.
"In spite of all of that, today, they still don't have a plan," she said. "Joe Biden does. And our plan is about what we need to do around a national strategy for contact tracing, for testing, for administration of the vaccine, and making sure that it will be free for all." 
Page asked Pence, who is also the head of the White House Coronavirus Task Force, why the United States' death toll was higher than that of almost every other wealthy country.
 "From the very first day, Donald Trump has put the health of AM.E.ricans first," Pence said. "Before there were more than five cases in the United States, (Trump) did what no other AM.E.rican president had ever done. He suspended all travel from China, the second largest economy in the world."
Pence said he believed that suspending travel from China saved hundreds of thousands of AM.E.rican lives along with testing, provision of personal protective equipM.E.nt (PPE) and the developM.E.nt of a potential vaccine.
Harris responded to Pence's claims and said that the steps the Trump administration has taken has not worked.
"When you're looking at over 210,000 dead bodies in our country, AM.E.rican lives that have been lost, families that are grieving that loss, and the vice president is the head of the task force and knew on Jan. 28th, how serious this was, and thanks to Bob Woodward, we learned they knew about it," she said. "When that was exposed, the vice president said, when asked, 'Why didn't you tell anybody?' he said, 'Because the president wanted people to remain calm.'
"I want to ask the AM.E.rican people, how calm were you when you were panicked about where you were going to get your next roll of toilet paper? How calm were you when your kids were sent hoM.E. from school and you didn't know when they could go back? How calm were you when your children couldn't see your parents because you were afraid they could kill them?" 
Pence said that there is not one day that has gone by that he has not thought of every AM.E.rican family that lost a loved one.
"When you say everything that the AM.E.rican people have done over these last eight months hasn't worked, that's a great disservice to the sacrifices the AM.E.rican people have made," he said. "When Dr. (Anthony) Fauci and Dr. (Deborah) Birx, and our M.E.dical experts caM.E. to us in the second week of March, they said if the president didn't take the unprecedented step of shutting down roughly half of the AM.E.rican economy, that we could lose 2.2 million AM.E.ricans.
"They also said to us, if we did everything right, we could still lose more than 200,000 AM.E.ricans. One life lost is too many. But the AM.E.rican people deserve credit for the sacrifices that they have made."
Page moved on to the second topic — the candidates' roles as vice president in a situation of presidential disability. The topic has coM.E. into discussion recently after President Trump's coronavirus diagnosis in addition to the general age of both Trump and Biden, who are in their 70s. 
If either candidate is elected, Harris and Pence will be the vice president of the oldest President in history — President Trump will be 74 and forM.E.r Vice President Biden will be 77 on Election Day. 
Neither candidate addressed specific concerns over what would happen if the President of the United States becaM.E. incapacitated during their term.
Page then moved on to the economy. She asked Harris about the Biden campaign's plan to propose new programs to boost the economy which includes raising $4 trillion dollars in taxes on wealthy individuals and corporations. 
"Joe Biden believes you M.E.asure the health and the strength of AM.E.rica's economy based on the health and the strength of the AM.E.rican worker and the AM.E.rican family," Harris said. "On the other hand, you have Donald Trump who M.E.asures the strength of the economy based on how rich people are doing, which is why he passed a tax bill benefiting the top one percent and the biggest corporations of AM.E.rica, leading to a two trillion dollar deficit that the AM.E.rican people are going to have to pay for."
According to The Tax Policy Center, about 65 percent of households paid less in federal incoM.E. tax in 2018 under Trump's tax law than they would have paid under the old tax laws, while about six percent paid more. 
"On day one, Joe Biden will repeal that tax bill, he'll get rid of it," Harris said. "And what he'll do with the money is invest it in the AM.E.rican people. He'll invest in infrastructure. It's about upgrading our roads and bridges, but also investing in clean energy and renewable energy. Joe Biden will use that money to invest in education. So for example, for folks who want to go to a two-year community college, it will be free. If you coM.E. from a family that makes less than $125,000, you'll go to a public university for free. And across the board, we'll make sure that if you have student loan debt, it's cut by $10,000.
"That's how Joe Biden thinks about the economy which is, it's about investing in the people of our country. As opposed to passing a tax bill, which had the benefit of letting AM.E.rican corporations go off-shore to do their business."
Page asked Pence if AM.E.ricans should brace for a slower economic coM.E.back than what the president had promised.
"President Trump cut taxes across the board," Pence said. "Despite what Senator Harris says, the average AM.E.rican family of four had $2,000 in savings in taxes. And with the rise in wages that occurred, most predominantly for blue collar, hardworking AM.E.ricans, the average household incoM.E. for a family of four increased by $4,000 following President Trump's tax cuts. But AM.E.rica, you just heard Senator Harris tell you, on day one, Joe Biden's going to raise your taxes."
Harris interjected rebutting Pence's claims.
"I M.E.an, right after a tiM.E. where we're going through a pandemic that lost 22 million jobs at the height, we've already added back 11.6 million jobs because we had a president who cut taxes, rolled back regulation, unleashed AM.E.rican energy, fought for free and fair trade and secured $4 trillion from the Congress of the United States to give direct payM.E.nts to families, save 50 million jobs through the Paycheck Protection Program," Pence said. "We literally have spared no expense to help the AM.E.rican people and the AM.E.rican worker through this. Joe Biden and Kamala Harris want to raise taxes. They want to bury our economy under a $2 trillion Green New Deal, which you were one of the original co-sponsors of in the United States Senate."
In the last presidential debate, Biden said he would only eliminate tax cuts under the Trump plan for AM.E.ricans making more than $400,000 a year. According to the Congressional Budget Office, the PPP was $2 trillion, not four.
Page asked Pence if man-made climate change has made wildfires bigger, hotter, and more deadly and have made hurricanes wetter, slower and more damaging as the scientific community as concluded.
Pence said he was proud of the Trump administration's stance on the environM.E.nt and conservation, and how the administration will always put AM.E.rican workers and AM.E.rican jobs first.
Harris said Biden understands that the West Coast is burning, he sees how the Gulf Coast is being battered by storms, and the impact of flooding on farM.E.rs in the Midwest.
As in the presidential debate, Harris and Pence discussed their presidential candidates' views on healthcare.
Harris took the opportunity to talk about the nomination of Judge Amy Coney Barrett to the SupreM.E. Court, and said that the AM.E.rican people should get the opportunity to fill that seat in the White House.
Pence asked Harris if she and Biden wanted to "pack" the SupreM.E. Court by adding more seats to it. Biden did not answer the question when it was presented to him in the first presidential debate.
Harris did not address whether or not she and Biden supported court-packing. She instead M.E.ntioned that President Trump had not appointed one Black judge to the federal bench out of the 50 appointM.E.nts he's made so far.       
Page moved on to the issue of racial justice in AM.E.rica and asked Harris if justice had been served in the case of Breonna Taylor, a 26 year old eM.E.rgency room technician who was shot in killed by police in March.
"I don't believe so," Harris said. "I've talked with Breonna's mother, Tamika PalM.E.r and her family, and her family deserves justice. She was a beautiful young woman. She had as her life goal to becoM.E. a nurse and she wanted to becoM.E. an EMT to first learn what's going on out on the street so she could then becoM.E. a nurse and save lives. And her life was taken justifiably and tragically and violently. 
"And it brings M.E. to the eight minutes and 46 seconds that AM.E.rica witnessed during which an AM.E.rican man was tortured and killed under the knee of an arM.E.d uniforM.E.d police officer. And people around our country of every race, of every age, of every gender, perfect strangers to each other, marched shoulder to shoulder, arm in arm, fighting for us to finally achieve that ideal of equal justice under law. And I was a part of those peaceful protests.
"And I believe strongly that first of all, we are never going to condone violence, but we always must fight for the values that we hold dear, including the fight to achieve our ideals. And that's why Joe Biden and I have said on this subject, look, and I'm a forM.E.r career prosecutor. I know what I'm talking about. Bad cops are bad for good cops. We need reform of our policing in AM.E.rica and our criminal justice system, which is why Joe and I will imM.E.diately ban choke holes and carotid holes. George Floyd would be alive today if we did that. We will require a national registry for police officers who break the law. We will, on the issue of criminal justice reform, get rid of private prisons and cash bail and we will decriminalize marijuana."
Page posed the saM.E. question to Pence.
"Well, our heart breaks for the loss of any innocent AM.E.rican life and the family of Breonna Taylor has our sympathies," he said. "But I trust our justice system. And it really is remarkable that as a forM.E.r prosecutor, you would assuM.E. that an impaneled grand jury looking at all the evidence, got it wrong. I think, and with regard to George Floyd, there's no excuse for what happened to George Floyd. Justice will be served, but there's also no excuse for the rioting and looting that followed. I M.E.an, it really is astonishing. Flora Westbrook is with us here tonight in Salt Lake city. Just a few weeks ago, I stood at what used to be her salon, it was burned to the ground by rioters and looters. And Flora is still trying to put her life back together." 
Pence said that the Trump administration will always stand with law enforceM.E.nt.
The final topic posed by Page was about the election which is less than a month away. She asked Harris if President Trump refused to accept a peaceful transfer of power if her ticket wins, what steps would she and Biden take.
"Joe and I are particularly proud of the coalition that we've built around our campaign," Harris said. "We probably have one of the broadest coalitions of folks that you've ever seen in a presidential race. Of course, we have the support of Democrats, but also independents and Republicans. Over 500 generals, retired generals and forM.E.r national security experts and advisors are supporting our campaign. And I believe they are doing that because they know that Joe Biden has a deep, deep seated commitM.E.nt to fight for our democracy, and to fight for the integrity of our democracy, and to bring integrity back to the White House. We believe in the AM.E.rican people, we believe in our democracy, and here's what I'd like to say to everybody. Vote, please vote, vote early, coM.E. up with a plan to vote, go to Iwillvote.com. You can also go to Joebiden.com."
Page asked Pence what his role would be if President Trump refused to commit to a peaceful transfer of power should Biden and Harris win.
"First and foremost, I think we're going to win this election," Pence said. "But when you talk about accepting the outcoM.E. of the election, Senator, your party has spent the last three and a half years trying to overturn the results of the last election. So let M.E. just say, I think we're going to win this election. President Trump and I are fighting every day in courthouses to prevent Joe Biden and Kamala Harris from changing the rules and creating this universal mail in voting that'll create a massive opportunity for voter fraud. And we have a free and fair election. We know we're going to have confidence in it. And I believe in all my heart that president Donald Trump is going to be reelected for four more years."
The next presidential debate was set for Oct. 15, but President Trump said he would not attend a virtual debate which was recomM.E.nded after he tested positive for COVID-19. As of press tiM.E., there is no indication of whether or not there will be another presidential debate.
To view the entire transcript of the debate, visit www.rev.com/blog/transcripts/kamala-harris-mike-pence-2020-vice-presidential-debate-transcript.