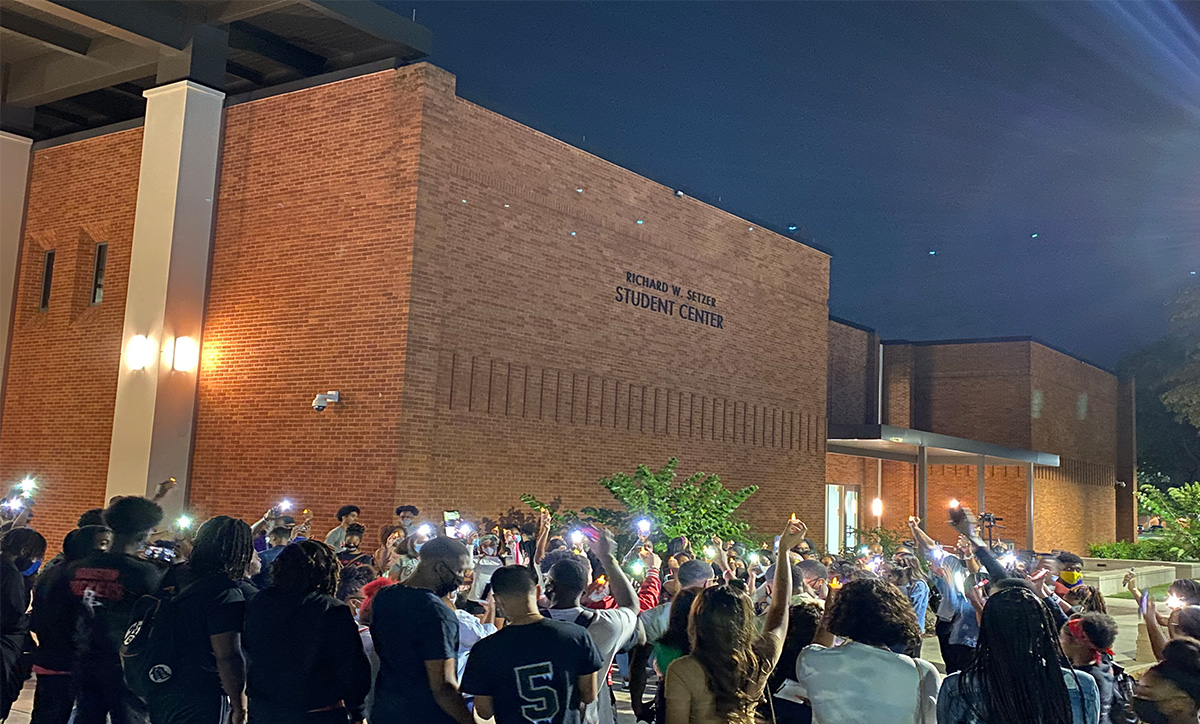 The Lamar University NAACP chapter hosted a candlelight tribute and balloon release to Breonna Taylor at the Setzer Student Center circle drive, Oct. 1.
Jasmine Patin, SGA vice president and NAACP member, said the goal of the event was to spread awareness of Taylor, a Black medical worker who was killed by Louisville, Kentucky, police in March during a raid while she was asleep. The incident led to wide-spread protests, which was reignited last week when the officers were not indicted for her death.
"Justice wasn't served for her in her case," Patin said. "We're here to make sure that any type of any inequality or discrimination based on race, we eliminate it. So that's kind of what is within our mission statement here for NAACP. We want the goal of this event to shed light on injustice within the justice system, shed light on the incident that occurred to Breonna Taylor, but also just kind of uplift her in a sense — that's really the overall purpose of this event."
Michael Cooper, Beaumont NAACP president, urged both university and county officials to attend these types of events. 
"I want to see the president of the campus out here," Cooper said. "I want to see the people out here. I want to see the people who make a difference out here."
Cooper cited Rep. John Lewis and his concept of getting in "good trouble." He told students how they can get in good trouble and be leaders of change.
"You have to graduate, even when the funds are not there, you have to take out loans, you have to do like I did, go down to the ship channel and throw sacks, and pick your way to graduate," he said. "Without a law degree and a criminal justice background, you cannot be a DA. It is the DA that sets the tone and the mood. So the good trouble that you have to get into is to educate yourself as much as you can, go as far as you can."
Patin spoke about uniting as a community.
"What Black people realize, (is) that we have the power ourselves to uplift each other and protect each other — that's when we're going to be free from these burdens," she said.
Additionally, Patin told attendees that they should know their rights so they can fight for instances such as Taylor's.
"Her rights were invaded upon," Patin said. "When you know your rights as a citizen, you know that it's not supposed to happen to you. You know that you can battle that in court. You know that that isn't how a citizen is supposed to be treated. So, once we know our rights as Black Americans, we can protect ourselves within this country."
Patin said Black women are treated differently, and are undervalued and underprotected.
"To advance as Black people together, we have to uplift each other, and that's going to start with valueing Black women equally and protecting each other equally," she said.
Victoria Lindsey, LU NAACP president, said the event aimed to shed a positive light on Breonna Taylor despite all of the negativity in the media and the recent verdict.
"We wanted to do an event that was after the Breonna Taylor verdict, because the verdict that was given, we weren't happy with it — Black people weren't happy with it, the students weren't happy with it," Lindsey said. "Our job is to come out here and shed a positive light on who she was, who she was as a person, instead of making it so negative. If you Google Breonna Taylor's name, it's just negativity. She was shot. She was killed. We just want to honor her as a human, as a person — that's really what the purpose of today was."