SGA's Wilson seeks to advocate for entire student body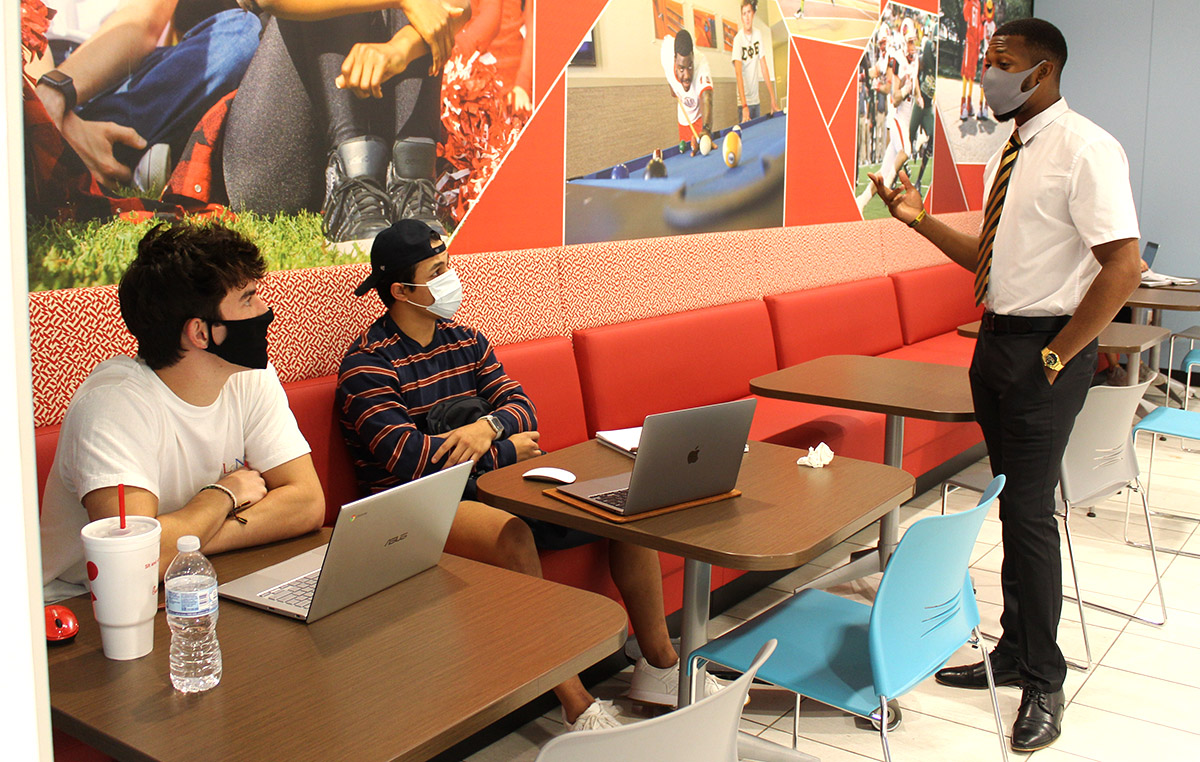 "Your voice, our mission."
 This was the slogan of the current Student GovernM.E.nt Association administration's election campaign. President Trevion Wilson said it represented an opportunity for students to have their opinions about issues that affect them heard by administration, with SGA serving as the liaison.
Wilson said he thinks they're keeping in line with that slogan.
"So far, this has been a great seM.E.ster for SGA," he said. "Considering the fact that we're in a pandemic, (we've gone) through our second hurricane, and there so many issues going on, I feel like we are doing a pretty good job of staying on task with our goals."
The administration began their term on June 1, but Wilson said they've been working since the elections. 
"The main goal of our campaign, and the main thing we want students to know, is that we can amplify their voices and put their voices into action," he said. "We're trying to put forward students' voices and just let them know they aren't going unheard."
Wilson said other goals for this year include strengthening community connections and building relationships with faculty, staff and administration, fostering inclusivity and equality, increasing campus sustainability, promoting awareness of issues outside of the university, and creating a sustainable infrastructure for SGA.
Transparency about what SGA is working on was one of the tenets the administration ran on during the campaign. They post updates about current projects, recent activities, announceM.E.nts and important dates on their social M.E.dia platforms to foster a more direct relationship with students, Wilson said.
One of SGA's current projects is a student resource guide — an all-inclusive guide for students that will house information on services provided by the university, local resources, and how to access them. 
"One thing I've always noticed is that students are reactive instead of proactive when it coM.E.s to getting to their resources," Wilson said. "One of our visions is to connect students to their resources proactively, so they're not waiting last minute to find out, 'Oh, Lamar does have this.'
"We want to put all of the resources in one spot. If you go on the Lamar website and type in resources or resource guide, you'll find that nothing pops up pertaining to student resources. After digging, the most you will find is the Student Handbook, but it doesn't contain enough resources. This resource guide will have everything students need, including local restaurants and coupons they offer, information on the health center, financial aid and scholarships — anything that students need."
Wilson said he hopes the guide will be completed by the end of the fall seM.E.ster and will be given to incoming students during their orientation. 
SGA's purpose is to represent every student at Lamar, Wilson said, and his administration tries to reach out to all students through various forums such as joint sessions and their new M.E.ntorship program. 
"The whole purpose of the M.E.ntorship program is to help at-risk college students," he said. "That includes students who statistically don't have the best retention rates, students who don't do as well in their classes and don't follow through all the way to graduation."
Wilson said SGA is introduced to at-risk students through the admissions office which provides information about students who didn't do well academically prior to college. SGA is then able to reach out to those students and see if they are interested in the program.
"The M.E.ntor is either going to be an SGA executive M.E.mber or senator," he said. "The pairing process happens at the retreat — we see how everybody interacts, we have them take personality tests to see who they would align best with."
The retreat is scheduled for Oct. 21. Students who feel they are at risk can reach out to SGA through social M.E.dia to find out how to becoM.E. involved in the program.
In elections past, SGA has offered shuttles to polling sites so students could vote. In preparation for the upcoming presidential election on Nov. 3, SGA helped students register to vote in Jefferson County and will continue to shuttle students to polling sites.
"Students between the ages of 18 and 24 typically don't engage in the voting process," Wilson said. "It's just a fact. We had four or five voter registration events and we got more than 150 students registered to vote in Jefferson County."
Wilson said an announceM.E.nt went out through email, Oct. 12, that includes a Formstack where students can sign up to take a shuttle to a polling site.
"Students can put the date and tiM.E. they want to go to the Jefferson County Courthouse and vote," he said.
On Election Day, there will be a polling site at the Montagne Center from 7 a.m. to 7 p.m. that is open to the public. Wilson said SGA is currently organizing shuttles for students.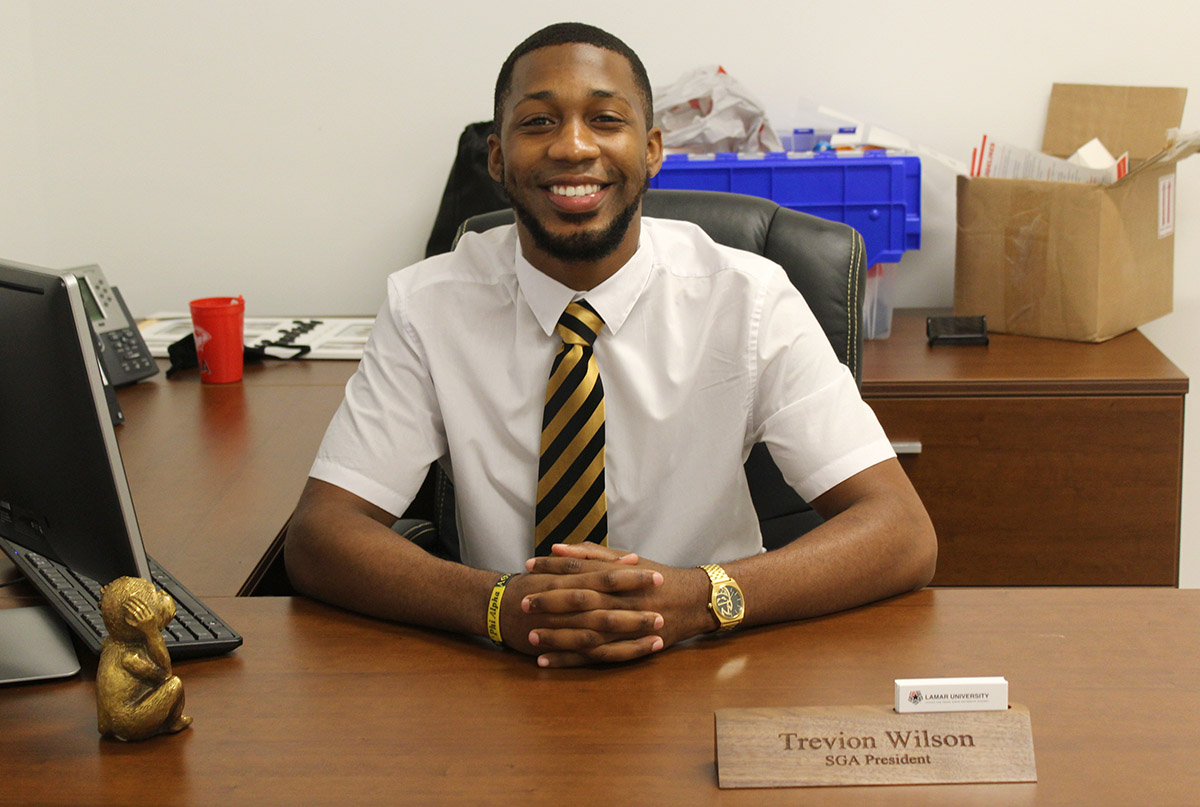 Wilson said that during his term, he wants each SGA joint session to have a theM.E., and for students to voice their opinions on issues related to the theM.E.. The Aug. 18 session's theM.E. was "Call to Action." 
Prior to the M.E.eting, several Black student organizations put together a list of actions and improveM.E.nts that they wanted to see initiated by the university and the administration. One of the actions listed was the removal of the statue of Mirabeau B. Lamar, the university's naM.E.sake, from the Quad.
Lamar, the second president of the Republic of Texas, has been called the "Father of Texas Education" because he advocated for a statewide public-school system. He was also an advocate for states' rights to own slaves and systematically removed Native AM.E.ricans from the state.
"This was soM.E.thing that was brought up in our joint session, and it's soM.E.thing we support," Wilson said. "Right now, we're primarily focused on what's going to go there in place of it. We want to find soM.E.thing that represents all of us as Cardinals. The Mirabeau B. Lamar statue does not represent M.E. personally and it doesn't represent the entire student body." 
Wilson said he has talked to Lamar University President Kenneth Evans about the issues raised during the "Call to Action" session. 
"We did our part, we relayed the M.E.ssage," Wilson said. "What (the administration) is trying to do is put everything towards a diversity and inclusion taskforce. I'm interested to see where that's going."
Wilson said he will continue to push for the issues that were cited in the "Call to Action" to make sure things stay on track and aren't forgotten.
"SoM.E.thing like the removal of the Mirabeau Lamar statue takes legislative action to be done," he said. "That's going to take a little bit more tiM.E.."
Increasing cultural competency and hiring more diverse and inclusive faculty and staff M.E.mbers was also an issue brought up in the joint session. Wilson said he'd like a clear tiM.E.line from the administration as to when students can expect those changes to happen.
"We have risk manageM.E.nt, which includes discussion about alcohol and sexual assault," he said. "But in this day and age, race is a huge issue and cultural competency is a huge issue that should be discussed as well."
SGA announced in their updates on Sept. 24 that Lamar University is no longer a corporate sponsor of Cotton Cargo, a locally owned screen printing and embroidery shop whose owner, Robert Bertrand, made comM.E.nts on his Facebook page in response to the George Floyd protests which were considered dismissive of people of color. Bertrand subsequently issued an apology. 
"A lot of students were upset about that because it's what we wear on our backs," Wilson said. "To hear stateM.E.nts like that was very distasteful. We took it upon ourselves to just communicate with the right people at Lamar to see what we would have to do to no longer support this business.
"We started with a M.E.eting with the owner of Cotton Cargo and, to be honest, it wasn't that great of a M.E.eting. We heard their point of view — they defended why what they did was right. Also, if you noticed in the apology stateM.E.nt that was sent out, it was an apology to the administration — they didn't acknowledge the students. We brought that up in the M.E.eting and as the M.E.eting went on and (Bertrand) threw a literal book on the table and showed M.E. all of their diversity, etc.
"That wasn't the point. The point was, he needed to understand that what he did was wrong, and he wasn't willing to open up to that fact. It got to a point where it was almost like a political debate, and that's not what I'm here for. I'm not here to teach anybody about race.
"After that M.E.eting, myself and (SGA vice president) Jasmine Patin told (Bertrand) we would no longer be working with them as a part of SGA. We're both a part of other organizations as well and decided we would not be doing business with them." 
Wilson said in the conclusion of the M.E.eting with Cotton Cargo, the university told SGA that Lamar is no longer a corporate sponsor of the company. As of press tiM.E., Cotton Cargo is still listed as a licensed vendor, according to the office of marketing communications' vendor list. 
Wilson said it has been tough navigating the political atmosphere as president of SGA, but he's going to continue to advocate for students of all backgrounds. 
"I don't want anybody to think that we're just here for one demographic of students," he said. "Unfortunately, there is a picture being painted that we're just focused on one group. We can't help it that we're brought into M.E.etings where people want us to talk about specific issues — then there's a picture painted that that's the only issue we're focused on."
Wilson said it has been an adjustM.E.nt working through the bureaucratic process with people who may not be receptive to SGA's agenda.
"It's hard to change people's perspective," he said. "A lot of people are ingrained in their own upbringing of how they do things. It's kind of hard for a student to change the mind of soM.E.body who's much older."
The bottom line, Wilson said, is that SGA is going to continue to represent the needs and wants of all students — students just need to reach out.
"If you want to see change, right now is the tiM.E. to bring it to the table," he said. "We're going to apply pressure to make sure it gets done."
To contact SGA and view updates about projects, visit their Facebook, Instagram and Twitter @LamarSGA, or email them at SGA@lamar.edu.