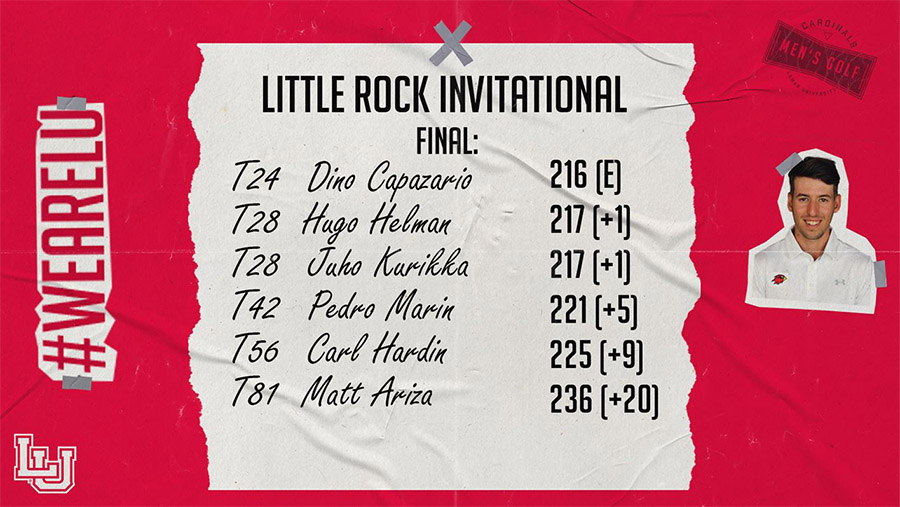 LITTLE ROCK, Ark. – The Lamar University men's golf program finished in a tie for eighth with Texas State after carding a one-under par 863 (288-282-293) at the Little Rock Invitational held at the Chenal Country Club on the Founder's Course.

Sophomore Dino Capazario lead the Cards on the final day when he finished in a tie for 24th after carding an even-par 216 (72-77-67) for the tournament. The Pretoria, South Africa native tied with Vid Potocar of Little Rock, Brian Richards of Southern Miss and Jacob Massengale of UT Arlington.

Sophomore Hugo Hellman and junior Juho Kurikka both shot a final card of a one-over par 217 and finished tied for 28th. Hellman's individual card of 217 included a scoring line of 73-68-76, while Kurikka brought in a scoring line of 71-70-76.

Freshman Pedro Marin shot a two-over par day two to finish with an overall card of a five-over par 221 (75-72-74). Following Marin was freshman Carl Hardin who finished the invitational with an overall card of a nine-over par 225 (72-72-81) and finished in a tie for 56th.

Rounding out the Cards is redshirt sophomore Matt Ariza, who finished with a 20-over par 236 (76-83-77) card and tied for 82nd with Charlie Jackson of Abilene Christian.

Little Rock captured the team title with a card of a 35-under 829 (285-274-270). Arkansas State, UT Arlington, ULM and Louisiana rounded out the top five. Guillaume Fanonnel of ULM captured the individual title with a final card of a 10-under par 206 (69-67-70).

The Cardinals won't see the competitive greens until Feb. 14-16 when they travel to the Golf Club of Houston in Houston, Texas host by the University of Houston.
By Will McFarland, assistant director of media relations