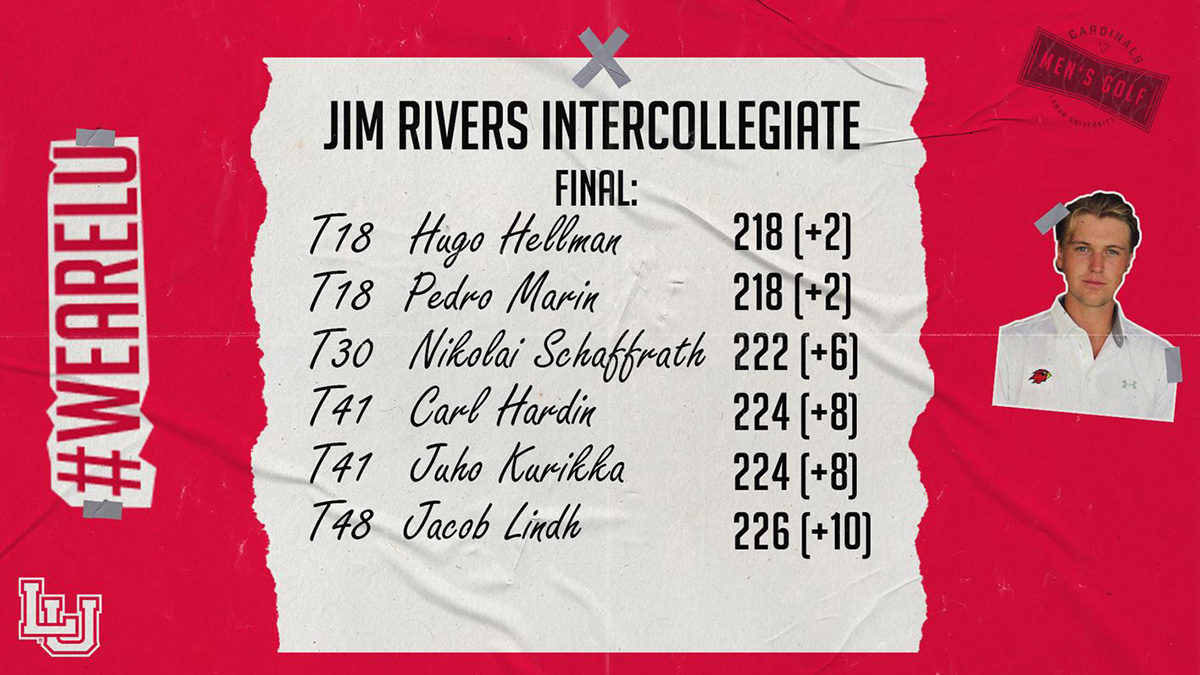 CHOUDRANT, La. – The Lamar University men's golf program competed in their first competition of the 2020-21 season as they travelled to Squire Creek Country Club and participated in the Jim Rivers Intercollegiate where they finished seventh as a team, recording a three-day card of an eight-over par 872 (296-287-289).

"We had it going for a bit today, but just could not keep the momentum," said head coach Jessie Mudd. "We gave a few back on holes five, six and seven, but that is golf. Overall, we did not really have any expectations for this week, but it was a good start for the season and getting our freshman some experience as well as an idea of what we can work on moving forward to the next tournament."

The Cardinals were led by sophomore Hugo Hellman on the final day and finished tied for 18th with a card of a two-over 218 (77-71-70). Fellow Cardinal freshman Pedro Marin also finished tied for 18th after he shot a two-over 218 (75-70-73) for the tournament.

"It was fun to get the season started after being away from college golf for six months," said sophomore Hugo Hellman. "Even though the first round was not the start I hoped for, I bounced back and finished strong. Today, I started off strong and put myself in a good position coming down the stretch. Unfortunately, I was not able to capitalize on it the way I wanted too, but I found some things to work on moving forward."

Junior Nikolai Schaffrath trailed Hellman and Marin by four strokes and finished the Jim Rivers Intercollegiate with a card of 222 (+6). Schaffrath tied for 30th with Evan White and Dalton Hankamer of Texas State, Ethan Hagood of UAB, Christian Tooley of Western Kentucky, Matt Weber of Louisiana and Nate Jolly of Central Arkansas.

Following Schaffrath for Lamar was freshman Carl Hardin and junior Juho Kurikka. Hardin and Kurikka both finished in a tie for 41st as they both carded a final score of 224 (+8).

Freshman Jacob Lindh notched four birdies on his way to a final round score of 72 (E). He finished the tournament tied for 48th with a 226 (+10) and had five birdies.

The Cardinals will look to make a short turnaround as they will had to San Antonio, Texas to participate in the Lone Star Invitational at TPC San Antonio from Sept. 21-22 and will be hosted by UTSA.