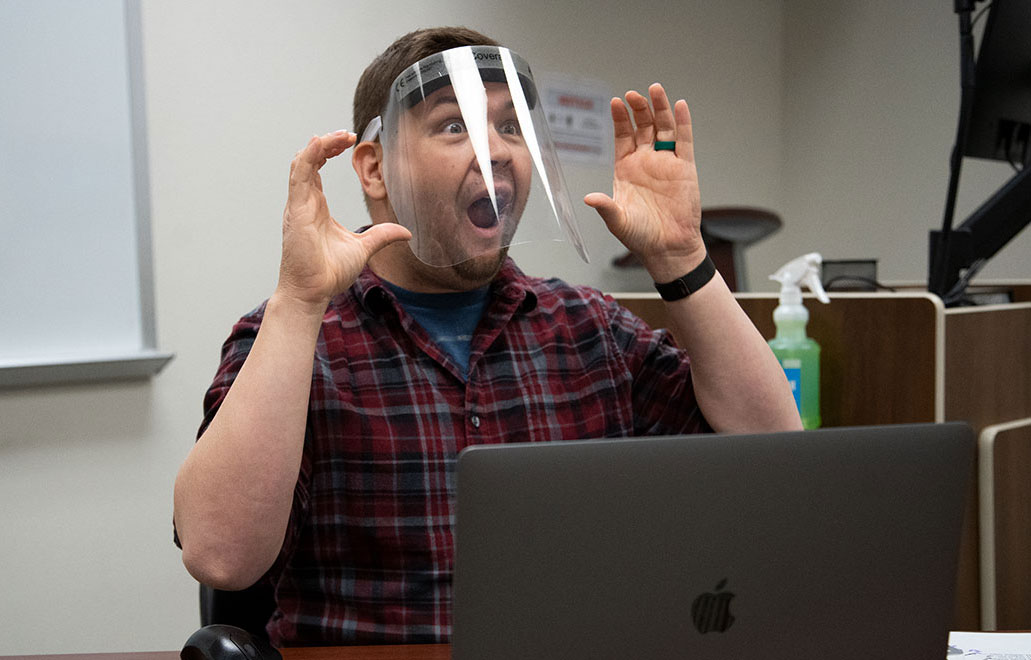 One person's protection can be another person's barrier. Communication is one eleM.E.nt that has changed for just about everyone in one way or another during the COVID-19 pandemic. Masks make it difficult to hear when people speak.
For the Deaf community, that challenge is magnified by the inability to read people's lips and facial expressions.
Lamar University Deaf instructors Beverly Buchanan and Lyman Mann are deal with this issue and are working with their students on effective ways for the Deaf community to communicate.
"The masks are a challenge," Buchanan signed. "Masks, at first, were limiting to Deaf people. Then as the pandemic increased, we started seeing different variations of masks that were accessible. There are soM.E. that have an open view of the mouth — the face shields, or masks are now available to be customized."
In AM.E.rican Sign Language, not only does the language include hand signs, but it is also heavily reliant on facial expressions.
"When communicating with ASL, the mouth is hidden by the mask," Buchanan signed. "So now, we're learning how to communicate with just our eyes and eyebrows. We're still figuring it out, but it's more work for M.E. to watch another person sign. The clear masks help a little bit, but it's not really the saM.E.."
Face shields may seem to work, but they also present another challenge.
"Face shields I find challenging because sign language has a lot of facial touching," Buchanan signs. "When we sign 'IF,' which is the pinky finger next to the eye, the face shield wobbles and gets in the way. Signing 'BORED' is your index finger on the side of your nose, and of course, the face shield gets in the way."
The pandemic has also impacted how the instructors teach, transitioning from primarily face-to-face to online.
"Trying out Zoom for the first tiM.E. was odd, I didn't realize that I was going to be put in a small box, and soM.E.tiM.E.s my signs weren't seen clearly," Mann signed. "SoM.E.tiM.E.s my fingerspelling wasn't clear either. Now, it's a bit more confusing doing hybrid classes. I prefer doing online, since I'm not really comfortable with face-to-face.
"When signing in class, I ask the students near M.E. if it is OK for M.E. to take off my shield for effective learning. I respect their decision if they tell M.E. yes or no. The reason why I ask is because facial expressions is crucial to learning sign language, and I want my students to see clearly what I teach."
Buchanan signed that she is grateful for technology amid this pandemic.
"I use texting to communicate with others in public, especially with big text," she signed. "Technology has allowed for things to be more accessible now."
Mann approaches the task of going out in public a bit differently.
"Most of the tiM.E., when I'm out in public, usually a person coM.E.s up and talks to M.E.," he signed. "Of course, I don't know what they're saying so I start signing and let them know I'm Deaf. They usually look back at M.E. with wide-eyes and are unsure of what to say."
Mann signed that it is important to indicate to the other person that he is Deaf so that they are on the saM.E. level of communicating, especially when it is common for Deaf people to feel like they need to accommodate the hearing person's level of communication.
"I don't want to be seen as inferior or superior, just on the saM.E. level as everyone else," he signed. "When I sign to the hearing person, they usually give M.E. an awkward thumbs up and a fake smile behind their mask. If you look closely, you can guess what they're conveying by their cheekbones and eyebrows, but even then, it's still hard."
For more information on how to better accommodate the Deaf and hard-of-hearing community, visit, actiononhearingloss.org.uk/coronavirus-response/communication-tips-for-the-general-public.