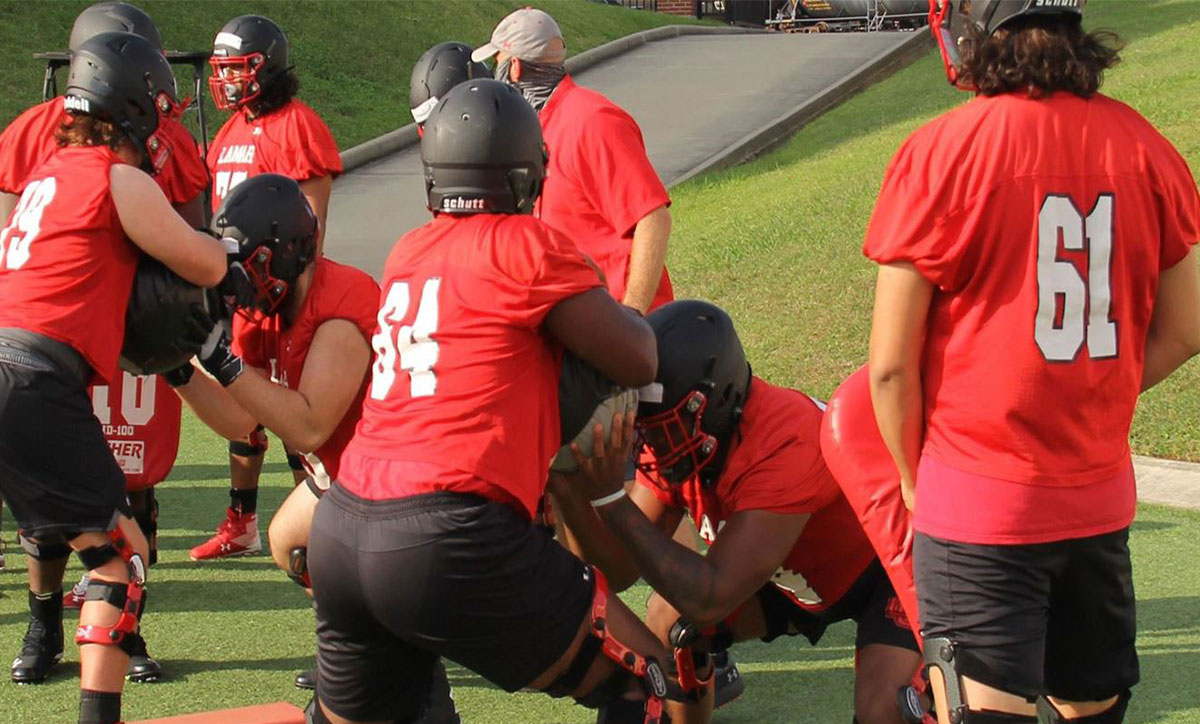 Lamar University football players and coaching staff officially opened fall practice, Sept, 28, with a workout at Provost Umphrey Stadium.
Monday's practice was the first of 15 scheduled workouts that will run through the month of October and end with the annual Red and White scrimmage, Oct. 24. The fall practice schedule will serve as a replacement for the Cardinals who had their fall schedule wiped out due to the COVID-19 pandemic.
"We've had some time on the field during the summer, but to have a true start — a beginning —  after so long a period away from football is exciting for our guys," LU head coach Blane Morgan said. "It will be one of those things where after three or four practices the excitement will wear off and then you find out who really loves football. We need a bunch of those guys in this program who enjoy the grind and just getting after it on the field. 
The Cardinals will play a 2021 spring season. The start of camp comes just a week after the Southland Conference released the official 2021 conference schedule — a slate that will see each team play three home games and three away contests.
Morgan — who is entering his first full season with the Cardinals — will be tasked with guiding a young squad through the rigors of a tough conference schedule. He returns 34 letterwinners from last year's squad and 12 starters (four offense, three defense and five specialists).
"In these early workouts, we're looking for the attitude these guys come out on the field with and we also want to see sustained effort," Morgan said. "You want to see a group of guys who get excited when you're going out there and making plays and that was a highlight today. We made several plays and when it happened the guys on that side of the ball got excited."
One of the biggest questions entering the new season will be at quarterback. Jordan Hoy exhausted his eligibility, and Marcellus Johnson and Jermaine Givens have shifted to receiver. The Cardinals' stable of quarterbacks will consist of Alex Connell (5-10, 160, Fr., Buna HS), Jalen Dummett (6-2, 220, Jr., Feather River College), Hayden Jenkins (6-2, 185, Fr., Tenaha HS), Luke Lunsford (6-2, 205, Fr., Denham Springs HS), Austin Scott (6-1, 199, Sr., Eastern Kentucky) and Jake Smith (6-3, 210 Fr., Bishop Gorman HS). No matter who wins the starting role, it will be someone who has never taken a snap in a Cardinal uniform.