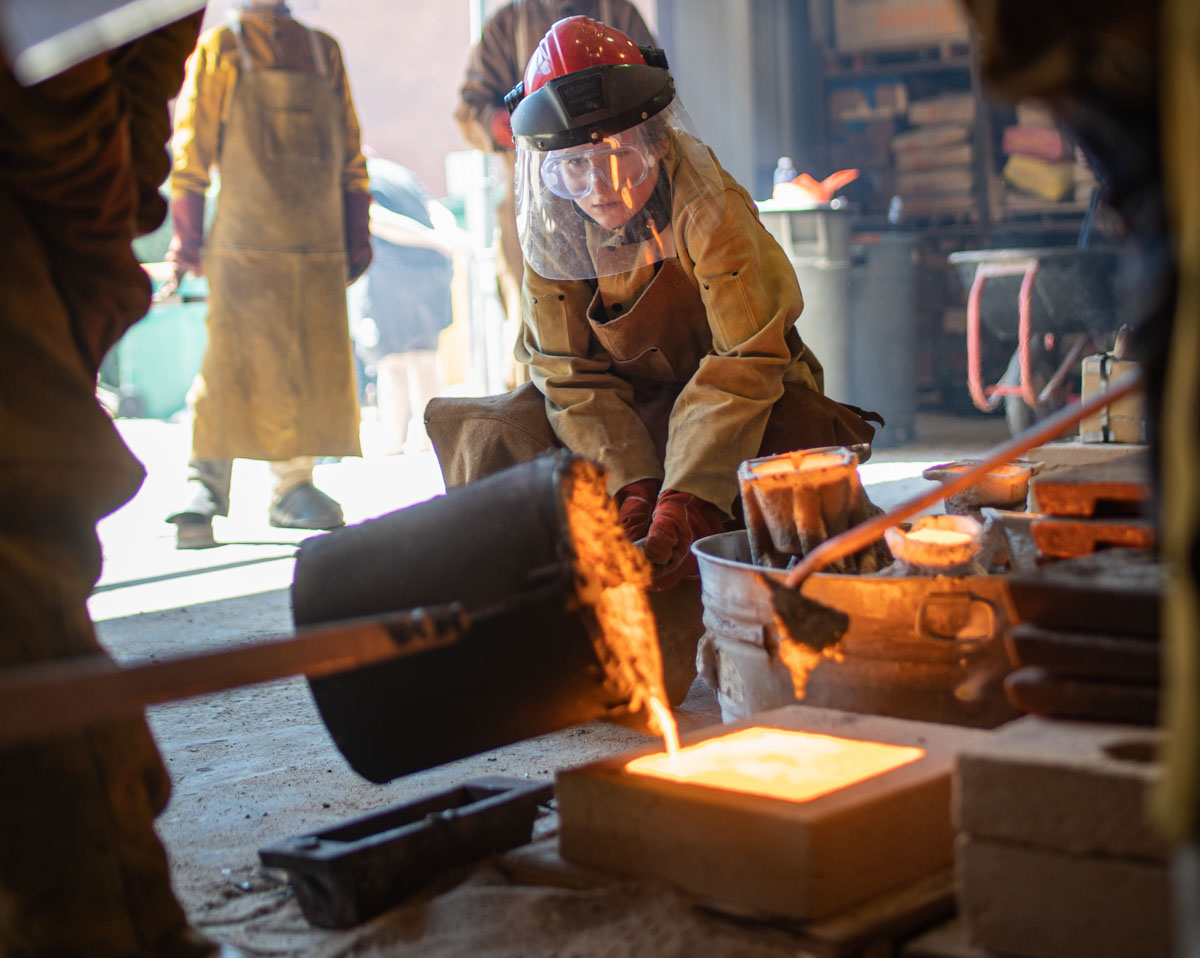 Lamar University art students joined studio art and sculpture professor Kurt Dyrhaug to pour molten iron into casts, March 6, in the metalwork area behind the art building. Assorted guests joined the Lamar group for the pour. The University Press was there to document to process.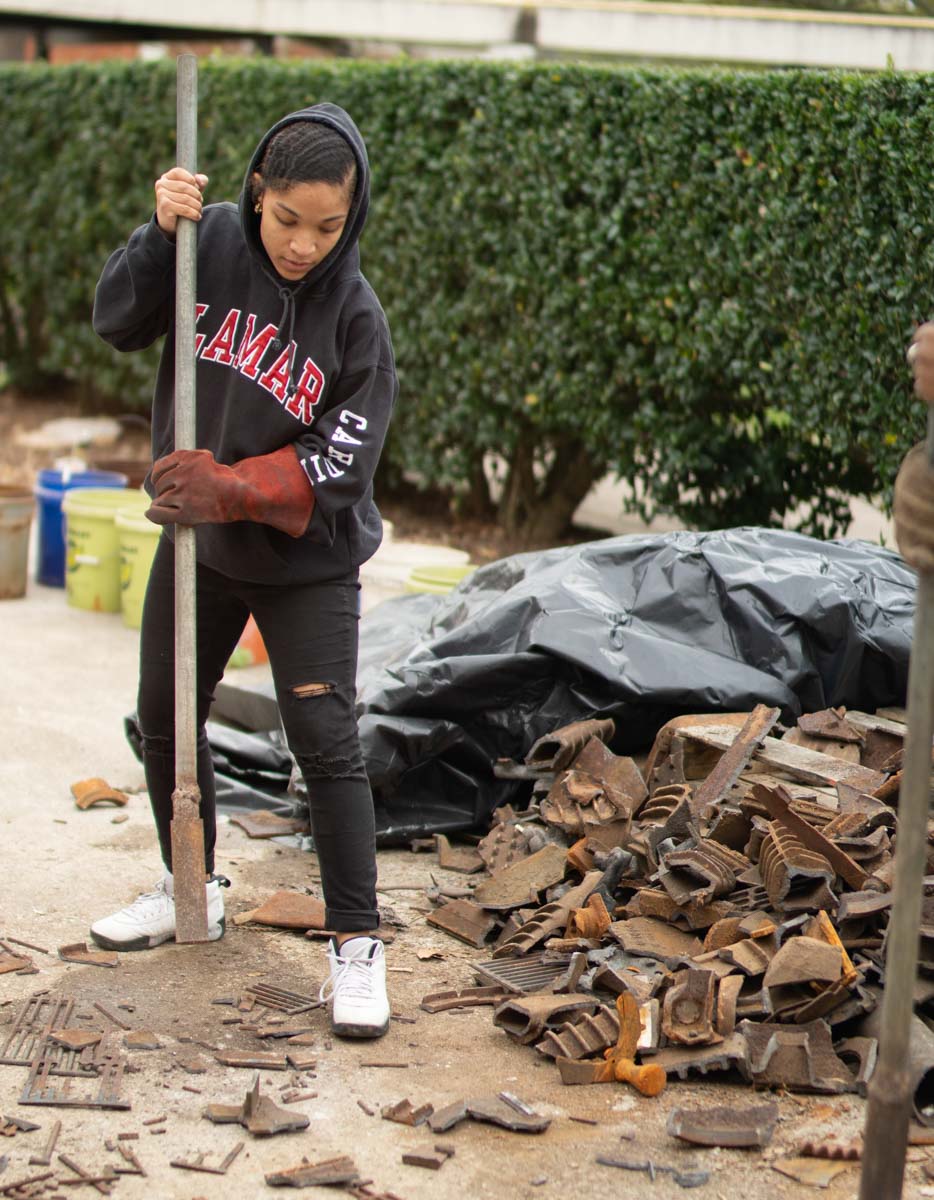 The iron pour process begins early in the morning as students break the iron into small pieces. "We're not taking iron ore and limestone and combining it to make iron, we already have the scrap iron. We break it up into small pieces," Dyrhaug said. "We'll take an acre of trees to melt 1,000 pounds of iron."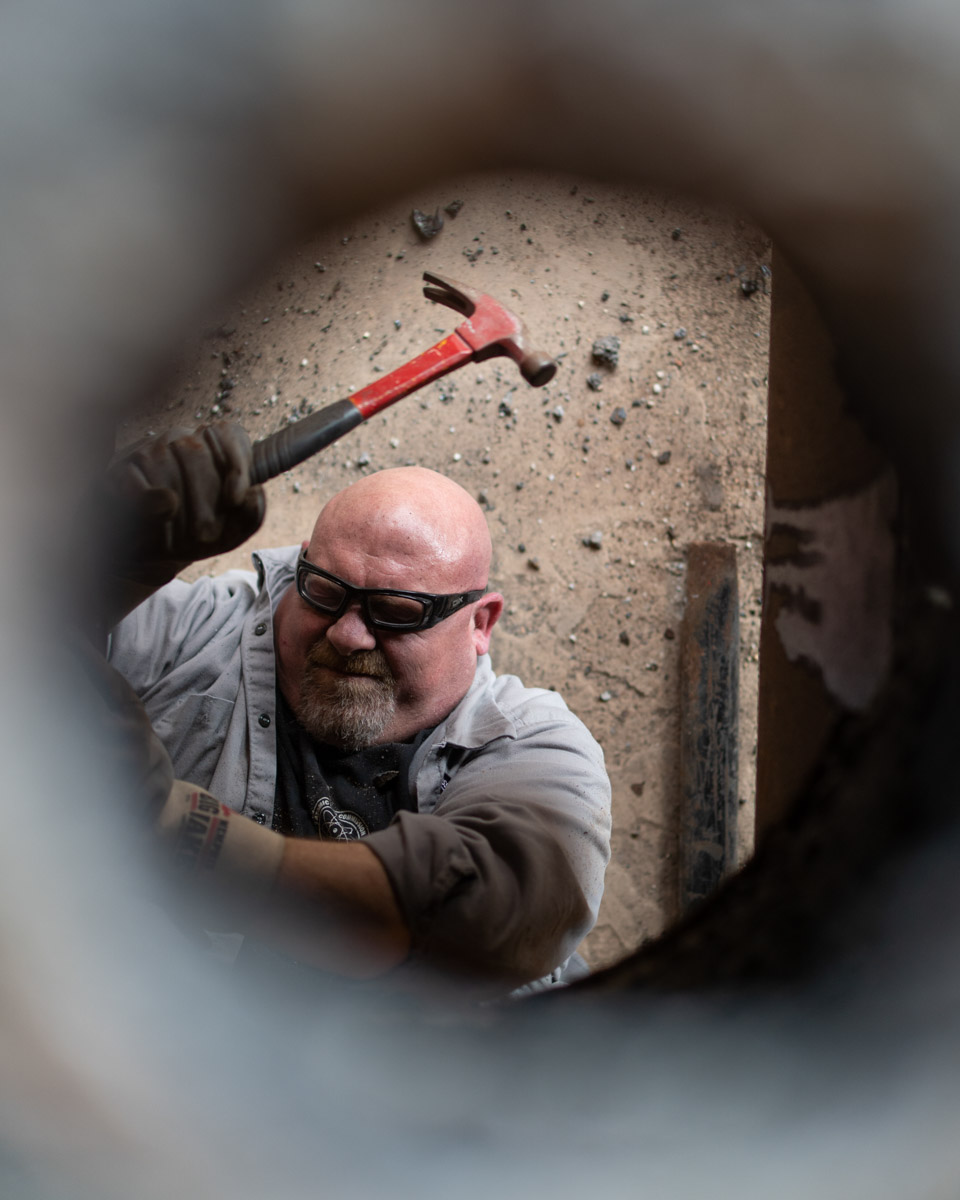 Kurt Dyrhaug hammers the rust off the bottom of the furnace. As an undergraduate student at Minneapolis College of Art Design, Dyrhaug majored as a printmaker but said he found his love of ironworks after taking a sculpture class.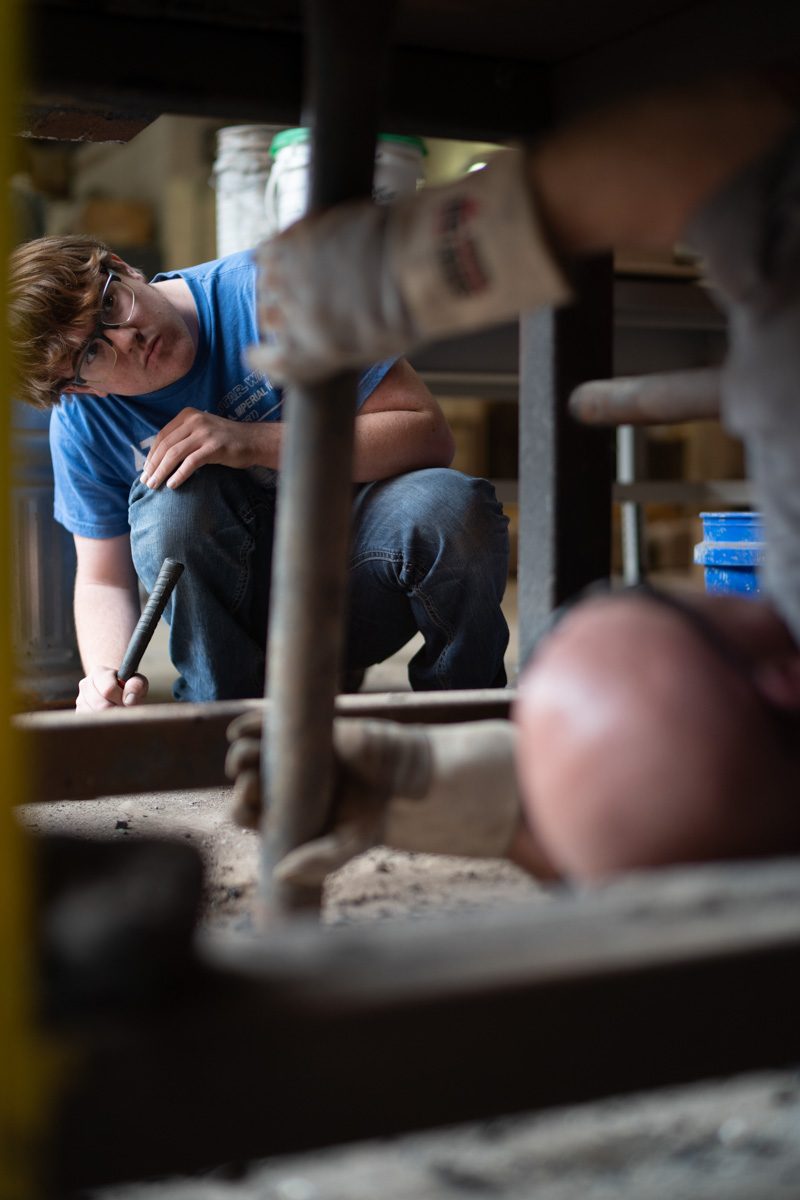 An art student watches Kurt Dyrhaug work on the bottom of the furnace.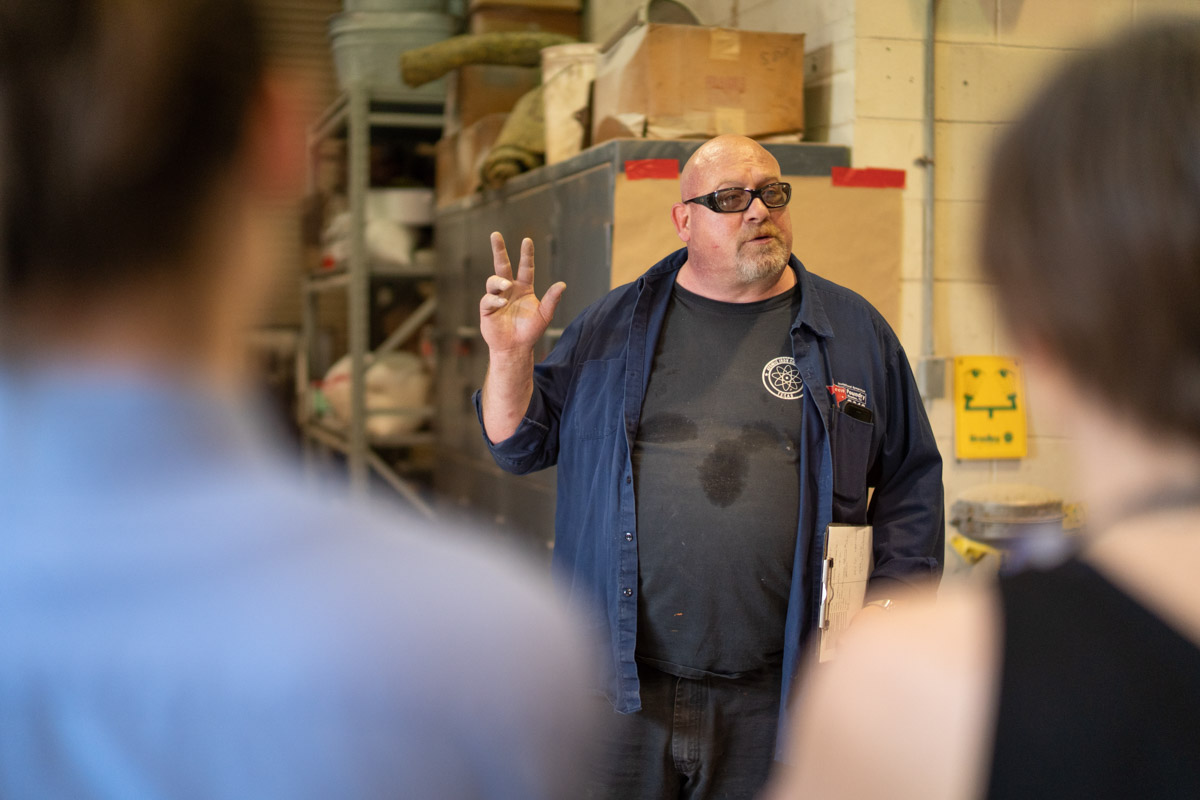 Dyrhaug gives a run-down on the safety procedures for a hot pour. Dyrhaug said when he started pouring metal, safety was not a priority. "The people pouring the metal literally poured with safety glasses, gloves, jeans and no shirt," he said. He said that now it is crucial students know the importance of safety gear while handling hot metal. "None of the students are professionals, so we really dress them up quite well with safety gear," he said.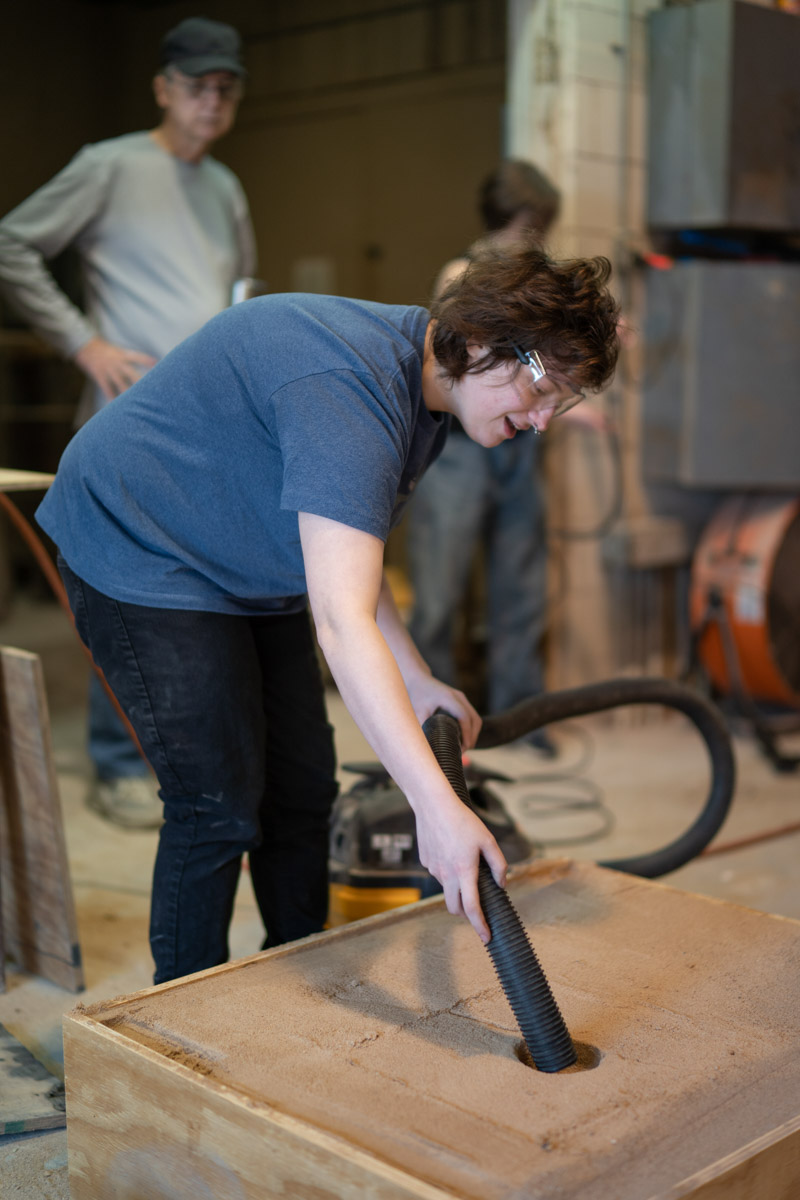 A student cleans out a mold of sand before the iron pour. "For this foundry, for our furnace, we pour into sand molds," Dyrhaug said. "With our sand molds, whatever we make, we have to get it out of the sand. "It's kind of like your muffin pans — you put muffins in, you got to get them out."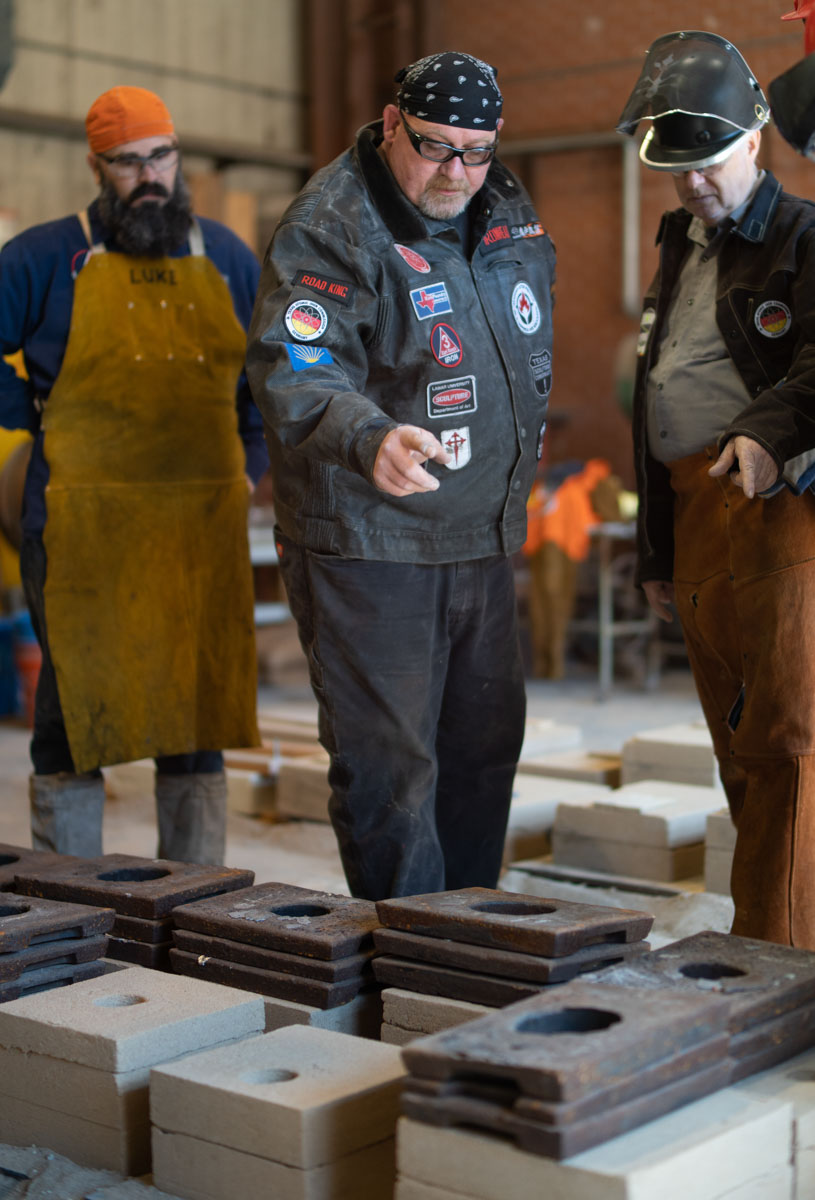 Dyrhaug gives instructions for the order of the molds into which the iron will be poured. "A lot of teamwork — a lot of experienced people are needed," he said. "We've had five different visiting artists come in."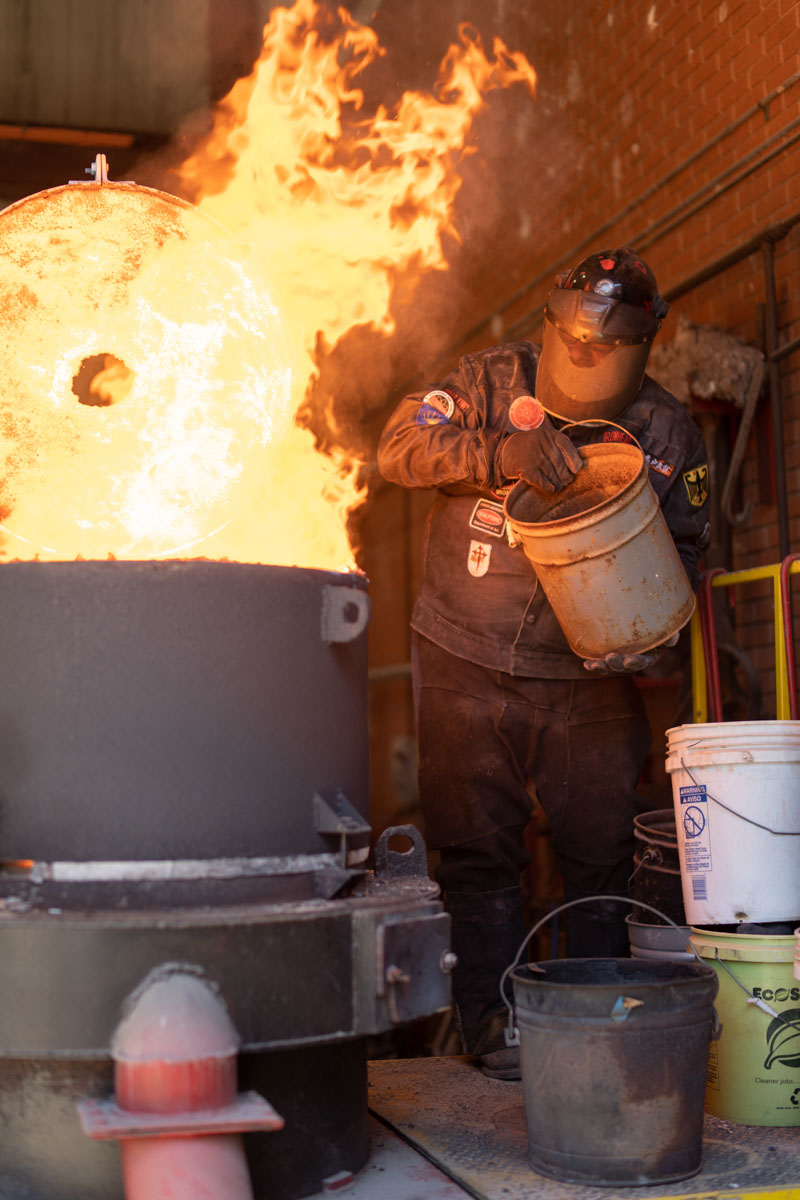 Kurt Dyrhaug tames the fire with a bucket of coke — a mixture of sawdust, clay and beer — which helps increase the temperature in the kiln. "Iron is more difficult, because you have to get it hotter," he said. "If you don't get it hot, it doesn't pour very well and it just doesn't cast.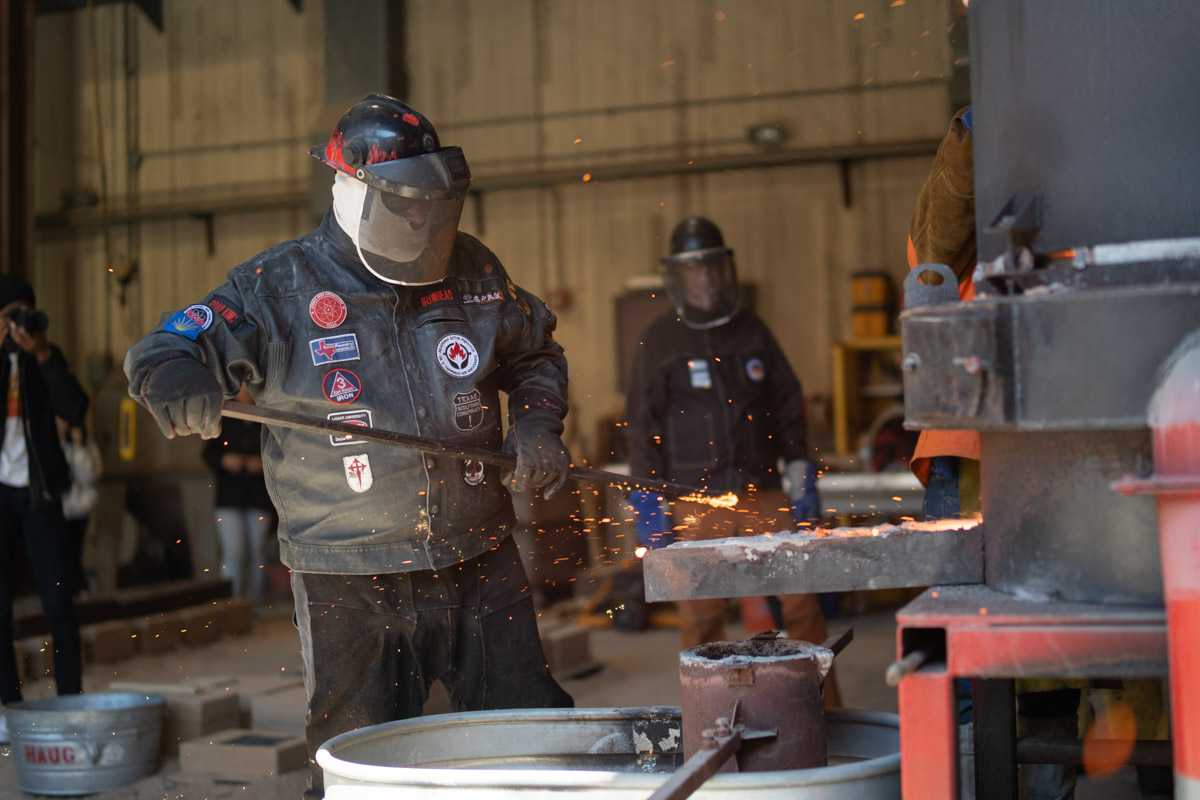 Kurt Dyrhaug removes the plug from the furnace to let the hot iron out. Dyrhaug has spent about 30 years working in metal. He described his first experience, "I thought it was the best thing since ever because it was smoky, it was stinky, it was dark and dingy and dirty, and everything that I loved — and that was what I fell in love with," he said.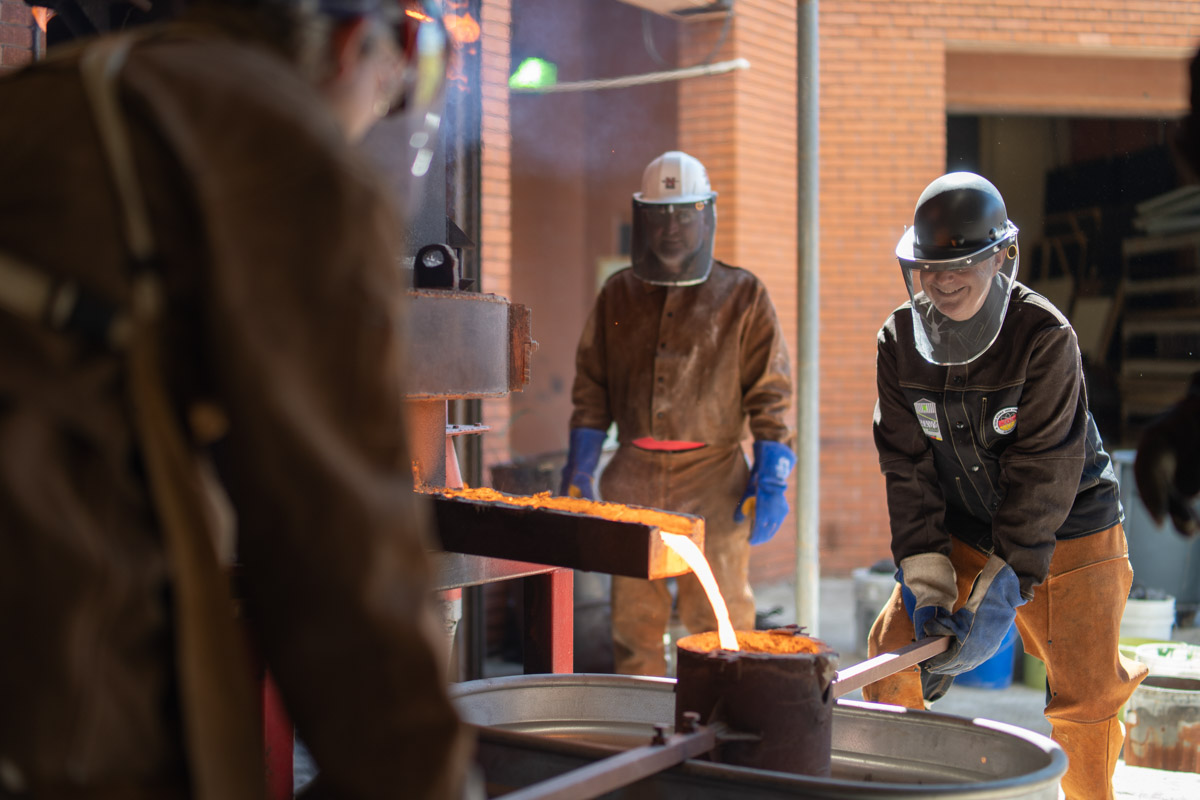 Dyrhaug runs the "Texas Atomic Iron Commission" for Texans interested in ironworks. "There's a really wonderful close-knit world of cast metal people out there," he said. "Go on Facebook and search 'friends of cast metal' and you will find a whole group of people that pour iron at a university setting or as artists — it's out there."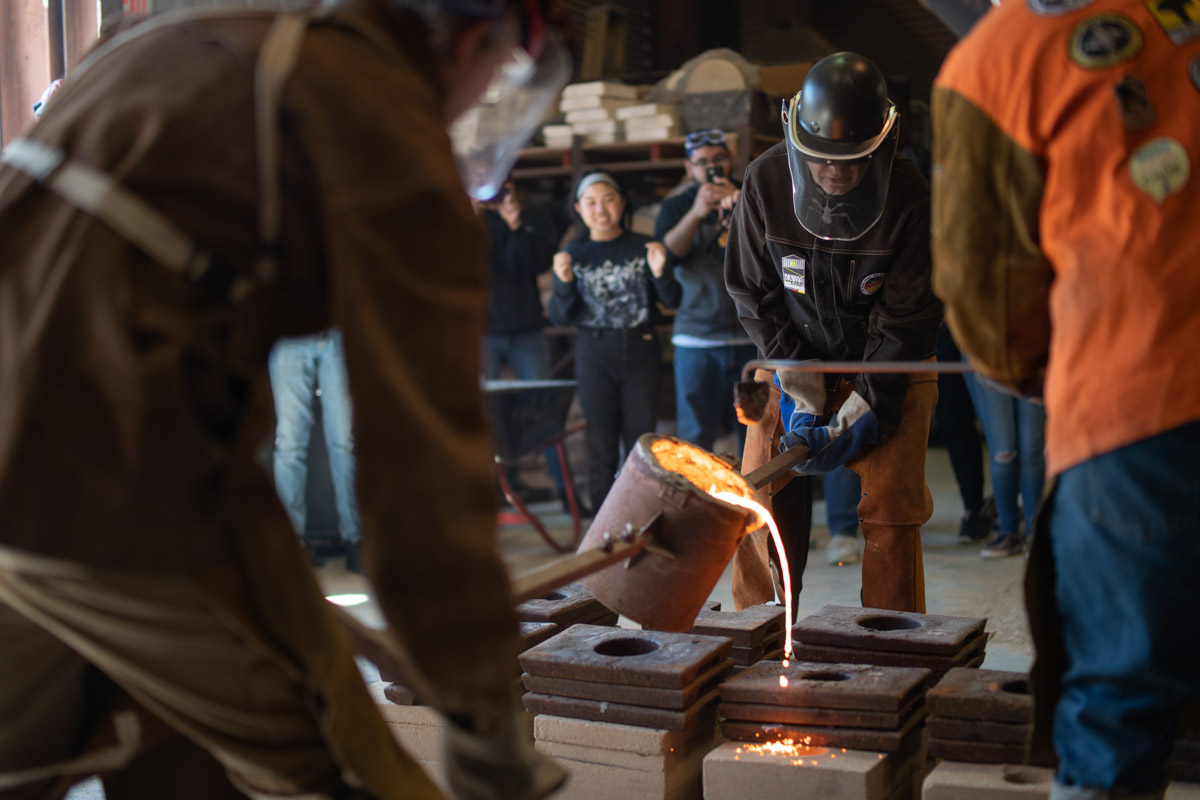 A student watches excitedly as the iron is poured into her mold.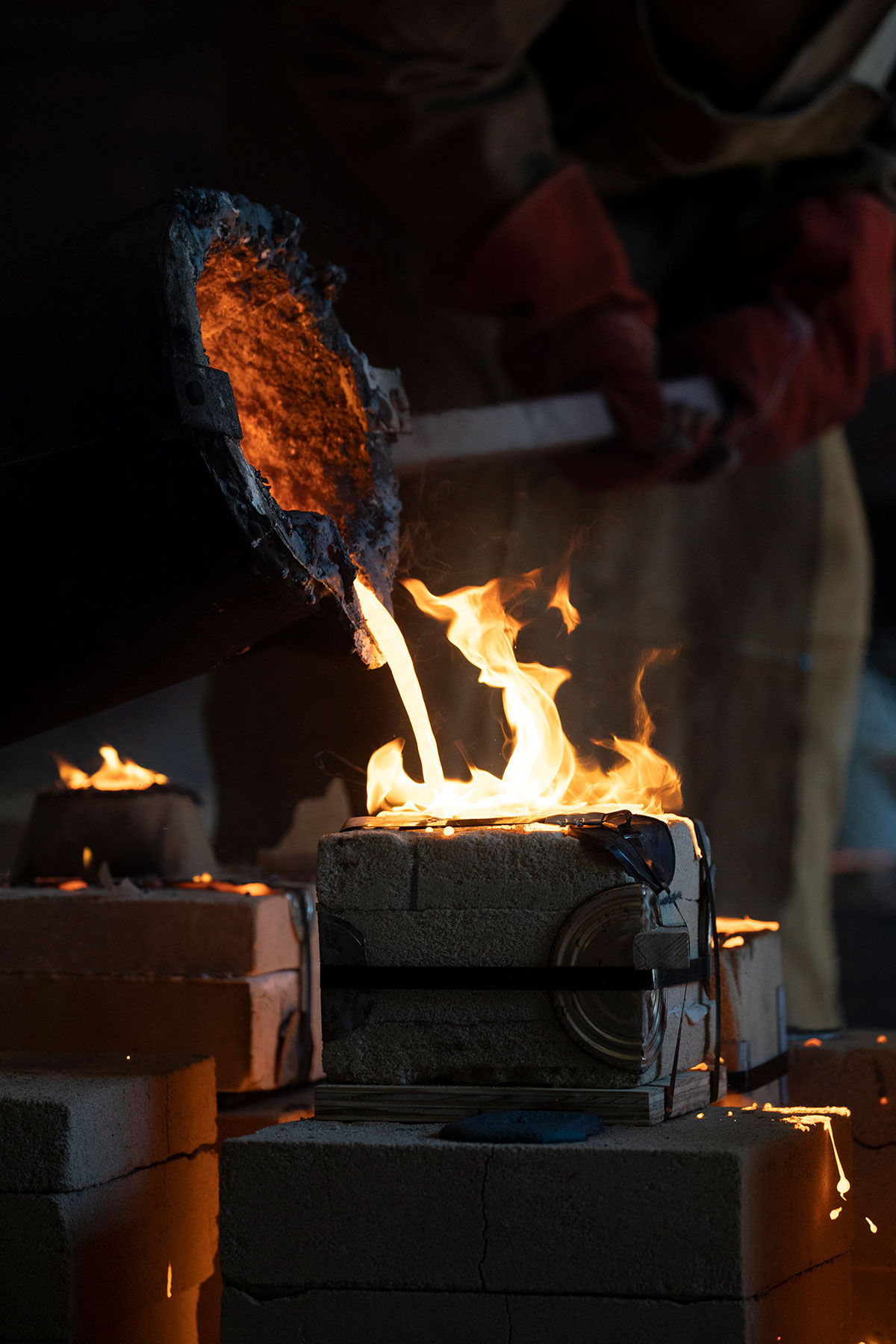 Iron must reach a temperature of approximately 2,500 degrees before it is poured into a mold. The students created molds out of sand and some used a 3D printing process for theirs. "They've made those forms with a 3D printer, so instead of using wax, you're using plastic and melting the plastic out of the shell," Dyrhaug said.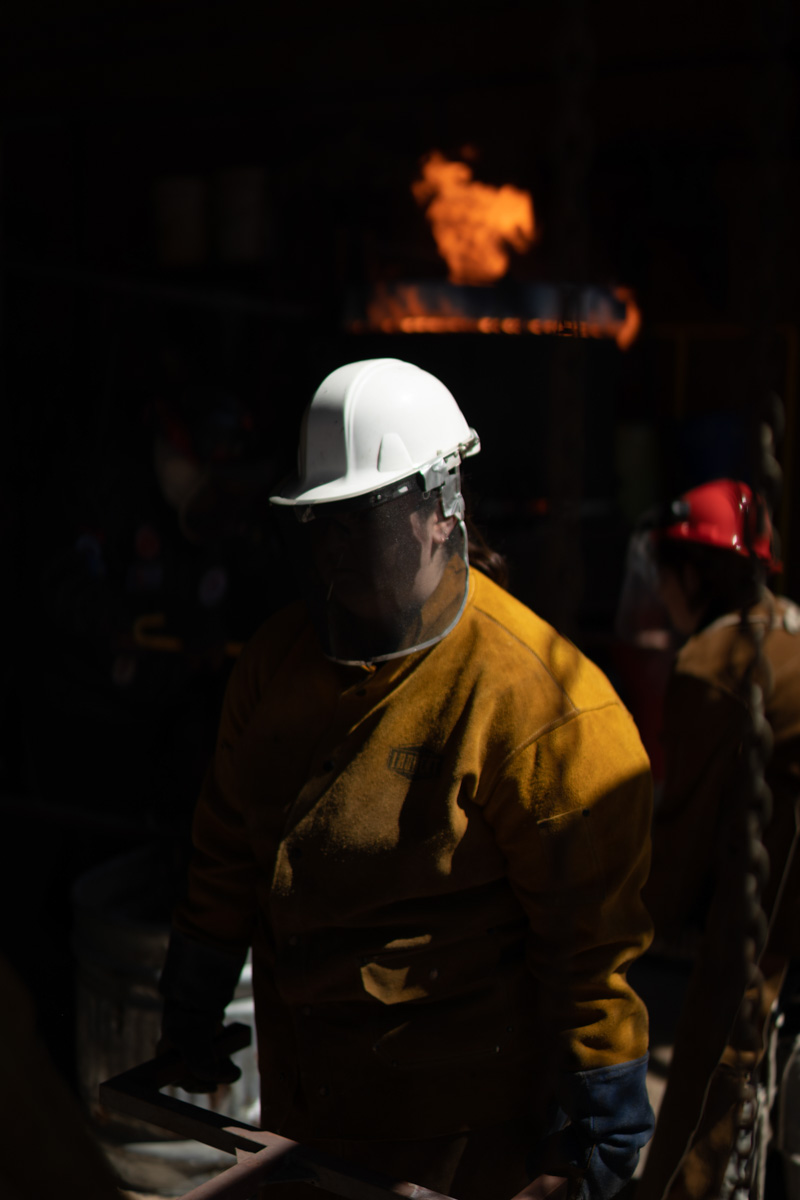 "There's this beauty of … pouring iron and you're melting the metal," Kurt Dyrhaug said. "It's hot, it's smoky, it's dangerous. There's something magnetic about the iron."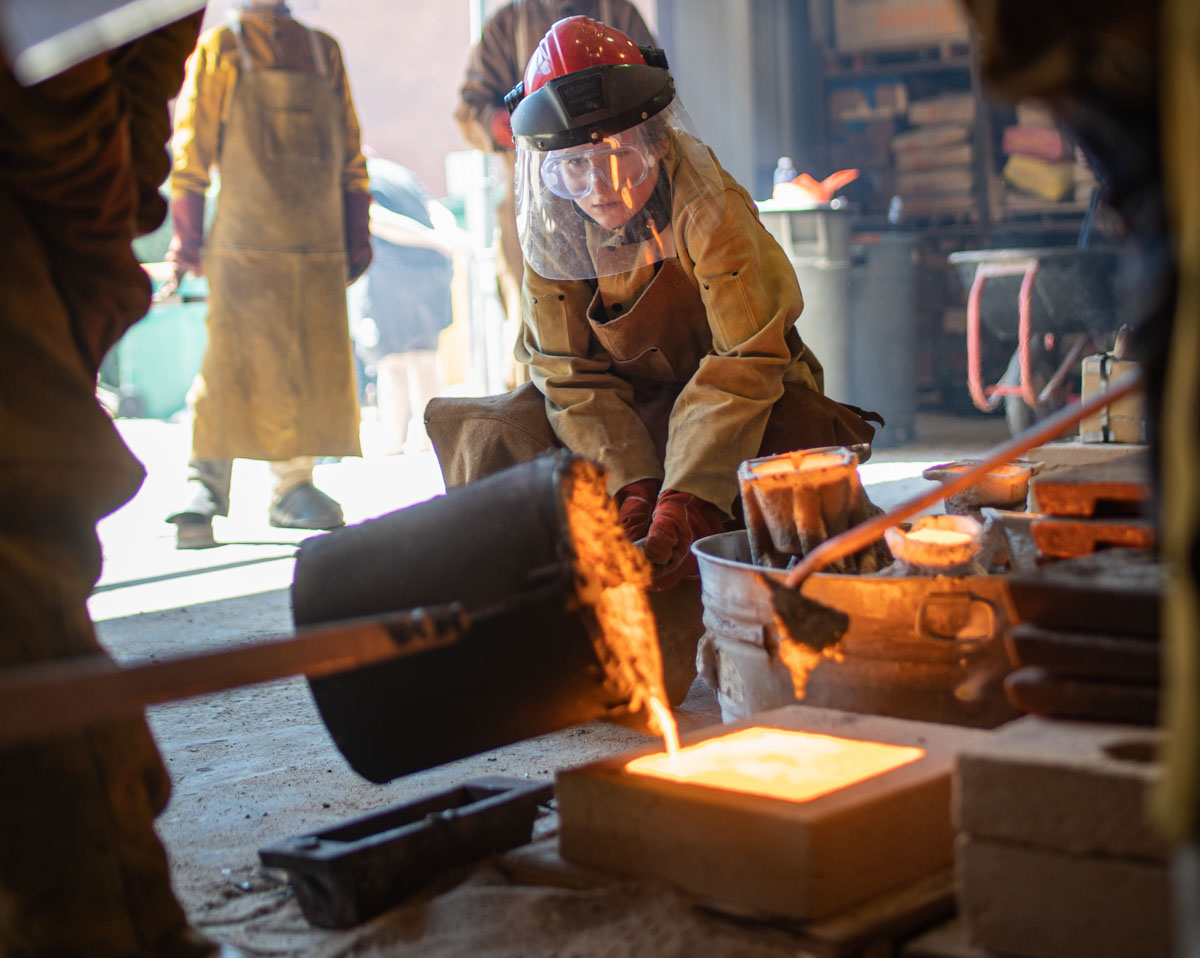 Some molds have a hole in a closed box-like structure in which metal is poured. This student's mold is "open face," which means the metal will create a relief panel with a smooth back.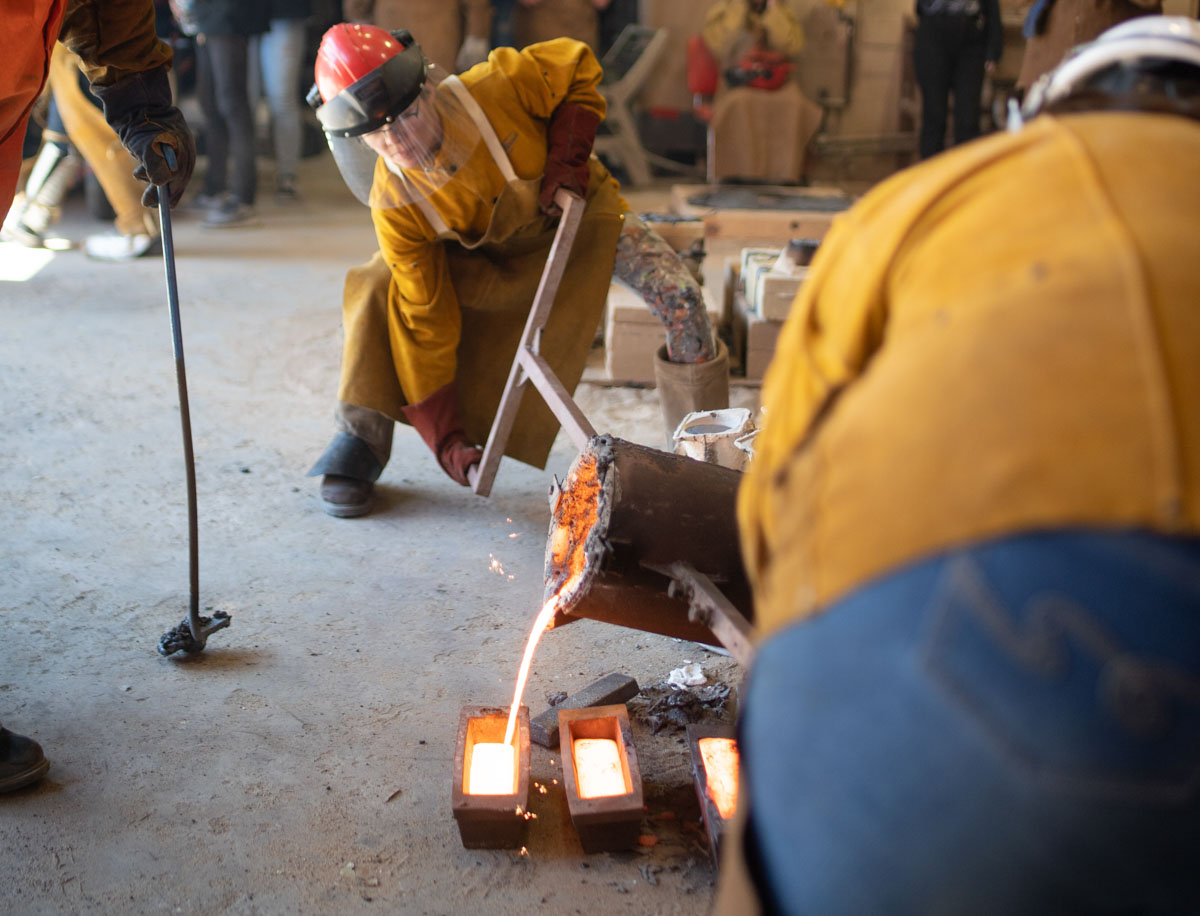 Once the molds are filled, any leftover iron is poured into ingot molds.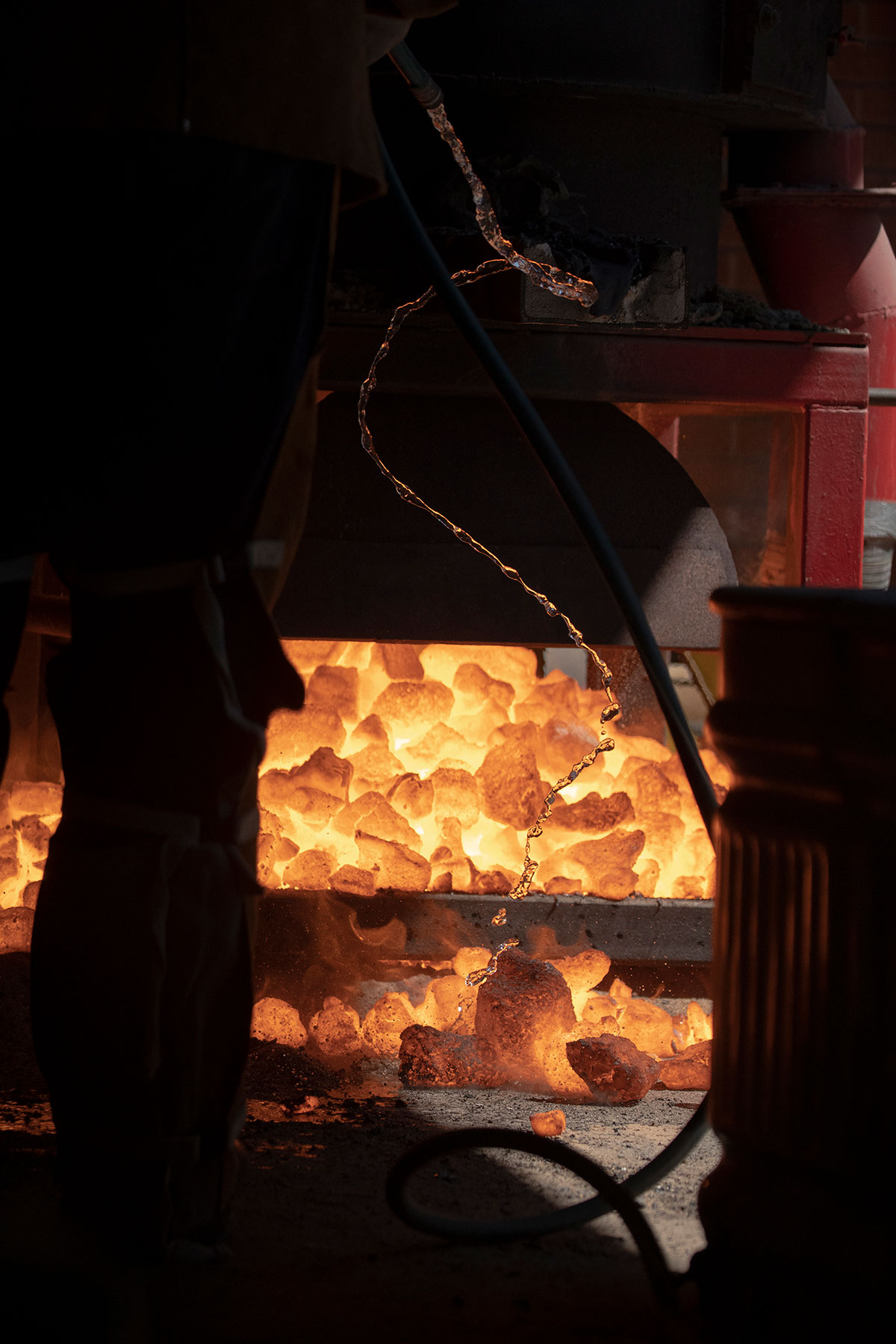 After all the molds have been cast, the coals are sprayed with water to reduce the temperature.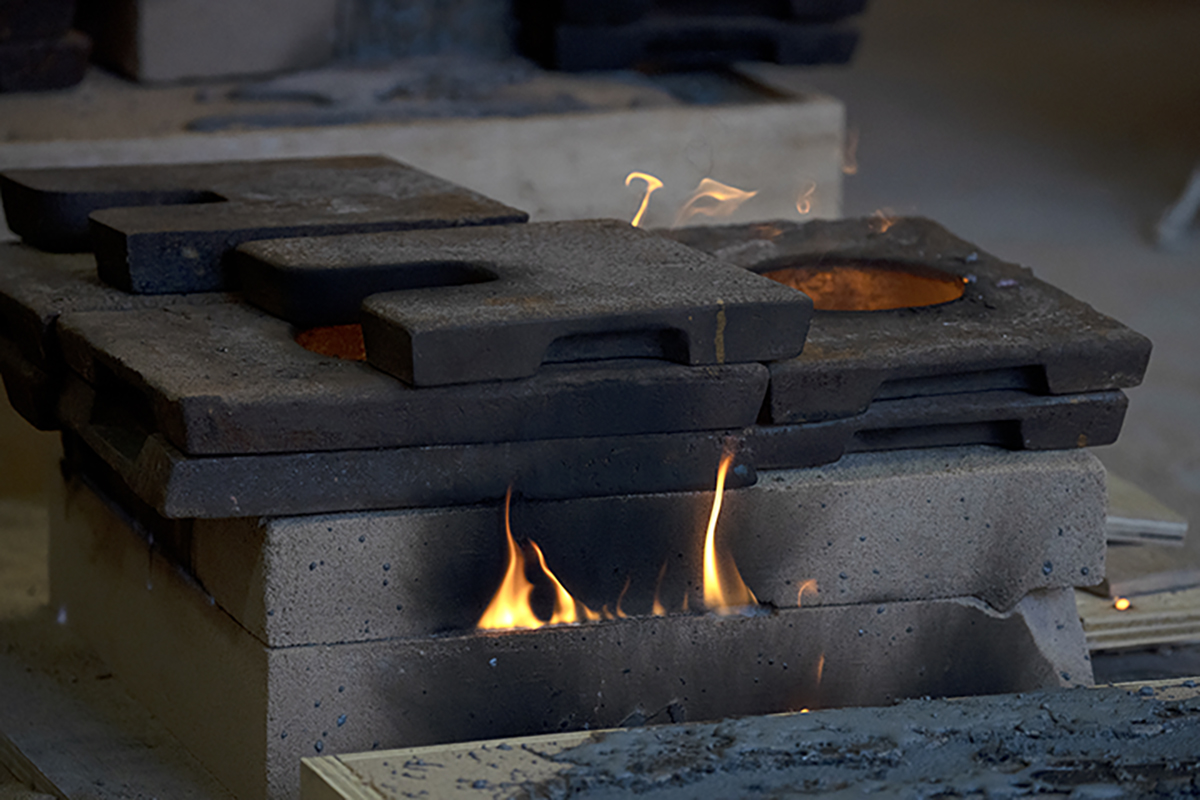 Molds cool down as the iron sets. Depending on the size and type of mold, different molds require different cool-down times before the iron can be removed from the mold. Students will not get to see the results until later.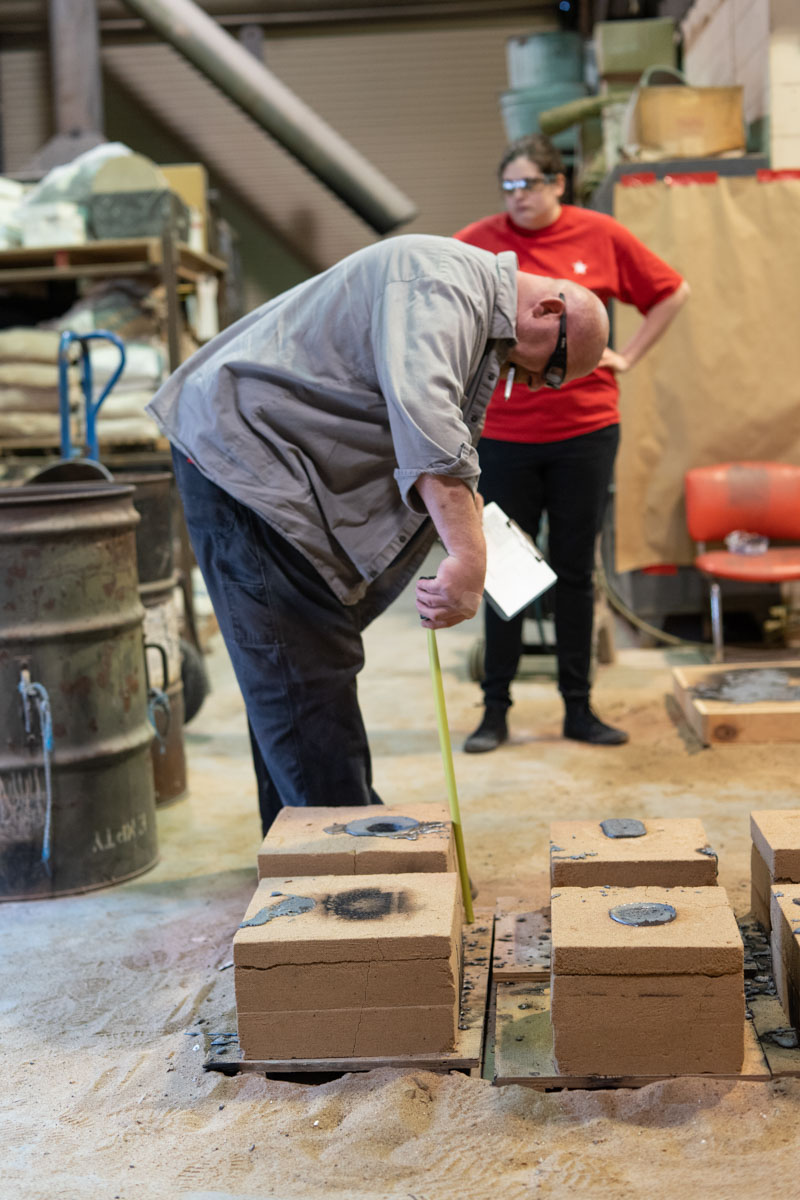 A couple of days after the iron pour, Kurt Dyrhaug measures the molds to check the difference and make sure the iron has set.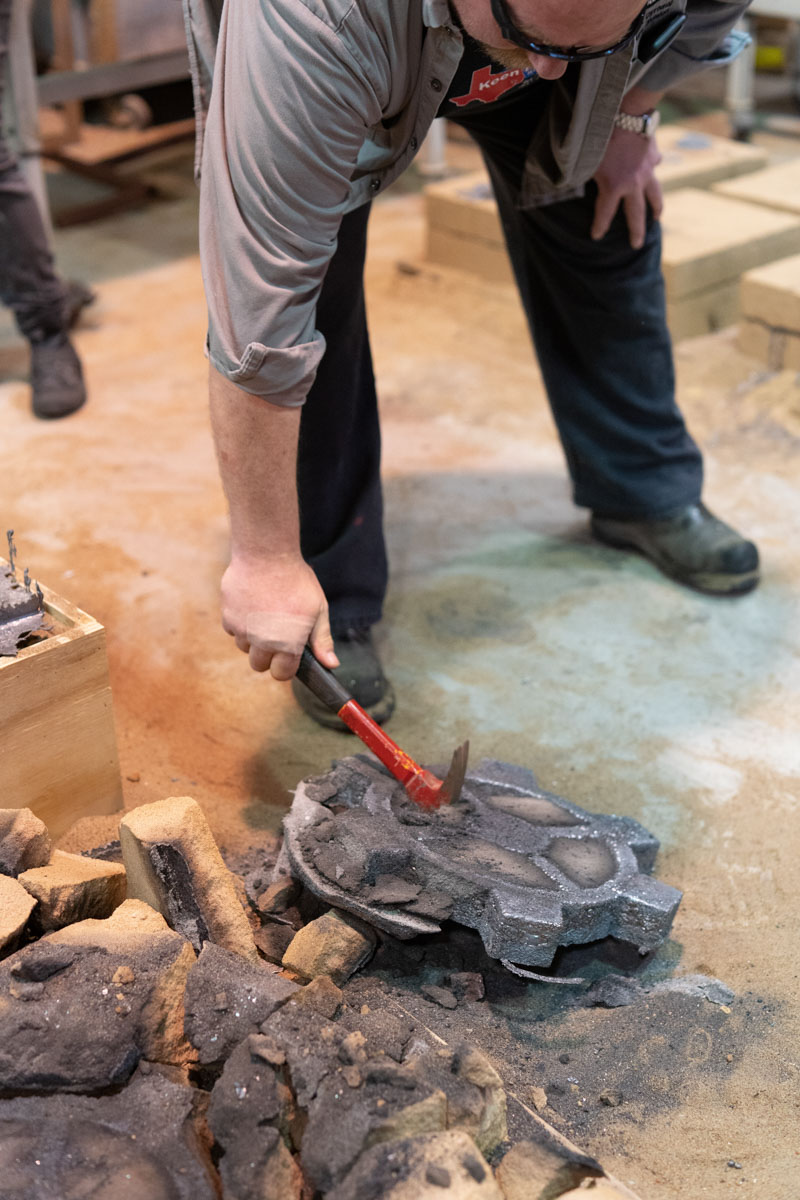 Kurt Dyrhaug breaks open a mold to reveal the metal artwork.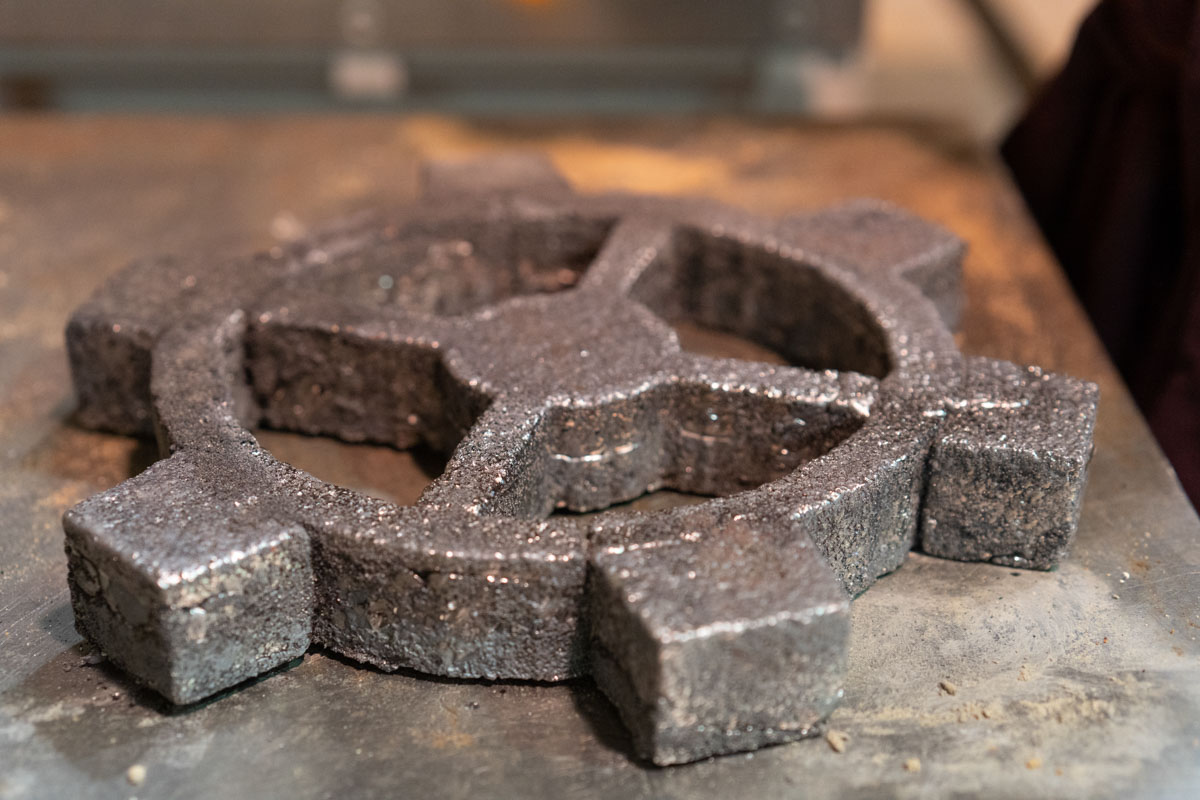 Casting has been around for thousands of years, and this style of artwork is not going anywhere, anytime soon. "It's very picturesque and quite beautiful," Dyrhaug said.